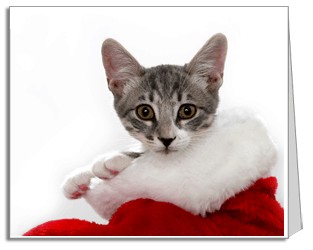 Here's a free kitty cat Christmas card you can print and then send!
A sample of a finished card is shown at the right, and a printable version is available by clicking the small-size picture below.
Directions:
1. Ensure your printer settings are set to have the printable page completely fill a single letter-size piece of paper (8-1/2″ x 11″). Since this card features a photograph, you may want to also adjust your printer's quality settings, to ensure it prints in color and at high quality.
2. After the card has printed, fold the page on the dotted line across the page's width, with the printed side facing out.
3. Next, fold the card one last time on the second dotted line to complete the card. (It should look similar to the card shown here.)
4. Add your own personalization.
---