Santa Claus coloring pages: A gateway to holiday magic
The holiday season brings a special kind of magic, and at the heart of this festive wonder is Santa Claus. His jolly, red-suited figure not only decorates our streets and homes but also captures the imagination of children and adults alike.
Below, we're celebrating everything Santa Claus, from his intriguing history to a fun collection of related activities.
Think Santa Claus coloring pages, creative crafts, enchanting books and heartwarming movies — all designed to sprinkle a little extra joy into your family's holiday moments. So, let's get going on this festive adventure, where the cheer and charm of Santa Claus enrich every coloring page, every craft and every story shared.
---
The history of Santa Claus
When you're sitting down with your little ones to color Santa Claus coloring pages, have you ever wondered about the jolly man in red's origins? Santa Claus, a figure adored by children worldwide, has a rich history that's both fascinating and heartwarming.
From saint to Santa
Santa Claus's story begins with Saint Nicholas, a kind-hearted bishop from Myra (now in modern-day Turkey) who lived during the 4th century. Famous for his generosity, especially towards children, Saint Nicholas became the inspiration for various legends. Over the centuries, his image evolved, absorbing elements from folklore and cultural traditions around the world.
A jolly old elf
In the 19th century, Santa as we know him began to take shape in America. The famous poem "A Visit from St. Nicholas" (more commonly known as "Twas the Night Before Christmas" — which we've reprinted in full below) and Thomas Nast's old illustrations portrayed Santa as a jolly, plump man with a white beard, dressed in red, who traveled in a sleigh led by reindeer.
Worldwide wonder
Today, Santa Claus is a symbol of joy, gift-giving, and the magic of the holiday season. He embodies the spirit of kindness and generosity, making him a perfect figure to explore and celebrate with your children.
---
A Christmas tree with Santa
'Twas The Night Before Christmas
By Clement Clarke Moore
'Twas the night before Christmas, when all through the house
Not a creature was stirring, not even a mouse;
The stockings were hung by the chimney with care
In hopes that St. Nicholas soon would be there;
The children were nestled all snug in their beds,
While visions of sugar-plums danced in their heads;
And mamma in her kerchief, and I in my cap,
Had just settled our brains for a long winter's nap,
When out on the lawn there arose such a clatter,
I sprang from the bed to see what was the matter.
Away to the window I flew like a flash,
Tore open the shutters and threw up the sash.
The moon on the breast of the new-fallen snow
Gave the lustre of mid-day to objects below,
When, what to my wondering eyes should appear,
But a miniature sleigh, and eight tiny reindeer,
With a little old driver, so lively and quick,
I knew in a moment it must be St. Nick.
More rapid than eagles his coursers they came,
And he whistled, and shouted, and called them by name:
"Now, Dasher! now, Dancer! now, Prancer and Vixen!
On, Comet! on, Cupid! on, Donder and Blitzen!
To the top of the porch! to the top of the wall!
Now dash away! dash away! dash away all!"
As dry leaves that before the wild hurricane fly,
When they meet with an obstacle, mount to the sky;
So up to the house-top the coursers they flew,
With the sleigh full of toys, and St. Nicholas too.
And then, in a twinkling, I heard on the roof
The prancing and pawing of each little hoof.
As I drew in my head, and was turning around,
Down the chimney St. Nicholas came with a bound.
He was dressed all in fur, from his head to his foot,
And his clothes were all tarnished with ashes and soot;
A bundle of toys he had flung on his back,
And he looked like a peddler just opening his pack.
His eyes — how they twinkled! his dimples how merry!
His cheeks were like roses, his nose like a cherry!
His droll little mouth was drawn up like a bow,
And the beard of his chin was as white as the snow;
The stump of a pipe he held tight in his teeth,
And the smoke it encircled his head like a wreath;
He had a broad face and a little round belly,
That shook when he laughed, like a bowlful of jelly.
He was chubby and plump, a right jolly old elf,
And I laughed when I saw him, in spite of myself;
A wink of his eye and a twist of his head,
Soon gave me to know I had nothing to dread;
He spoke not a word, but went straight to his work,
And filled all the stockings; then turned with a jerk,
And laying his finger aside of his nose,
And giving a nod, up the chimney he rose;
He sprang to his sleigh, to his team gave a whistle,
And away they all flew like the down of a thistle.
But I heard him exclaim, ere he drove out of sight,
"Happy Christmas to all, and to all a good night."
---
Hello from a cute Santa Claus
---
Santa clipart with a mini sleigh in the snow
Crafting with Santa Claus
Crafting with your children can be a delightful way to bring the magic of Santa Claus into your home. Here are five craft ideas that are fun, easy, and on-theme with Santa Claus.
Santa's workshop diorama: Create a miniature version of Santa's workshop using a shoebox, construction paper, and various craft supplies. It's a great way to spark imagination and storytelling.
Handprint Santa ornaments: Using handprints, create cute Santa ornaments for your tree. It's not only fun but also a beautiful way to capture a moment in time.
Santa Claus puppets: Create Santa Claus puppets from paper bags or socks. These can be used for storytelling or as a fun holiday decoration.
Santa's sleigh and reindeer: Build a mini sleigh and reindeer set from popsicle sticks and felt. Kids can learn about Santa's iconic mode of travel and engage in creative play.
Santa Claus garland: Make a festive garland featuring Santa's face using paper plates, cotton balls, and red paper. This craft can brighten up any room and add to the holiday cheer.
---
Santa Claus on a speedy sled
Learning activities with Santa Claus
Santa Claus isn't just a fun holiday character — he can also be part of educational activities. Here are five unique learning activities themed around Santa Claus.
Geography tracking: Learn about geography by tracking Santa's journey on Christmas Eve. This can be a fun way to introduce your child to different countries and cultures.
Letter writing to Santa: Encourage literacy skills by writing letters to Santa. This activity helps with writing and communication skills and can be a fun family tradition.
Santa's budgeting game: Teach basic math and money management by planning gifts with a pretend budget. This activity is both fun and educational, helping children understand the value of money.
Santa Claus science experiments: Engage in simple science experiments, like making fake snow or exploring how reindeer might fly. These activities blend learning with the magic of the season.
Santa Claus story creation: Foster creativity and writing skills by creating original Santa Claus stories. This activity encourages imagination and storytelling abilities in a festive context.
---
Santa Claus color clipart – ready to use
---
Dancing Santa printable
Books about Santa Claus
Reading books about Santa Claus can be a delightful way to spend time with your children. Here are five books that bring the magic of Santa to life.
This classic tale is a holiday staple, bringing the story of Santa's visit to vivid life.
An entertaining story that explores how Santa Claus might have come into his gift-giving role.
This book offers a humorous look at how Santa knows exactly which toys to deliver to each child.
A heartwarming tale that reminds us of the true spirit of Christmas, as told by Santa himself.
This imaginative book gives a first-person account of Santa's life and adventures.
---
Santa Claus clipart with two Christmas gifts
Movies and TV shows featuring Santa Claus
Movies and TV shows about Santa Claus can create memorable family moments. Here are five that capture the essence of this beloved character.
A fun and heartwarming movie where a man accidentally becomes Santa and embarks on a magical journey.
This classic film tells the story of a man who believes he is the real Santa Claus, spreading joy and wonder.
A delightful TV special featuring Santa and his famous reindeer, Rudolph.
An animated adventure that takes children on a magical train ride to the North Pole to meet Santa.
A hilarious and heartwarming story about one of Santa's elves discovering his true identity and spreading Christmas cheer.
---
Santa coloring pages: Flying with a reindeer
---
Santa clipart: Reading his list of naughty and nice
---
A long list of good boys and girls
---
Santa elf
---
Riding on his sleigh
---
A Santa Claus to cut out coloring page
---
With a Christmas tree
---
Can you hear the bell ringing?
---
Waving hello
---
Ho ho ho!
---
Singing with a snowman
---
High five this Santa
---
Merry Christmas from Santa Claus
---
Happy Santa with a bag of presents
---
Funny cartoon Christmas printable
---
Carrying a big Christmas gift
---
By the chimney on a rooftop Christmas coloring

---
Cute Santa Claus with gifts and stars
---
Santa with a sign or a list
---
Mr Claus with two reindeer coloring page
---
Inside a warm house at Christmastime
---
Going down the chimney coloring page
Santa has a sack full of toys for Christmas, and is just stepping into this chimney to deliver the fun!
---
Free Santa Claus with a bundle Christmas coloring page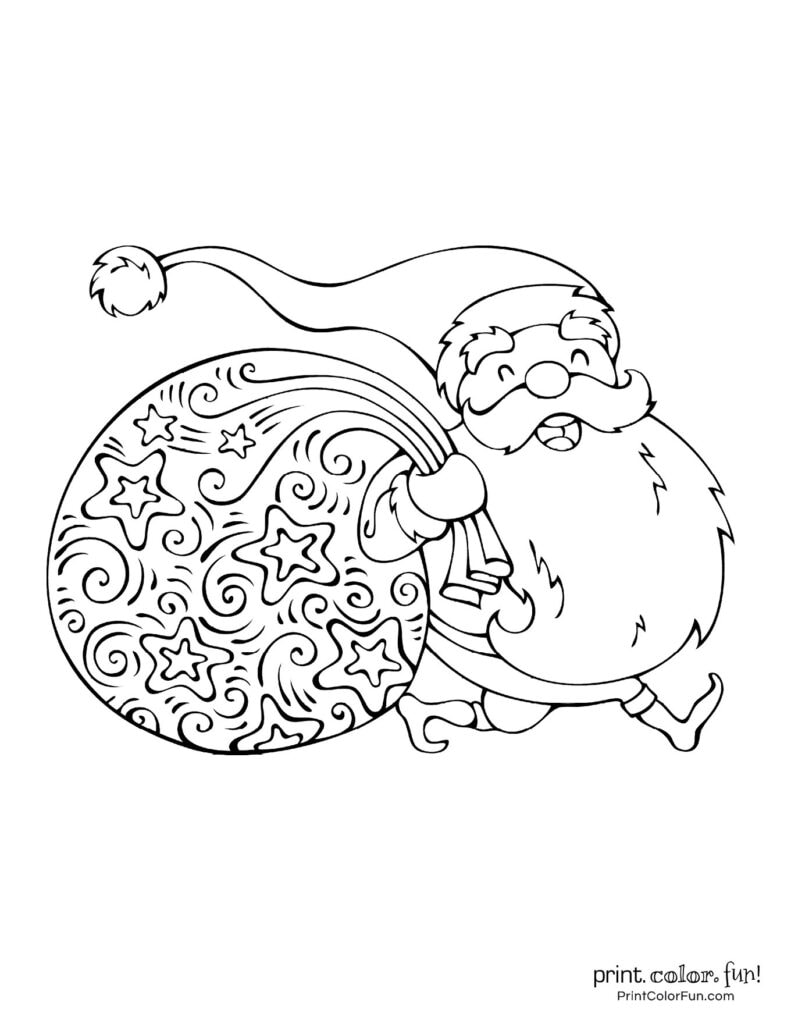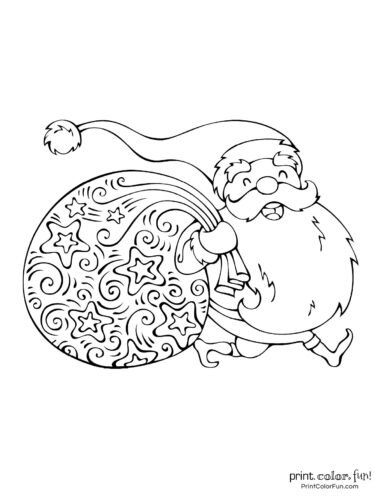 ---
Santa on the rooftop, headed for the chimney (adult coloring page)
---
Santa Claus Christmas coloring page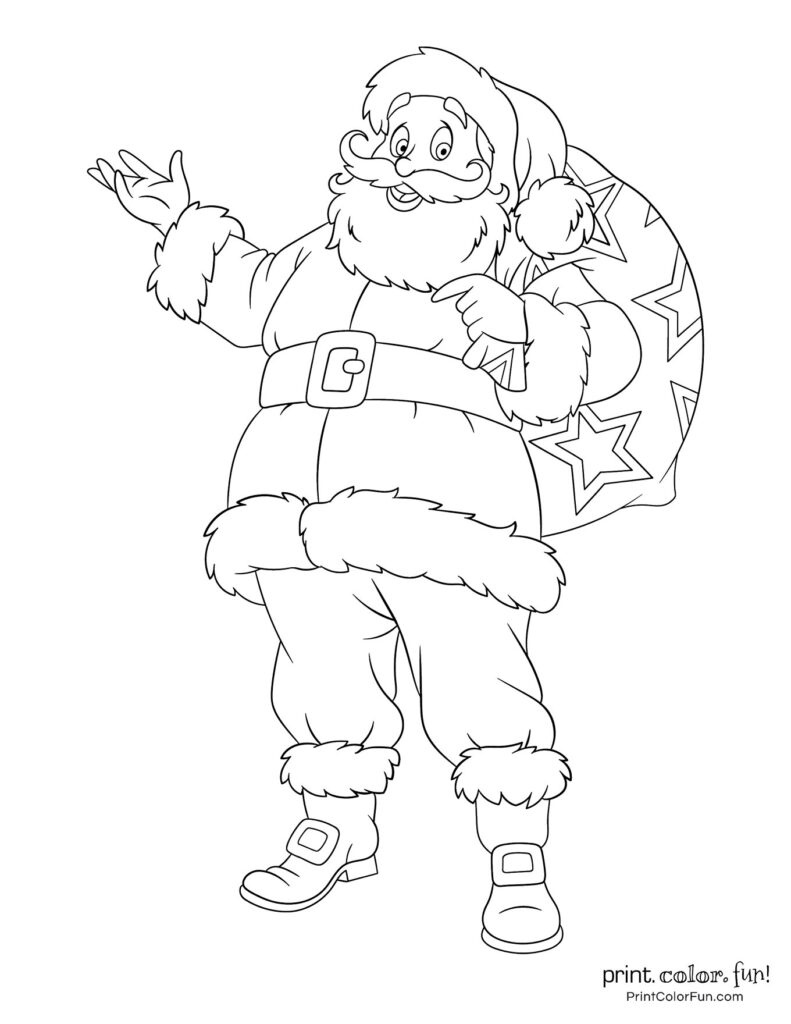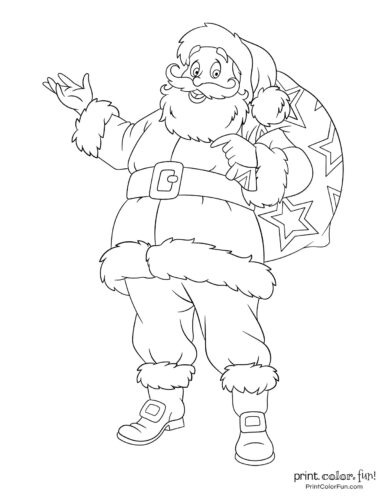 ---
Santa, Hermey & Rudolph the Red-Nosed Reindeer
Here's Santa Claus checking in with Hermey and Rudolph the Red-Nosed Reindeer, from the vintage stop-motion TV special Christmas television special Rudolph the Red-Nosed Reindeer, from Rankin/Bass Productions.
MORE: 1964's 'Rudolph the Red-Nosed Reindeer' was one of the musical Christmas specials that kids waited all year to see
---
Santa Claus by the fireplace Christmas coloring page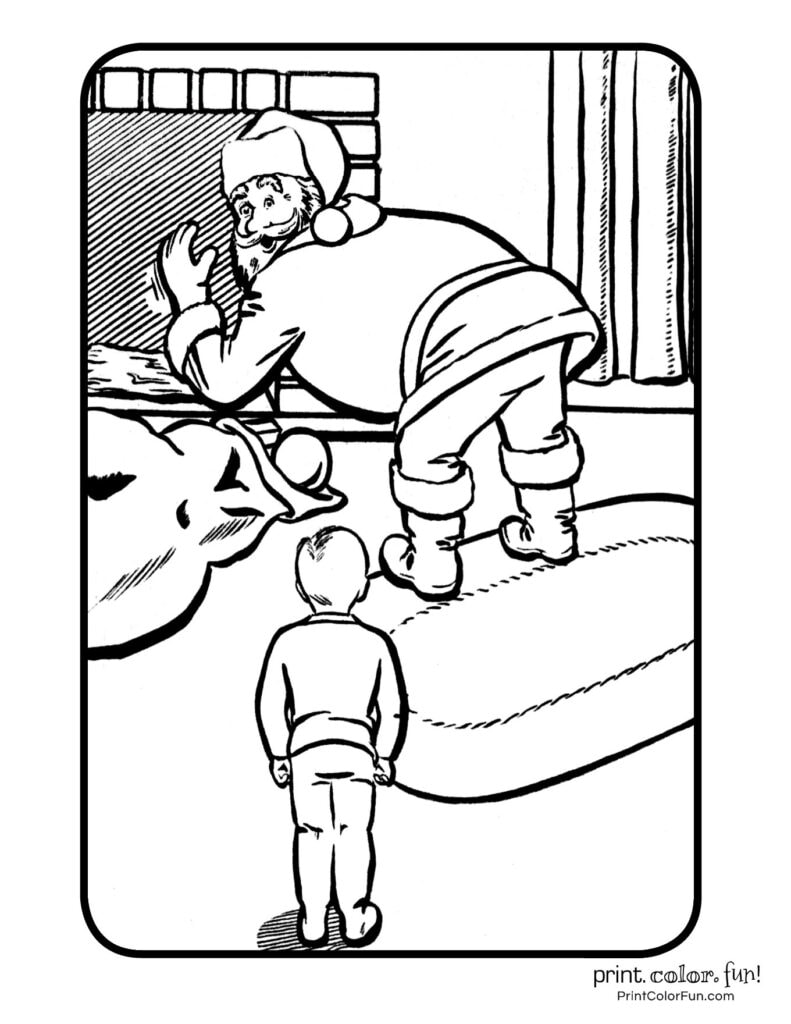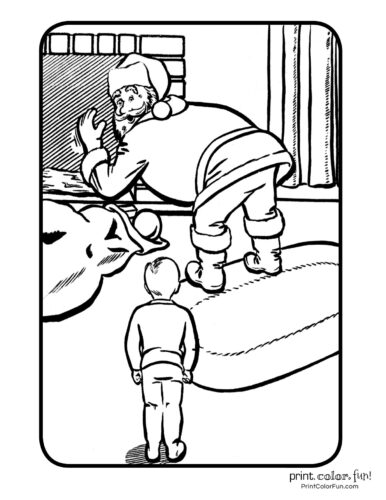 ---
Jolly Santa Claus Christmas on a chimney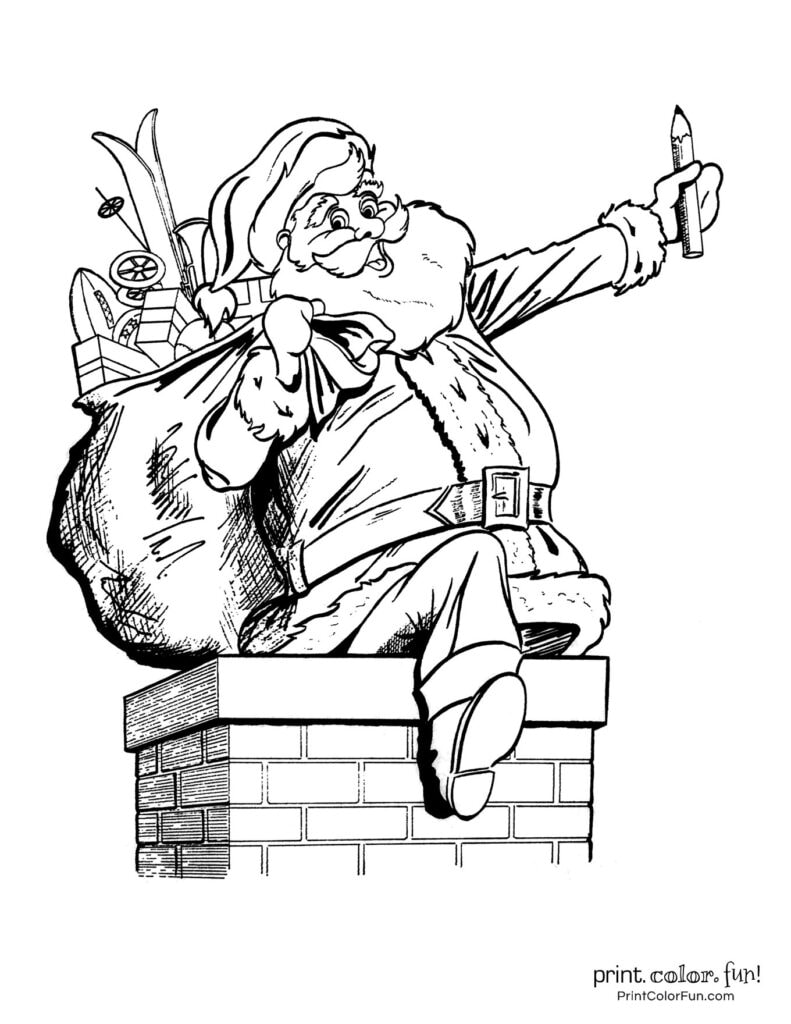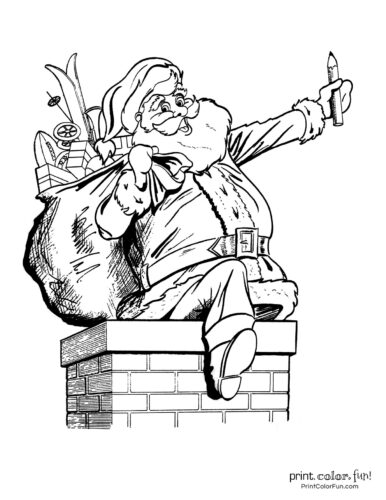 ---
Santa with a sack of toys for Christmas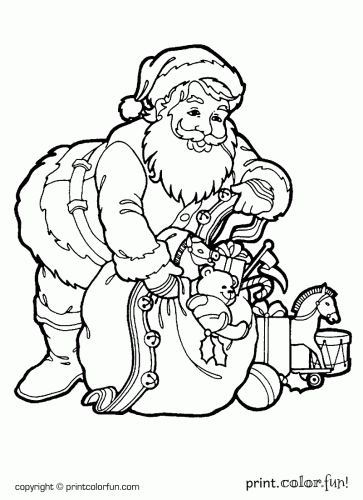 ---
Santa Claus carrying lots of presents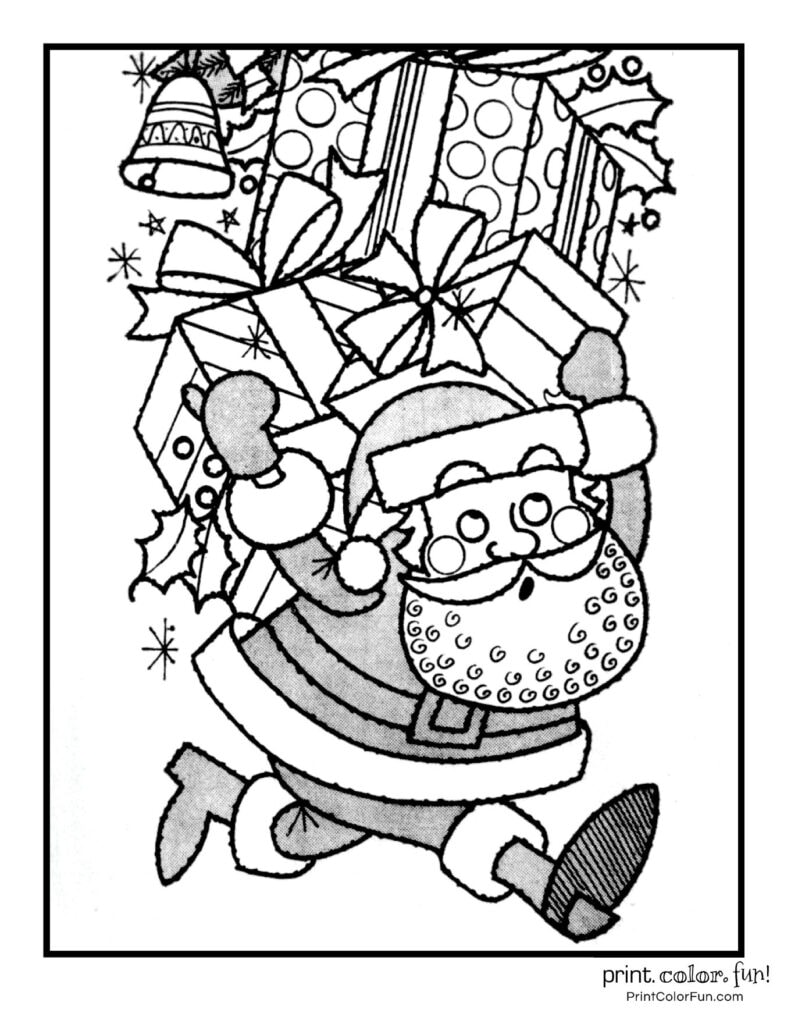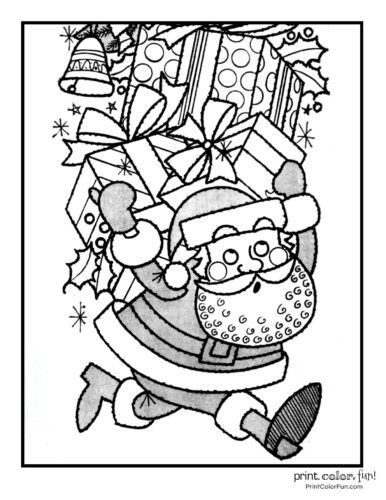 ---
What is Santa saying?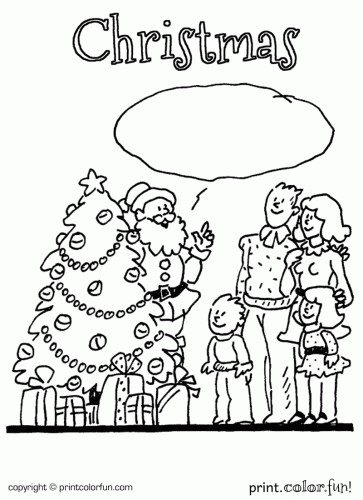 ---
Ready to share hearts and love for Christmastime
---
Santa's sleigh, being pulled by reindeer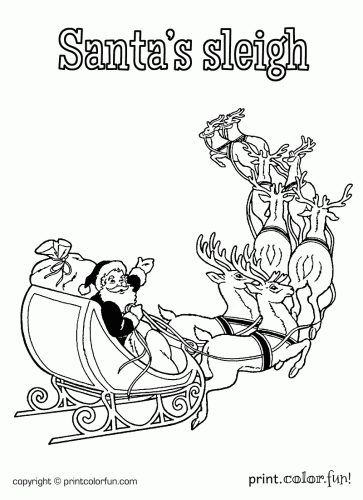 ---
Santa's message coloring page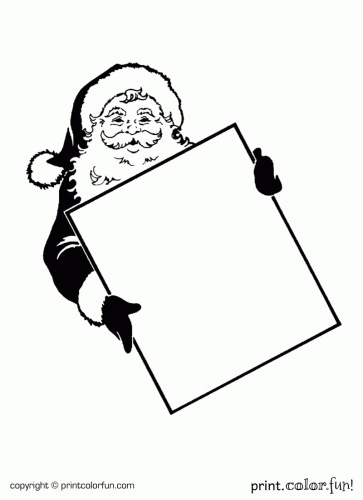 ---
Santa with a huge bag of Christmas presents
---
Funny Santa Claus in a box coloring page
---
Happy Santa template: With a bag of gifts
---
Hawaiian Santa playing the ukulele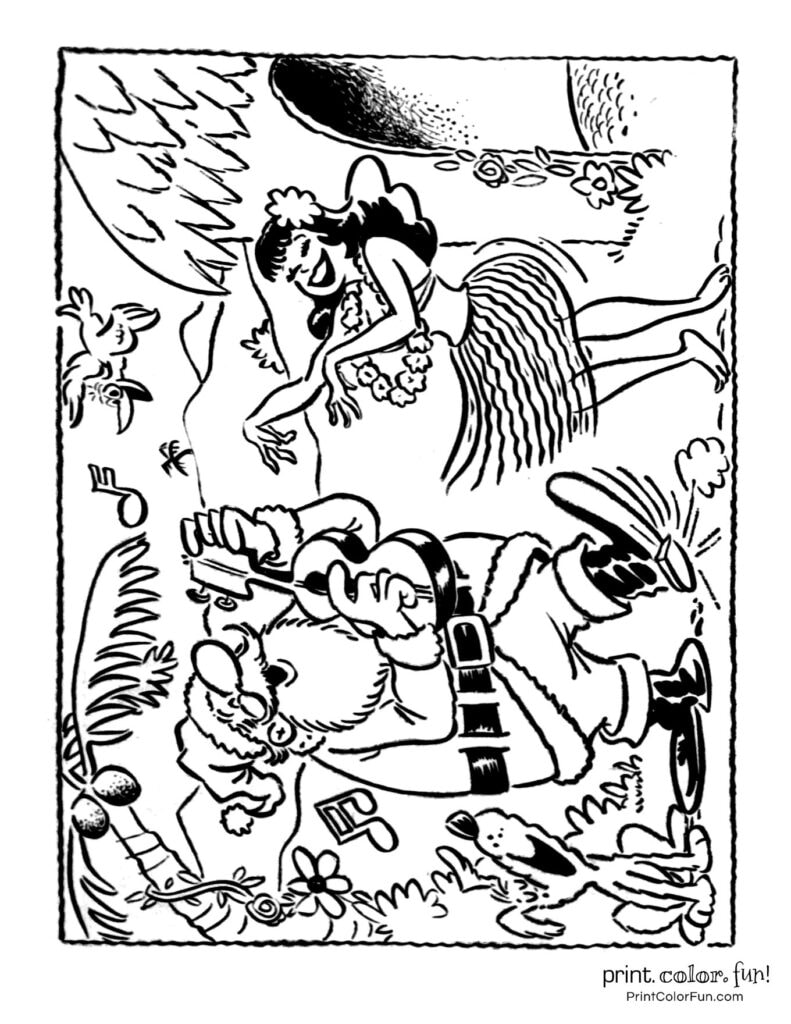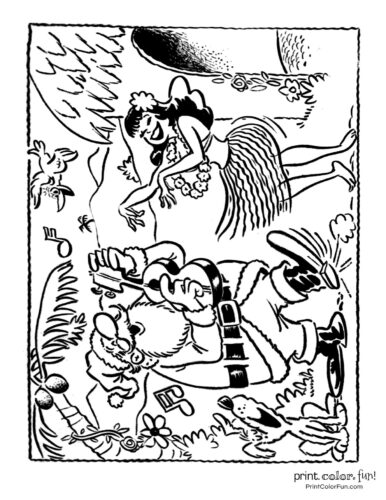 ---
Funny surfing Santa Claus Christmas coloring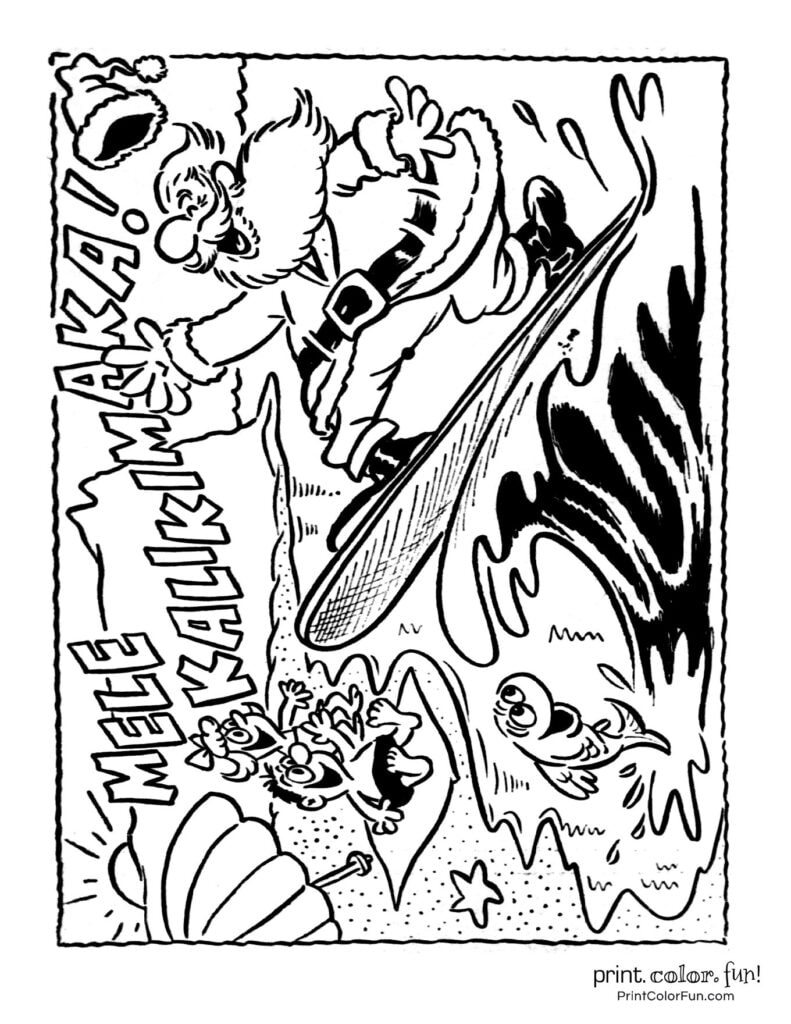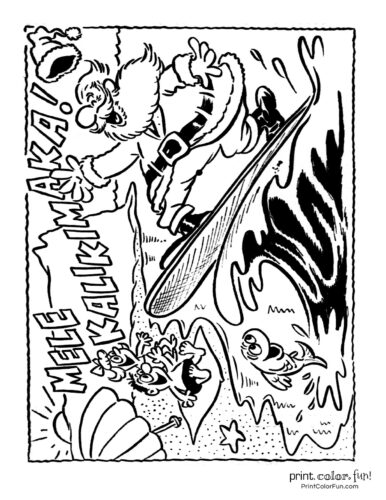 ---
Hawaiian Santa Claus snorkeling with fish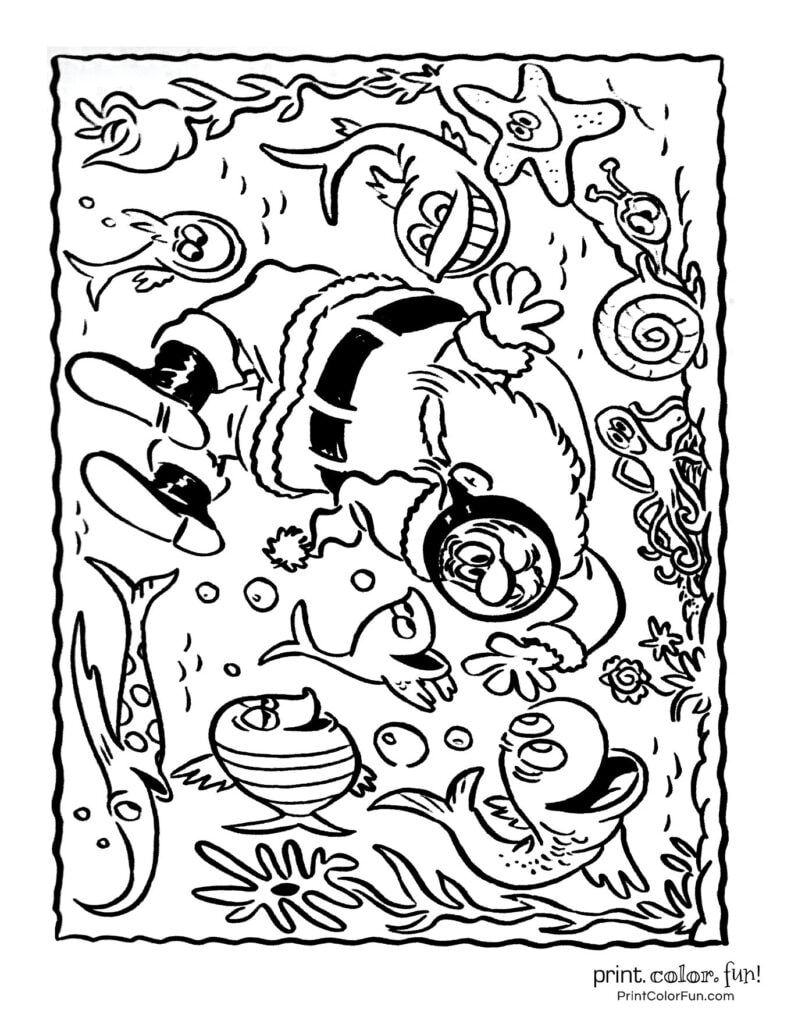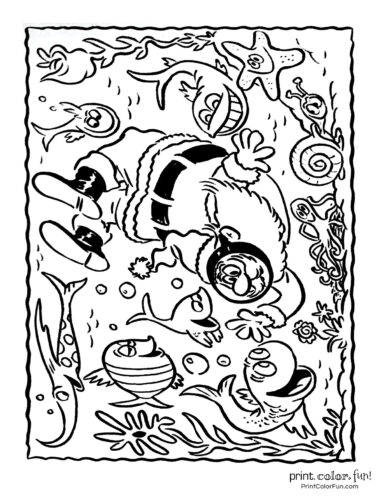 ---
Free Santa Claus coloring pages to download and print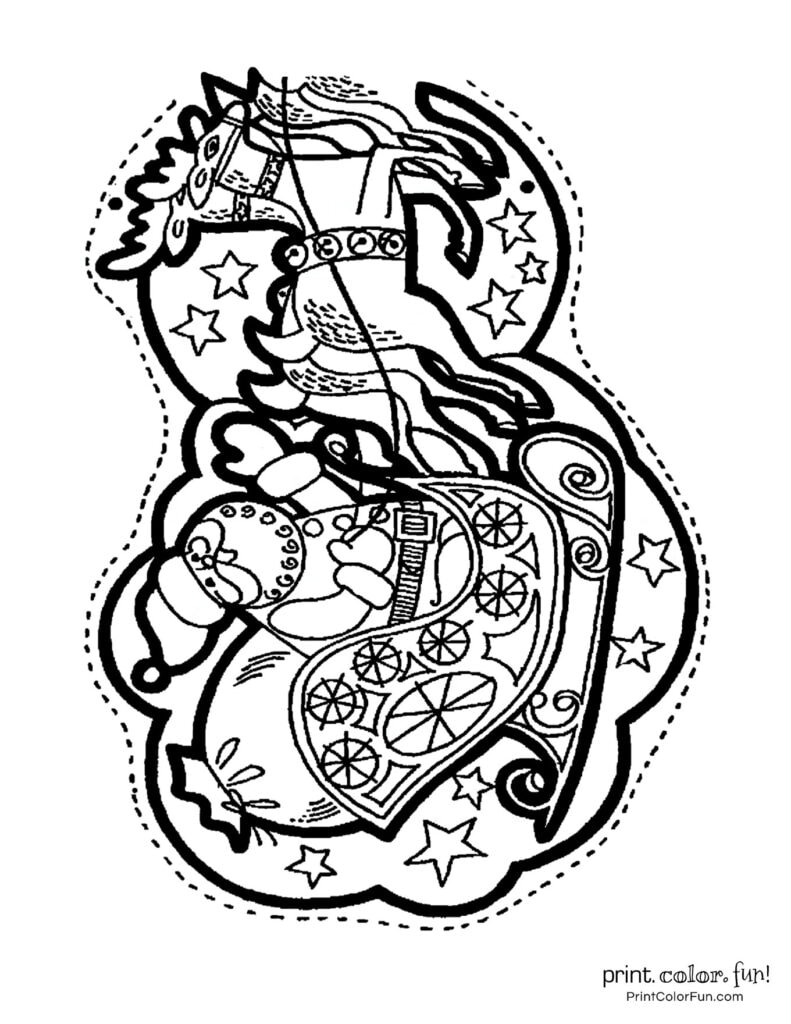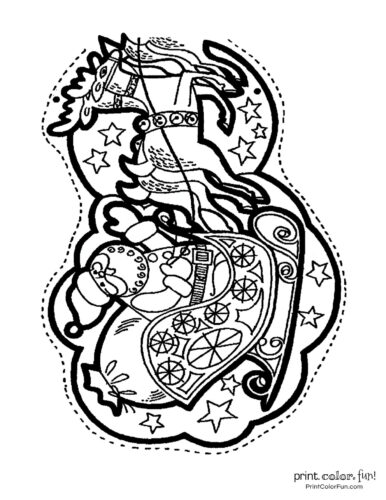 ---
Cartoon Santa Claus clipart with a present
---
Silly jumping Santa printable
---
Hanging Christmas wreath with Santa
Here's a nice festive Christmas wreath, with Santa and a sack full of toys in the middle! (Click on the picture to get a larger printable version.)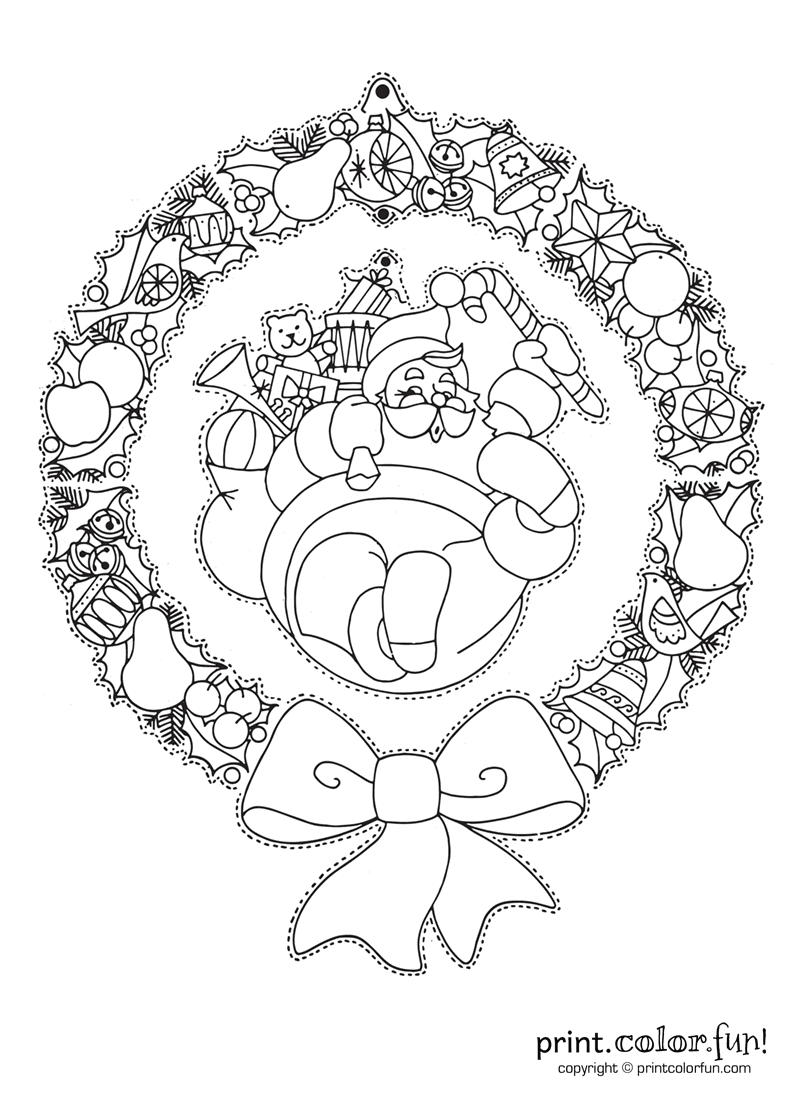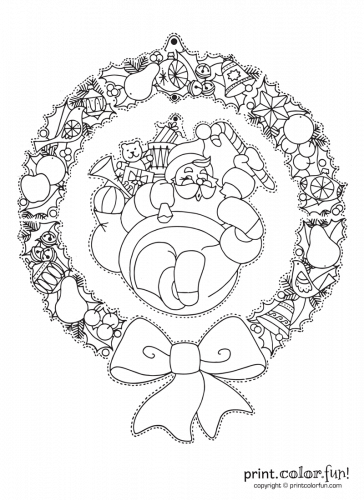 ---
Santa Claus clipart: Carrying too many gifts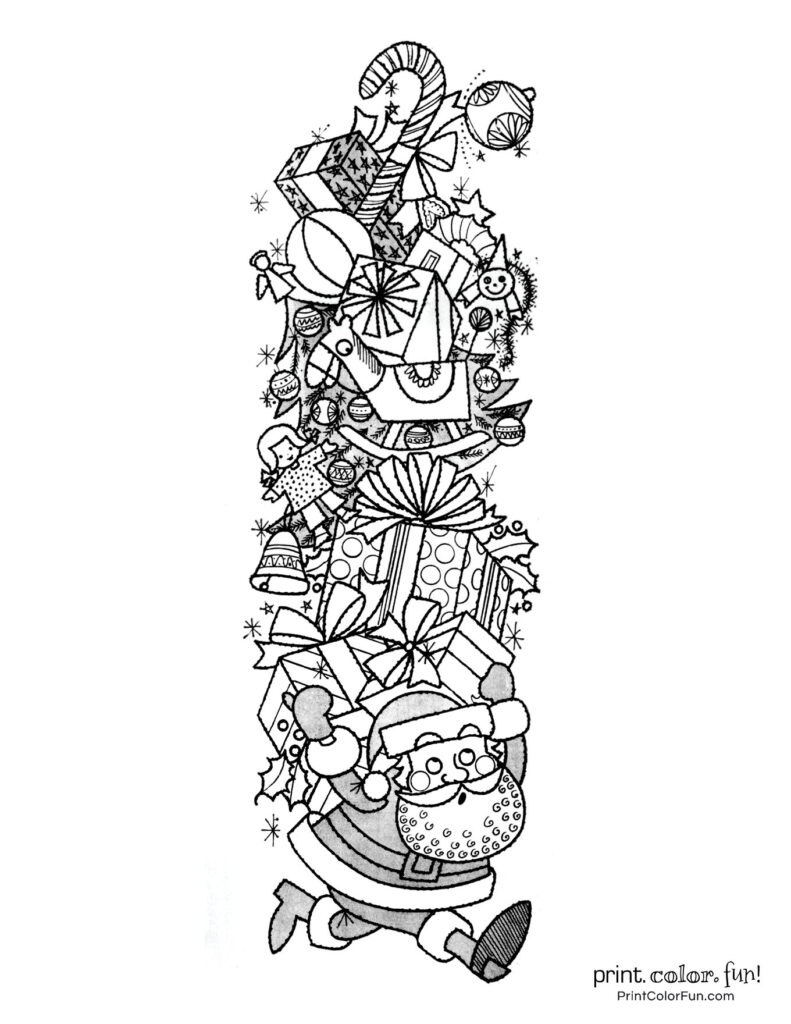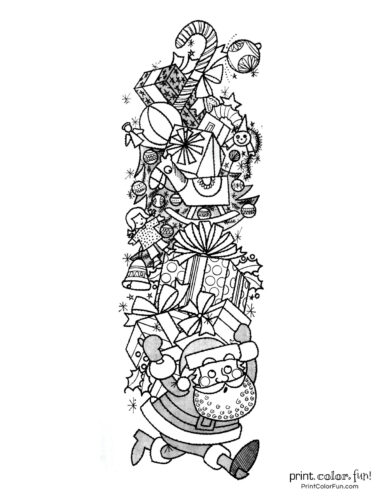 ---
More Santa coloring pages for kids