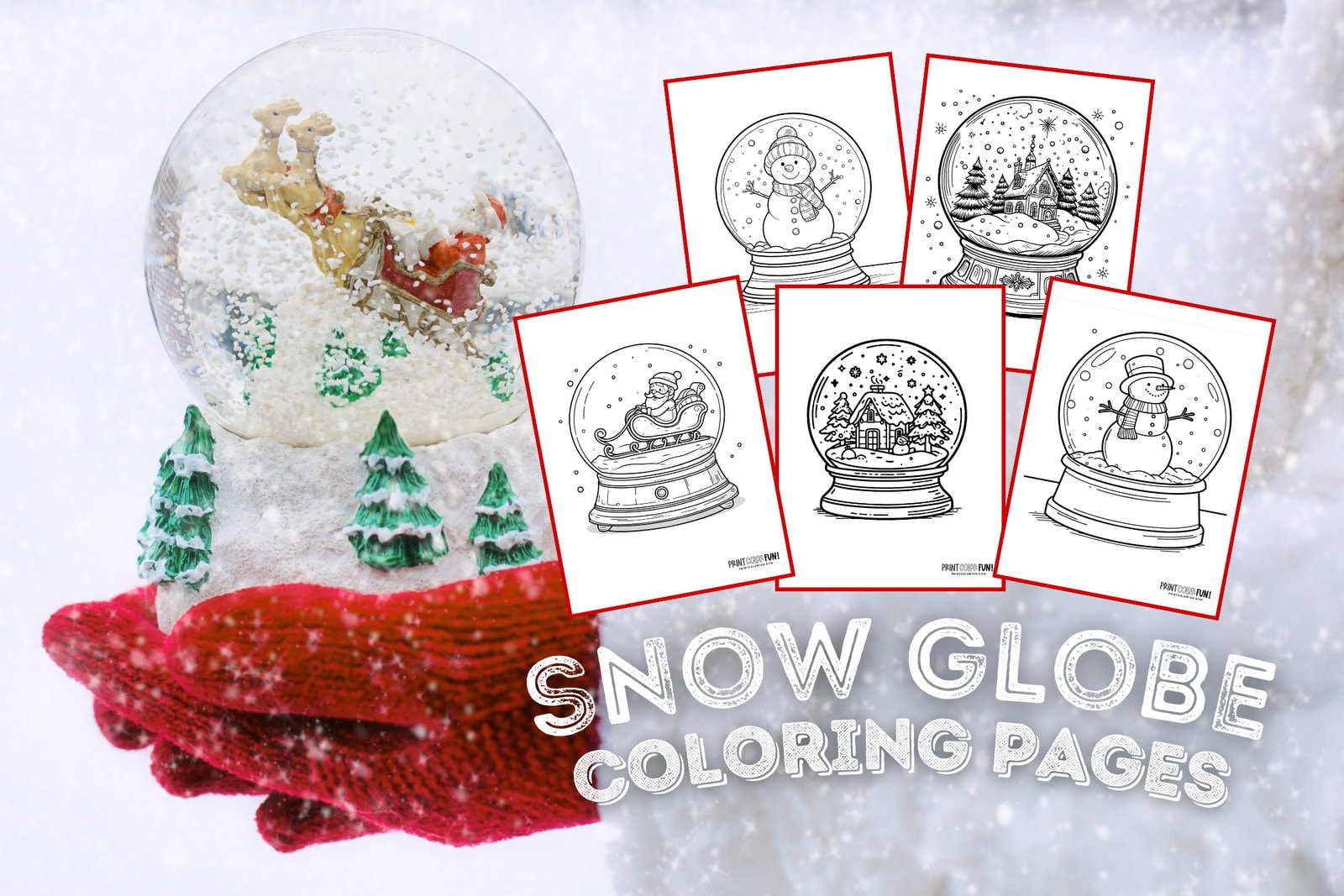 Snow globe clipart: 5 creative ways to craft & play for the little ones
Snow globes have always held a certain magic for both kids and adults. Watching the snowflakes float down around a serene scene — it's pure enchantment. Now, imagine bringing that magic to the craft table. With these snow globe clipart and coloring pages, you can do just that.
Let's take a snowy adventure and find some delightful ways to use snow globe clipart — both colorful and black and white line art versions! Grab your art supplies and journey into the whimsical world of snow globes with your little one. The memories you'll create are sure to be treasured for years to come.
---
Cute snowman snow globe
There's an adorable little snowman just inside this toy snow globe!
---
Growing Christmas trees
---
What makes snow globe clipart so fun for kids?
These snow globe template pages capture the essence of winter in a compact, artistic manner. They are a snapshot of a winter wonderland that can be used in countless creative projects. Here's why they're so appealing:
Versatility: From scrapbooking to homemade cards, there's no limit to what you can craft.
Educational value: They're a great way to teach kids about seasons, weather patterns and even geography, depending on the scene inside the globe.
Aesthetic appeal: The intricate designs often found in colorful clipart (and black and white pages) are so pretty, and kids generally love them.
---
Snow globe color clipart Christmas tree
---
Beautiful colorful snow globe with a gingerbread house
---
Christmas clip art snow globe: Santa and his sleigh
See more color clipart below!
---
Forest and village snow globe
---
Cute little house snow globe
---
5 fun ways to use snow globe clipart with your child
Craft a winter story: Snow globe clipart can be the perfect starting point for a wintry tale. Ask your child to pick their favorite snow globe design, and together, weave a story around it.
Snow globe coloring pages: We've got a collection of snow globe coloring pages ready for your kiddo's artistic touch. Let their imagination run wild as they add their own colors and designs to the scene.
Design your own snow globe: Using the blank snow globe template below, allow your child to create their very own snow globe scene. From drawing their family inside to a snowy forest with animals, the possibilities are endless.
Snow globe calendar: Print 12 different snow globe designs and attach each to a month on a blank calendar. Let your child decorate and personalize each month. It's a great way to anticipate the changing seasons and special holidays.
Seasonal memories in a globe: Create a year-long scrapbook project with your child using the blank snow globe template. Here's how:
Monthly mementos: Each month, print out a snow globe coloring page. Let your child color, decorate, and personalize the globe based on a memorable event, holiday, or theme from that month. Perhaps a snowman for January, hearts for February, or flowers for May.
Add photos and notes: Inside or beside each snow globe, paste a photo from the month that captures a special memory. It could be a family outing, a playdate, or even just a day in the park. Add a small note or caption about the moment.
Decorative borders: Use the snow globe clipart as decorative elements to frame each page. This gives a cohesive theme to the scrapbook.
Bind and cherish: At the end of the year, bind the pages together. You'll have a unique, snow globe-themed scrapbook that chronicles a year's worth of memories.
---
Blank snow globe template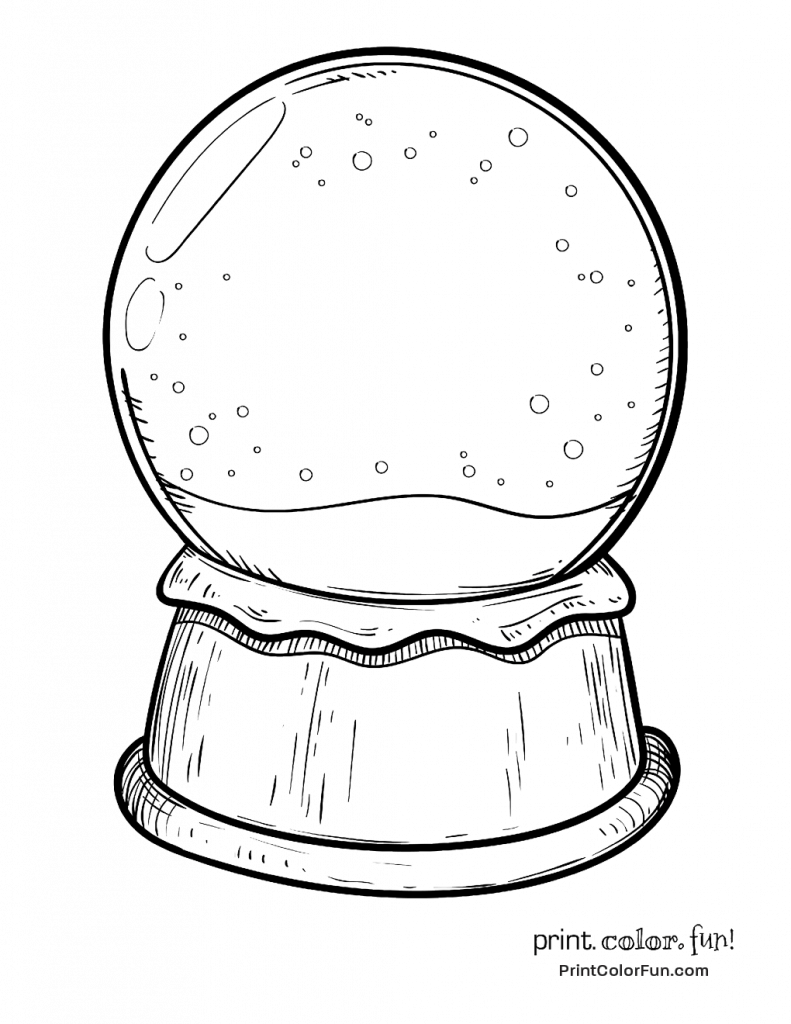 ---
Happy snowperson snow globe
---
Homes and trees snow globe
---
3 tips for a frosty-fun experience
Choose the right materials: Ensure you have a variety of coloring tools on hand. Crayons, colored pencils, and washable markers can all offer different effects.
Embrace the mess: Crafting can get a little messy. Set up a dedicated space where your child can let their creativity flow without worrying about spills or stains.
Enjoy the process: Remember, it's all about the journey. Whether it's a snow globe coloring page or a snow globe printable project, the goal is to have fun and bond with your child.
---
Gingerbread house snow globe colouring page
---
Adorable snowman snow globe
---
Little cabin in the woods
---
Little snowman snow globe coloring page
---
Quiet log cabin snow globe printable
---
Quaint old house snow globe
---
Reindeer snow globe coloring page
---
Santa and his sleigh snow globe
---
Santa Claus snow globe coloring page
---
Snowman with hat and scarf
---
Two pretty snowglobes
---
Winter mountain and lake coloring page
---
Decorated Christmas tree — detailed snow globe coloring page
---
Winter outdoor scene
---
Boy playing outside in the snow
---
Big trees and cabin at night snow globe
---
Nighttime scene snow globe
---
Christmas snow globe with snowman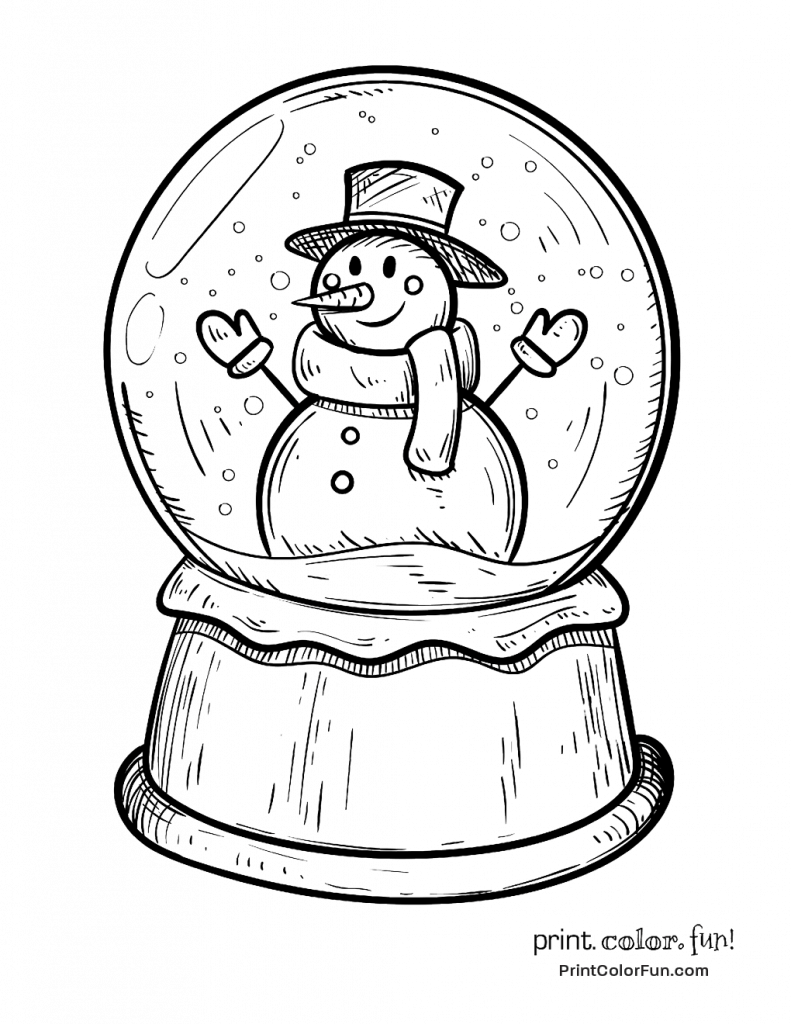 ---
Snow globe with Christmas presents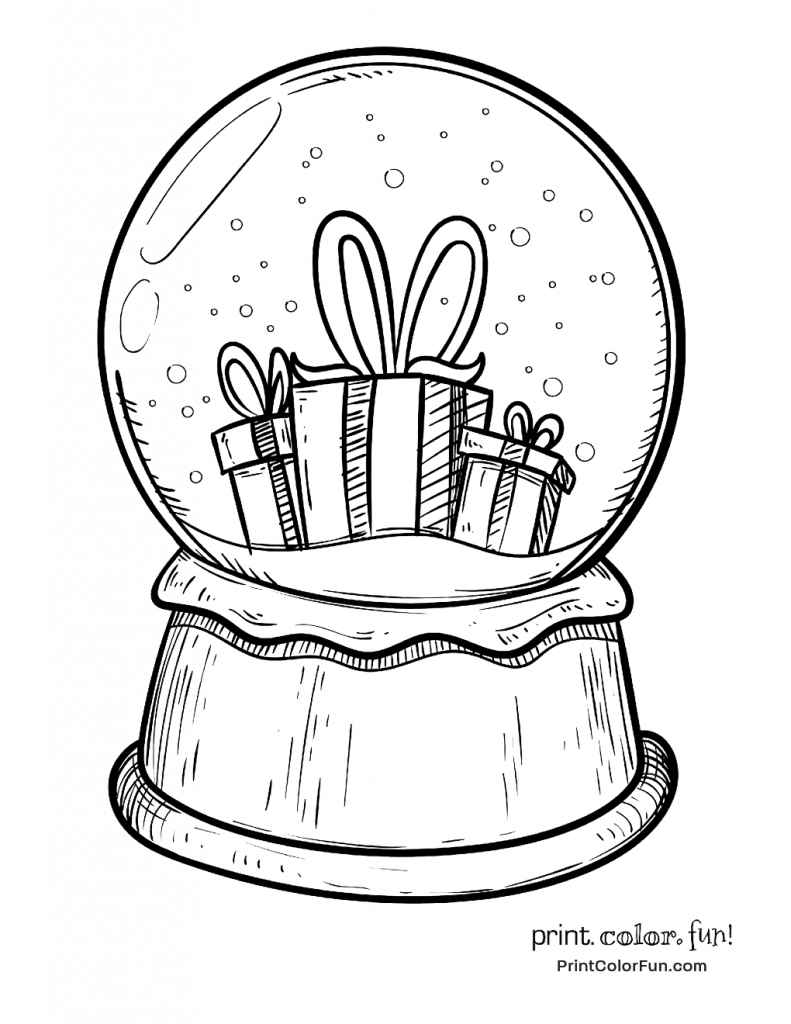 ---
Christmas snow globe with reindeer
Here's a picture you can print of a beautiful reindeer stopping to listen for what is going around him during a snowy winter day. (Click on the picture to get a larger printable version.)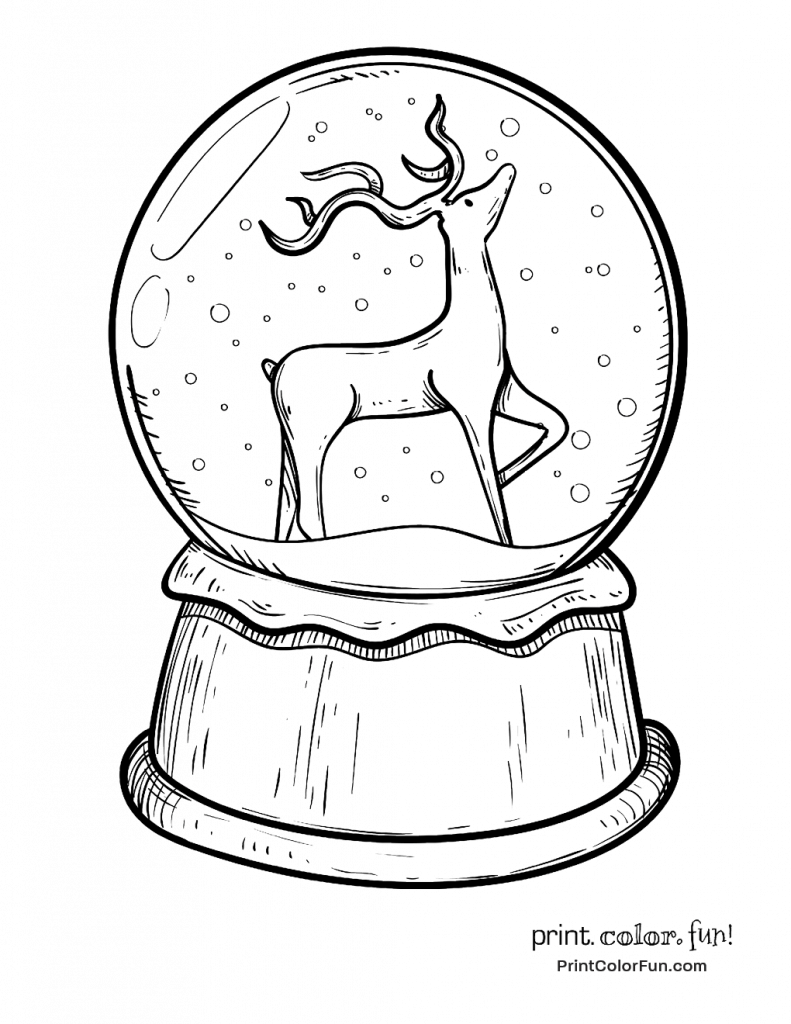 ---
Snow globe with gingerbread person coloring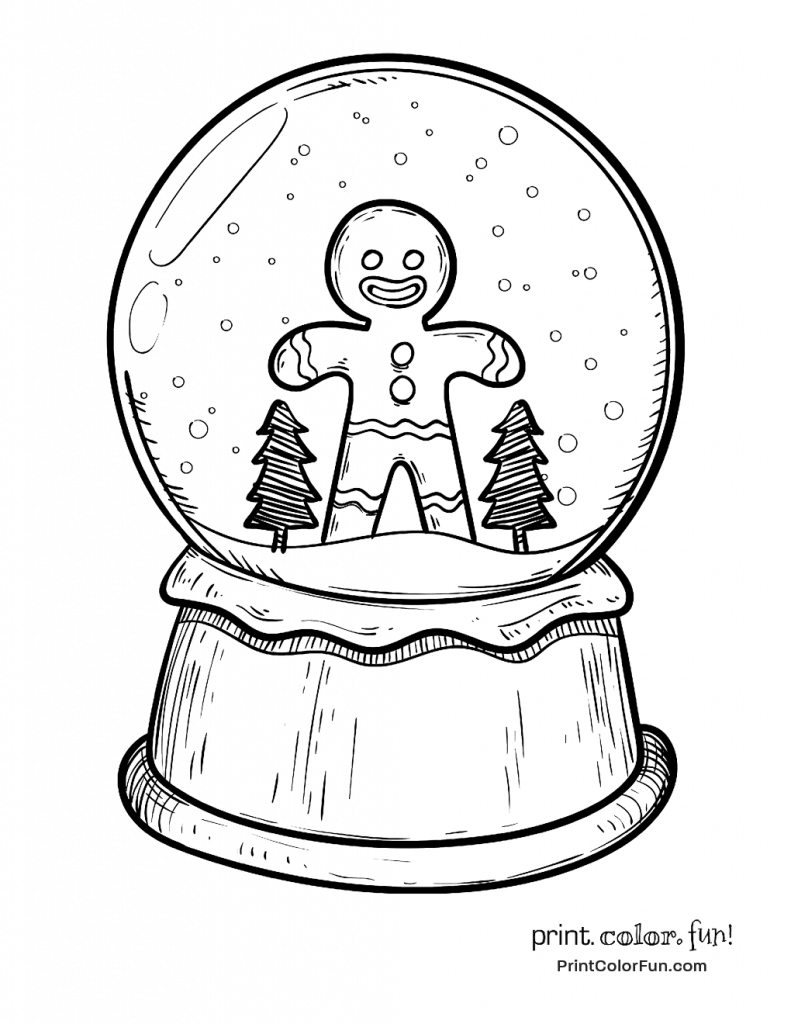 ---
Winter snow globe with a penguin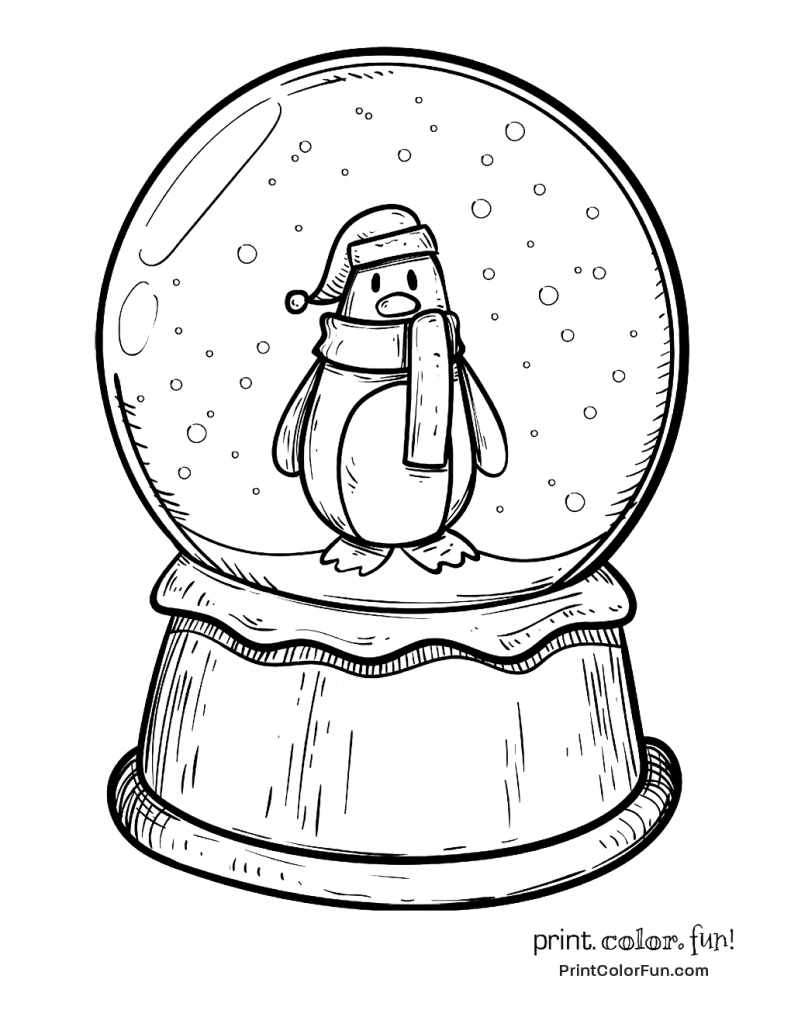 ---
Christmas snow globe with North Pole sign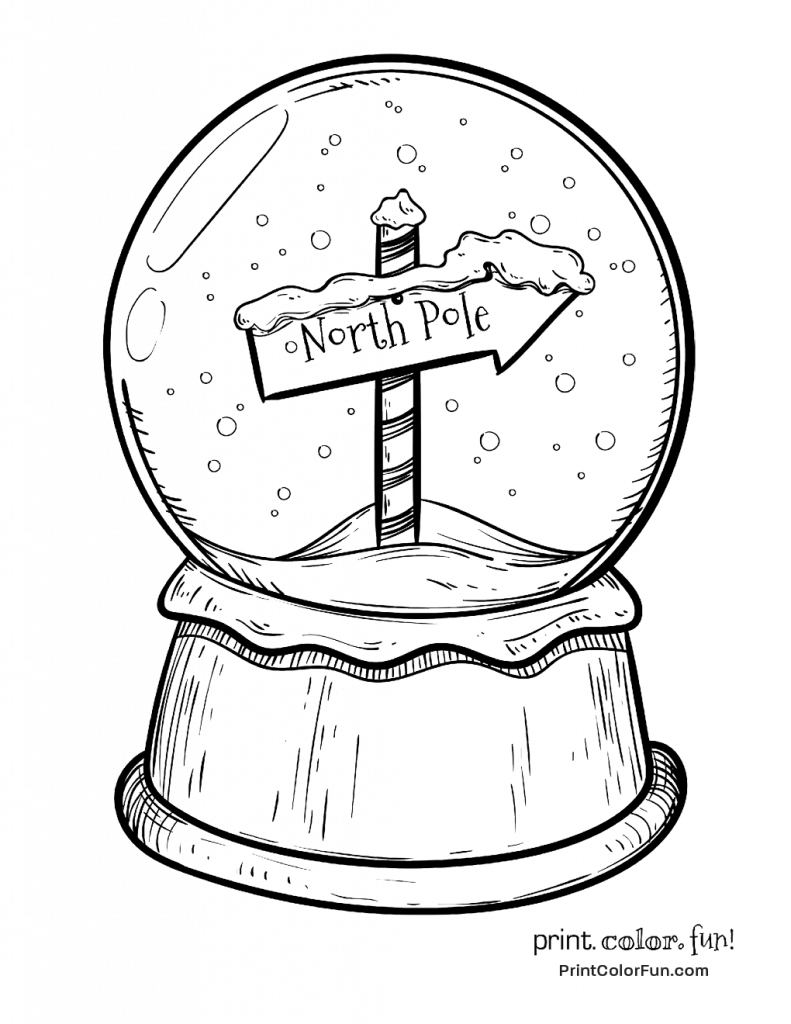 ---
Snowman snow globe color clipart
---
Snow globe with Santa and his sleigh clip art
---
Colorful clipart Christmas scene inside a snow globe
---
Share the fun!
Like these pages? Please share this post on Pinterest! You can use the image below if you like. Thank you! ☃️