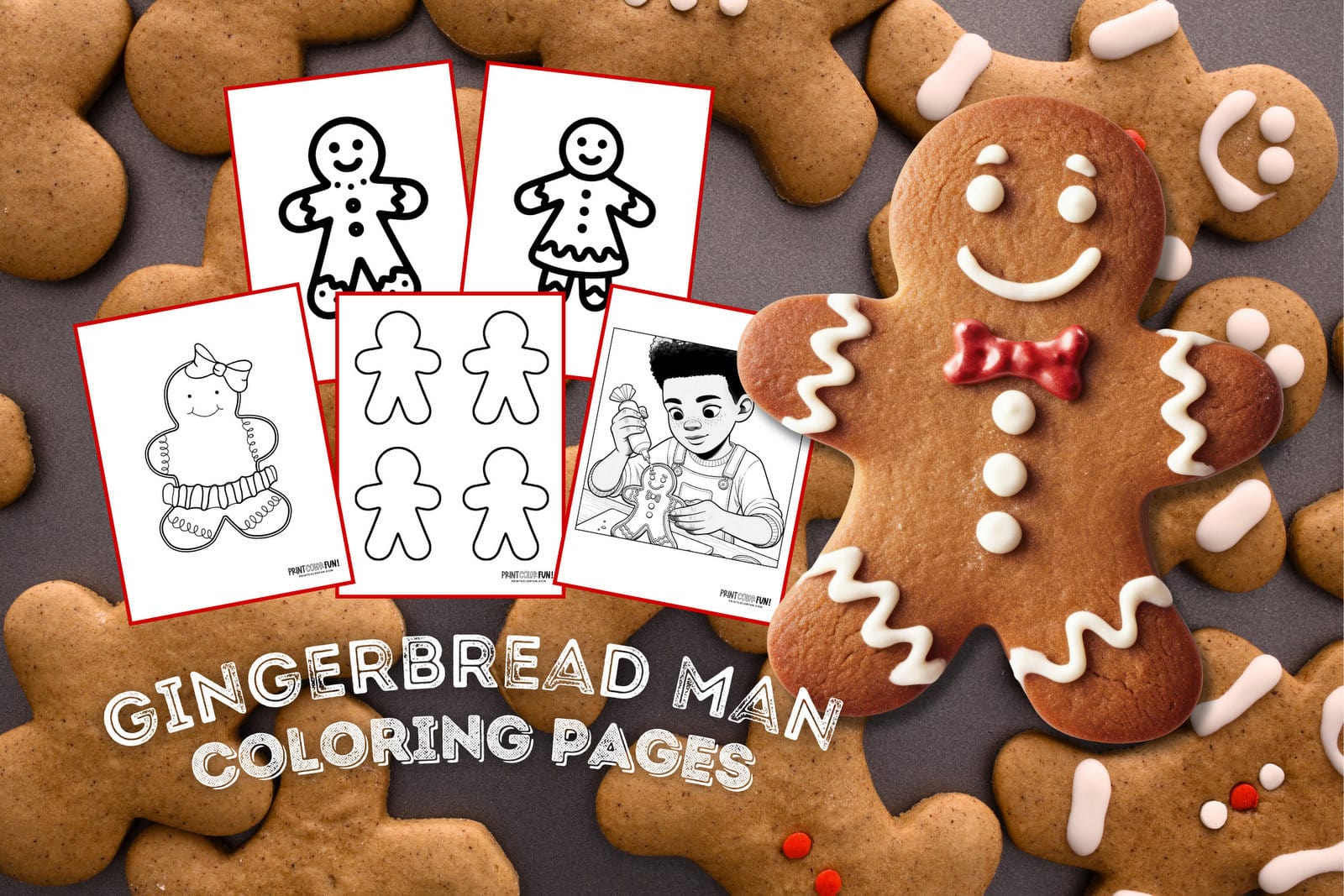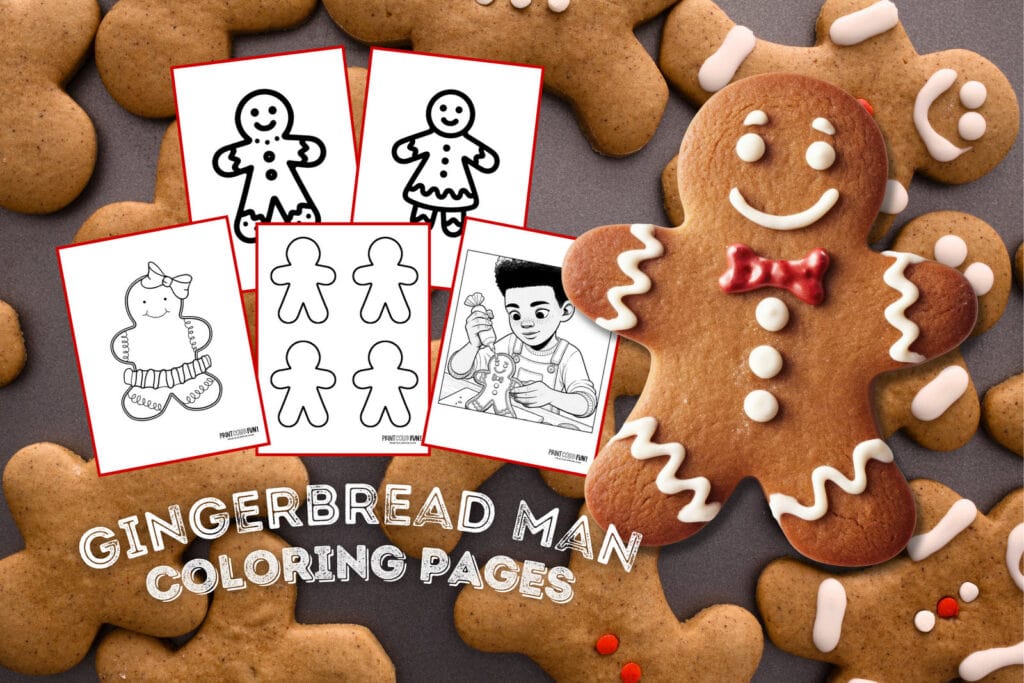 Make your gingerbread man coloring page come to life with these craft & learning ideas
Use these gingerbread man coloring pages as a springboard for countless activities that can enrich your child's mind and brighten their day. Below, we have 10 ideas to start you off — but the possibilities are endless.
You'll also find 10 fun facts about all things gingerbread, as well as a variety of gingerbread man clipart and cut-out printables you can use to inspire all kinds of festive seasonal decorations. Grab those crayons, print out that gingerbread man template and let the adventures begin!
Craft ideas with gingerbread man coloring pages
Who knew that a simple gingerbread man printable could open up a world of crafty adventures? Here are five craft activities to kickstart the fun:
Gingerbread man puppets: After coloring, cut out the gingerbread man and attach it to a stick to create simple puppets. Little ones can put on a puppet show, bringing the colorful characters to life.
Gingerbread man story book: Create a storybook using the colored pages. Each gingerbread man can represent a character in the story, sparking imagination as each page unfolds a new adventure.
Gingerbread man garland: Color and cut out several gingerbread men, then string them together to create a festive garland. It's a beautiful way to display the artwork.
Gingerbread man magnets: Attach small magnets to the back of the colored gingerbread men to create playful magnets. They can brighten up the fridge or a magnetic board.
Gingerbread man holiday ornaments: Laminate or cover the colored pages with clear contact paper, cut out the gingerbread men, and attach a ribbon to create holiday ornaments.
Enriching learning activities with gingerbread man coloring pages
Coloring can be a learning expedition! Here are some activities to incorporate into low-key learning sessions:
Shape identification: Incorporate various shapes like circles, squares, and triangles within the design of the gingerbread man coloring pages. Ask children to identify and color these shapes differently to enhance their shape recognition skills.
Spatial awareness: Arrange gingerbread man printables in various positions on a larger sheet — upside down, sideways, or at different angles to foster spatial awareness.
Measurement fun: Encourage children to measure the height and width of gingerbread men using non-standard units like candy pieces or paper clips. They can then color the gingerbread men based on their size.
Color by number: Print out one of the coloring pages here, and create a simple color-by-number gingerbread man drawing where each number corresponds to a color. This can help with number recognition and following instructions.
Comparative sizes: Provide gingerbread man templates of varying sizes for coloring. After coloring, engage children in arranging them from smallest to largest or vice versa, promoting understanding of comparative sizes and terms like smaller, bigger, tallest, and shortest.
Fun facts with gingerbread man theme
Every coloring session can also be a lesson in fun facts. Here are ten nuggets of knowledge about gingerbread:
Gingerbread's journey to Europe dates back to 992 AD, thanks to an Armenian monk.
Decorating gingerbread men? Thank Queen Elizabeth I of England for that creative idea.
The title of the largest gingerbread man goes to one weighing a whopping 1,466 pounds.
Once upon a time, gingerbread was a remedy for indigestion and stomach aches.
Nuremberg, Germany proudly wears the crown of the "Gingerbread Capital of the World."
The fairy tale "Hansel and Gretel" by the Brothers Grimm popularized gingerbread houses.
The term "gingerbread" has Old French roots, derived from "gingebras," which means preserved ginger.
Traditional gingerbread cookies get their unique taste from molasses.
Crafting gingerbread houses is a beloved holiday tradition across the globe.
The world's largest gingerbread house, built in Texas in 2013, covered 2,520 square feet (a normal human house size!) and had an edible exterior.
---
Blank gingerbread man shapes to color or use as templates
Run, run as fast as you can! You can't catch me — I'm the Gingerbread Man!
These gingerbread men (or gingerbread people) are ready to serve as a blank page for your creativity, or use these paper cookies as a template for crafts or cooking!
---
Small blank gingerbread man shapes
Four blank gingerbread people are here for you to color and/or cut out! You can even use them to decorate for Christmas, or even as gift tags or to add to greeting cards. (Just click the image to get a larger print-ready version.)
---
Color these kids cooking & making gingerbread cookies
Use these to get into the holiday spirit – then consider baking and decorating your own batch!
---
Gingerbread man & person color clipart
---
Share the gingerbread fun!
Like these pages? Please share this post on Pinterest! You can use the image below if you like. Thank you! ❄️