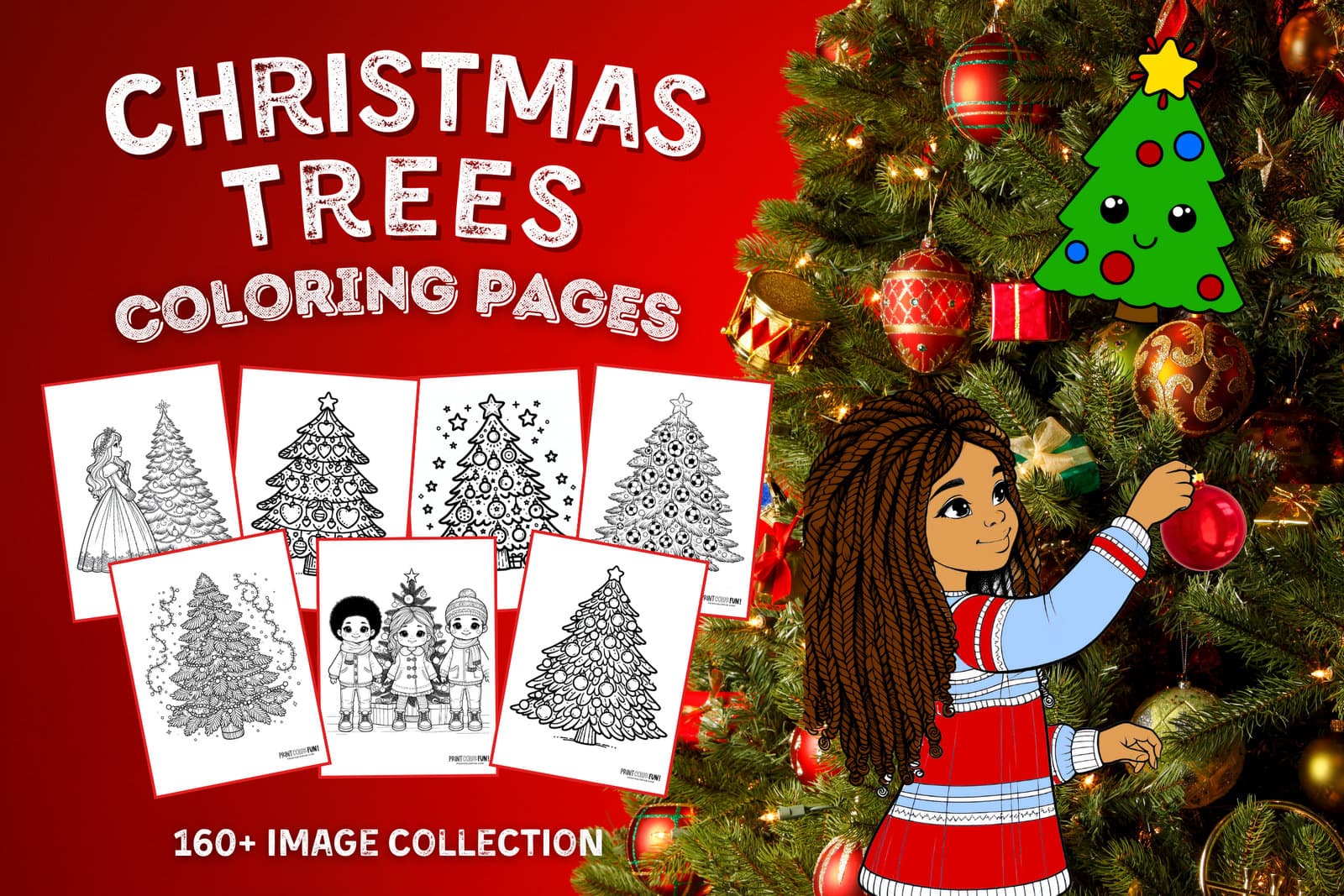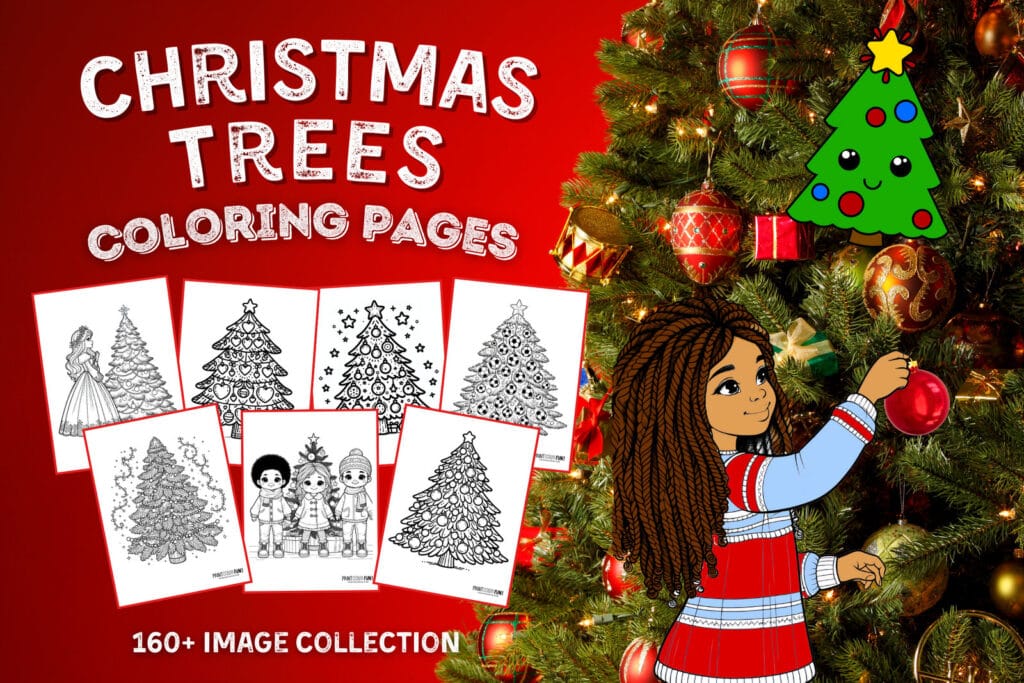 Unlock learning magic with these printable Christmas tree coloring pages
Getting ready for the holiday? Christmas tree coloring pages like these offer a sweet and cozy gateway to bonding and creative learning. Brightening up the festive season, these coloring pages offer a fun seasonal opportunity to connect with your kids.
So, if you're a parent or grandparent, discover here how to make these pages a rewarding experience for the whole family!
How you can use these pages for more than just coloring
Sure, it's fun to watch your child's face light up as they choose green for the tree and yellow for the star. But have you ever thought about expanding on this? The pages can be the basis for a variety of enriching activities that are both educational and fun.
Extend the fun with these ideas
Unit study: Use the coloring page as a starting point to learn about the history of Christmas trees (see below for Christmas tree history plus some fun facts), the different kinds of trees people use, and their significance in cultures around the world.
Categorize colors: As your child colors, engage them in conversations about primary, secondary, and tertiary colors. It helps sharpen their color recognition skills.
Color science: Talk about how mixing blue and yellow makes green. You can even try it out with some safe, washable paints.
Math counting: Use the ornaments on one of the coloring pages for basic math lessons. How many stars are there? How many ornaments in total?
Vocabulary: Introduce words about drawing and coloring — like symmetry, pattern, and shade — as they work on their tree.
Tree decorations: After coloring, cut out the individual ornaments and use them to decorate a miniature Christmas tree. It's hands-on and super engaging.
These activities, ranging from themed unit studies to interactive crafts, open up a world of endless possibilities.
Focus on making the pictures age-appropriate (not too easy and not too hard), be flexible (why not a pink tree — or who says you have to color in the lines?), and let it be a lighthearted, fun experience. This is, after all, the essence of the holiday season!
These cheery Christmas trees are all ready to decorate – and there are more than 160 of them you can download, print and color! At the end of the page, don't miss the cool color clipart that's all ready to use.
---
Christmas tree coloring pages ready to print
---
And here's a little Christmas tree history
The use of trees for celebrations began even before the Christian era, according to the U.S. Forestry Service. Ancient Egyptians used date palms to celebrate the winter solstice, or the shortest day of the year. From this day until summer, daylight increases daily.
To these ancients, the tree was a symbol of life over death — just as the sun is "reborn" in winter and begins to provide more light each day.
By 354 A.D., after Christianity became an accepted religion, church leaders had established December 25 as a day for exchanging gifts, expressing goodwill, for merrymaking and feasting. Part of this feast included raising an evergreen bough to celebrate — as the Egyptians had — the return of the sun.
Through the ages, people all over the world have revered the evergreen tree. The Norse, Celts and Saxons used these trees to ward off witches, evil spirits and ghosts.
Although the United States is considered by many to be the originator of the Christmas tree custom, the "true Christmas tree" has been traced back to the 16th century in Germany. Since its earliest appearance, it has always been decorated — at first with fruit, paper, cloth, sugar and wafers, and later with cookies, stars, bells, angels, hearts, candles, ribbons, polished nuts, animal likenesses and beads.
Popcorn, thought to be used at first to simulate snow, was a popular decoration in the 1800s. Toys, dolls and gifts were eventually added.
---
Pretty decorated Christmas trees to color
---
Fun facts about Christmas trees
Did you know…
Not just fir: While the Fraser fir is a popular choice, Christmas trees can also be Douglas firs, balsam firs, and even spruces and pines. (And, of course, there are artificial trees, which usually mimic one of those.)
White House tradition: The first Christmas tree in the White House was displayed by President Benjamin Harrison in 1889.
Tree farms everywhere: In the United States alone, there are over 15,000 Christmas tree farms, cultivating trees specifically for the holiday season.
Growth time: It can take as many as 15 years for a Christmas tree to grow to the typical 6-7 feet height, although 7 to 10 years is more common.
Recyclable nature: After the holidays, Christmas trees can be recycled into mulch or wood chips, offering an eco-friendly disposal option. Some can even be re-planted!
Electric lights debut: The first use of electric lights on a Christmas tree was in 1882, just three years after Thomas Edison's light bulb invention.
Symbolism: In various cultures, the Christmas tree symbolizes everlasting life, rebirth, and the enduring spirit of Christmas.
Don't stop there! Use these topics as jump-off points for discussions, and/or ask your child what questions they have about the trees and other holiday symbols and decor.
---
Simple Christmas tree coloring pages for younger kids
---
Undecorated Christmas trees to print
With these plain undecorated Christmas tree coloring pages as a basis, dressing them up for the holiday can be a delightful and imaginative activity for children — especially when incorporating stickers.
After coloring the tree (if they want), little decals can give kids the freedom to design their unique version of a festive tree, using everything from from sparkling stars and snowflakes to colorful baubles and gifts. Even toddlers, who may have a hard time working with crayons or markers, can enjoy the tactile sensations as they make a tree pop with life and vibrancy.
Encouraging your child to use stickers for decorating also has educational benefits. It helps develop their fine motor skills as they peel and place stickers, and decision-making skills as they choose where each sticker should go.
The end result is not just a beautifully decorated tree on paper, but also a proud moment for your child, showcasing their artistic skills and creativity.
Here are a dozen blank, undecorated trees (some with just outlines) to start with!
---
Princesses and Christmas trees
---
Christmas trees with pets & other animals
---
Fun themed Christmas trees to color & decorate
Christmas tree with basketballs
---
Tree with footballs printable page
---
Soccer balls on a Christmas tree

---
A tree filled with bows
---
Pretty heart ornaments on a Christmas tree
---
Cute hearts fill this tree
---
Flower-filled Christmas tree
---
A Hawaii-themed Christmas tree
Mele Kalikimaka! That's Hawaiian for Merry Christmas.
---
Popcorn or clouds decorate this Christmas tree
---
Happy kids & Christmas trees
Get crafty with the completed & colored pages
Even after the final touches of crayon or marker have graced the Christmas tree coloring pages, the fun doesn't have to end! You can turn these artistic endeavors into memorable crafts that extend the holiday cheer. Here are four ideas:
Holiday bookmarks: Convert the colored page into a festive bookmark by trimming it, laminating it, and adding a ribbon through a punched hole at the top.
Greeting cards: Transform the colored page into holiday cards by gluing the cut-out tree onto a small piece of construction paper or card stock that has been folded in half. Add a personal message inside.
Fridge magnets: Laminate the colored tree and attach small magnets to the back. Now, your child's art can add a holiday touch to your kitchen.
Ornament swap: Turn the colored page into an actual ornament by laminating and adding a ribbon. Swap with friends or family to share the creativity and holiday spirit.
These craft suggestions can turn your child's Christmas tree coloring pages into charming gifts for family and friends. Every crafted piece highlights your child's artistic flair and brings a unique, personal element to the festive season.
---
Santa Claus checking out the Christmas trees
Get more coloring pages of Santa Claus here!
---
Christmas trees with angels
---
Getting the Christmas tree
---
Decorative adult Christmas tree coloring pages
Adult coloring pages featuring Christmas trees offer a delightful twist for not just grown-ups, but older kids, too, who are ready to tackle more intricate and detailed designs.
These pages below showcase elaborate patterns and finer details, making them a captivating challenge for those who enjoy a more complex coloring experience. The use of fine-tipped pens or pencils is ideal for these images, as they allow for greater precision in coloring the small, detailed areas.
For older children, these adult coloring pages can be both a relaxing and enriching activity. They provide an opportunity to practice patience and attention to detail while engaging their artistic skills. As they navigate through the complex patterns, kids learn to focus and develop a deeper appreciation for intricate artwork. There's also a wonderful feeling of accomplishment upon completing a detailed page.
So people of any age can find joy in these sophisticated coloring pages. They're a great way for families to spend time together during the holidays, each working on their own piece, yet sharing a common activity. It can lead to meaningful conversations about art, design, and even holiday traditions. Moreover, these coloring pages can be a peaceful retreat from the bustling holiday activities, offering a moment of calm and mindfulness.
---
Abstract design Christmas tree clipart & coloring
Exploring the many abstract designs of Christmas trees with children opens up a wonderful world of art and symbolism. When kids engage in coloring or creating impressionistic tree designs, they delve into a form of artistic expression that emphasizes concepts over realism.
All of this encourages them to think outside the box and interpret the familiar Christmas tree in new, imaginative ways. For instance, a tree might be represented by just a series of colorful, overlapping triangles, or a swirl of green lines.
Engaging with abstract art teaches kids that there's no single 'right' way to depict something. This understanding fosters creativity and self-expression, as they learn that art is a personal experience and open to interpretation. It's a great lesson in appreciating diversity and uniqueness, both in art and in life.
This activity can also be a gentle introduction to the concept of symbolism in art. Children can learn how colors, shapes, and patterns can represent ideas and emotions.
For example, a tree designed with warm colors like red and orange might represent the warmth and coziness of the holiday season, while a tree with stars and moon motifs could symbolize the magical night sky of Christmas Eve.
A wide variety of Christmas tree designs (like those on this page) not only stimulate children's creativity, but also help them understand and appreciate the broader concepts of art and symbolism. It's a fun, hands-on way to explore the depths of artistic expression as you celebrate the festive season.
---
Cute color Christmas tree clipart
---
Share the fun!
Like these pages? Please share this post on Pinterest! You can use the image below if you like. Thanks! 🎁