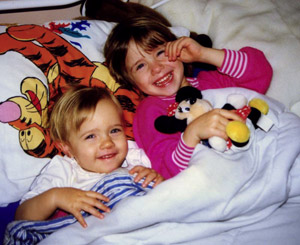 The Print. Color. Fun! website has been many years in the making, and we're happy to now be able to share all kinds of printable resources with you!
A little backstory
Since the late 1990s, I have been collecting and creating all sorts of printables — coloring book pages, craft patterns, ecards and a variety of other designs. I posted them on a number of websites I worked on, and also printed them out for my own kids. (In fact, over the years, I probably printed out this unicorn picture about a hundred times for my young daughters.)
Moving into the future
I finally have a chance to create a home for many of these printable pages, along with a wealth of new goodies — including everything from colorful letters you can use to decorate your baby's room to downloadable blank calendar pages to gift tags and more. You will also find some brand-new, exclusive coloring pages — drawn by one of these two little girls who, years ago, loved to color in these same sorts of pages.