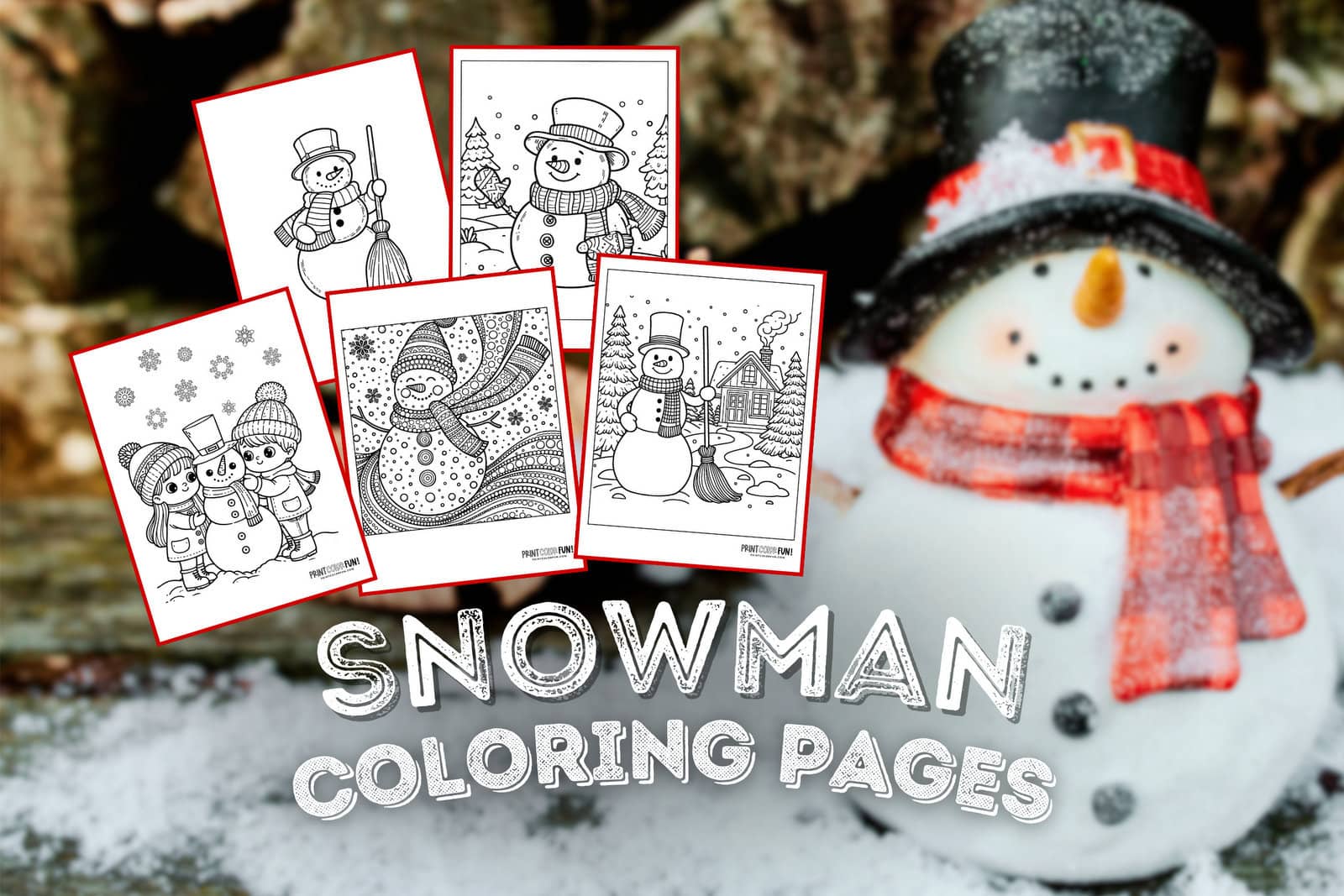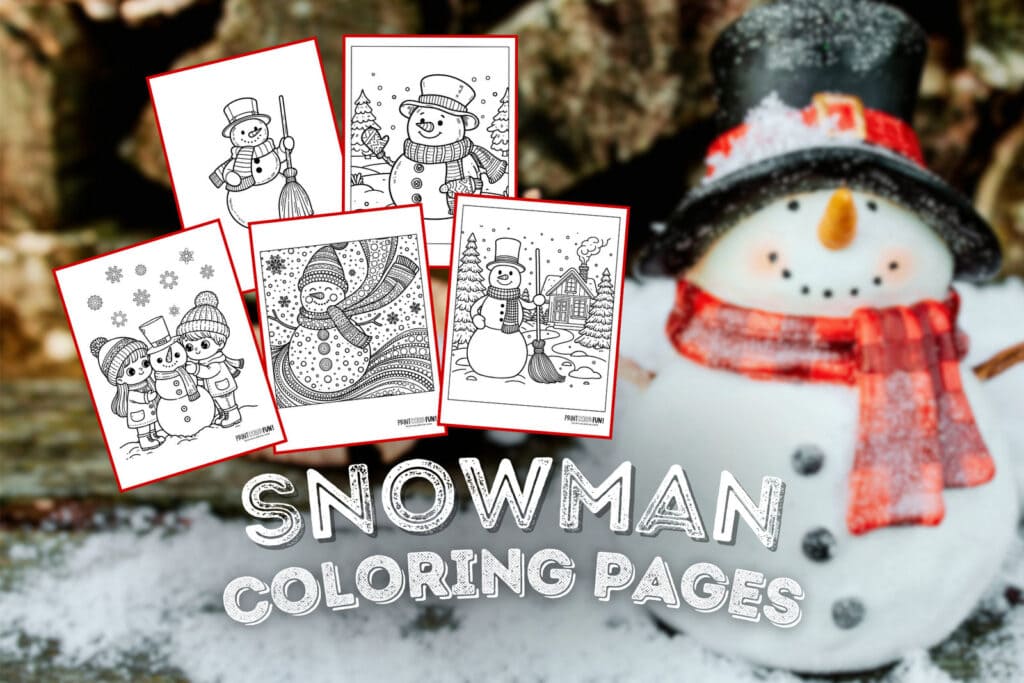 Coloring creativity with snowman coloring pages & clipart
Enjoy a snow-filled adventure — while staying warm & dry inside! — with these snowman coloring pages and accompanying snowman-themed activities — plus our own cute color snowman clipart, too!
These printable pages, games and illustrations offer a chill yet stimulating challenge for young minds. It's an icy cool way to keep creativity and learning alive throughout the winter months!
Snowman coloring pages like these are not just a way to keep the kids busy, but a great avenue to enhance their artistic skills. We have more than 40 pages to choose from in a variety of designs — from simple outlines for preschoolers to intricate scenes for older kids.
It's good for kids, too — in fact, coloring can be a soothing activity that gives children a way to express themselves while also developing their fine motor skills.
---
Snowman maze mastery: From head to toe
Help your little one navigate through a snowman maze, and unlock a sense of achievement!
Mazes are excellent for boosting spatial awareness, problem-solving and hand-eye coordination. Also: They're just plain fun! (These two are the same maze — one has a color figure, and the other is black and white and has a snowman to color.)
---
Cute printable snowman mazes (color & b/w)
These two are the same maze — one has a color figure, and the other is black and white has a snowman with a broom to color.
---
Snowman coloring pages are snow much fun!
To elevate the snowy adventures, consider some of these activities:
Story crafting: After coloring, help the kids craft a short story about the snowman's adventures. This could further spark their creativity and improve their language skills.
Outdoor snowman building: If the weather permits, head outside to build a real snowman. This hands-on activity is not only fun but also great for developing physical and cooperative skills.
Snowflake crafts: Keep the winter theme going by creating paper snowflakes. It's a simple and enjoyable craft that also teaches symmetry.
SEE MORE! 30 snow globe coloring pages
---
Cute snowman color clipart ready to download or print!
---
Crafting snowman magic
Unleashing the creative spirits of little ones can be a whirlwind of excitement and imagination, especially with the whimsy of winter coloring their thoughts.
Snowman coloring pages serve as a blank canvas — but if you want to take a leap further, try these craft ideas and transform these coloring pages into magical winter creations. From puppet shows to personalized greeting cards, each craft idea is a snowflake — unique, imaginative and ready to dazzle.
Snowman storybook: Have the children color their snowman coloring pages. Once colored, they can create a small storybook by writing a short story or sentences on the back of each coloring page, describing what the snowman is doing or experiencing.
Snowman puppet show: Turn the colored snowman pages into puppets by gluing them onto popsicle sticks. Kids can then create a puppet show, inventing stories and dialogues for their snowman characters.
Winter wonderland mural: Combine all the colored snowman pages to create a large winter wonderland mural on a wall or bulletin board. Add additional drawings, glitter, or cotton balls for snow to make the scene come alive.
Snowman greeting cards: Trim and fold the colored snowman pages to create winter-themed greeting cards. Kids can add their messages inside to send warm wishes to friends and family.
Snowman garland: Cut out the colored snowmen and string them together to create a festive garland. This can be hung in the classroom or at home to celebrate the winter season.
---
Cute snowman color clipart illustrations
---
Expanding horizons: From colors to concepts
As young minds color their snowman pages, the world around them buzzes with opportunities to explore, learn, and grow. The transition from coloring to discovering essential concepts can be smooth and enjoyable.
The following activities take the humble snowman coloring page and elevate it to a springboard for enriched learning. From math to science to language, each activity is a step towards making learning an exciting adventure, even during the chill of winter.
Color recognition and sorting: Before coloring the snowman coloring pages, have a discussion about different colors and have the kids sort crayons or colored pencils. They can then use those colors to fill in their pages.
Mathematical snowmen: Use the snowman coloring pages to introduce or reinforce basic math concepts. For example, counting buttons on the snowman, or measuring the height and width of the snowman image.
Winter vocabulary building: Discuss winter-related vocabulary with the kids. They can then label parts of the snowman and write winter-related words on the back of their coloring pages.
Snowman science: Engage in simple science discussions about the states of matter using the snowman as an example. Discuss how snow (solid) can melt into water (liquid) and evaporate into water vapor (gas).
Artistic expression: Encourage artistic expression by providing a variety of materials (glitter, stickers, etc.) for kids to decorate their snowman coloring pages further. Discuss different art techniques and mediums, exploring how they can be used to create different textures and effects on the snowman coloring pages.
---
Lady snowperson/Snow women to color
---
Snowman word search wonders
The snowman word search is a delightful puzzle that can help build vocabulary and improve spelling. It's also a fantastic way to introduce kids to new winter-related words, plus they are known to enhance problem-solving and critical thinking skills. Print, color and have a go at this snowman wordsearch!
---
Cute snowman coloring printables
---
Snowmen/snow people and wintry houses to color
---
Simple snowman coloring pages for preschoolers and toddlers
---
Detailed polka dot snowman coloring pages for teens & grown-ups
---
Beautifully detailed snowman coloring pages for adults