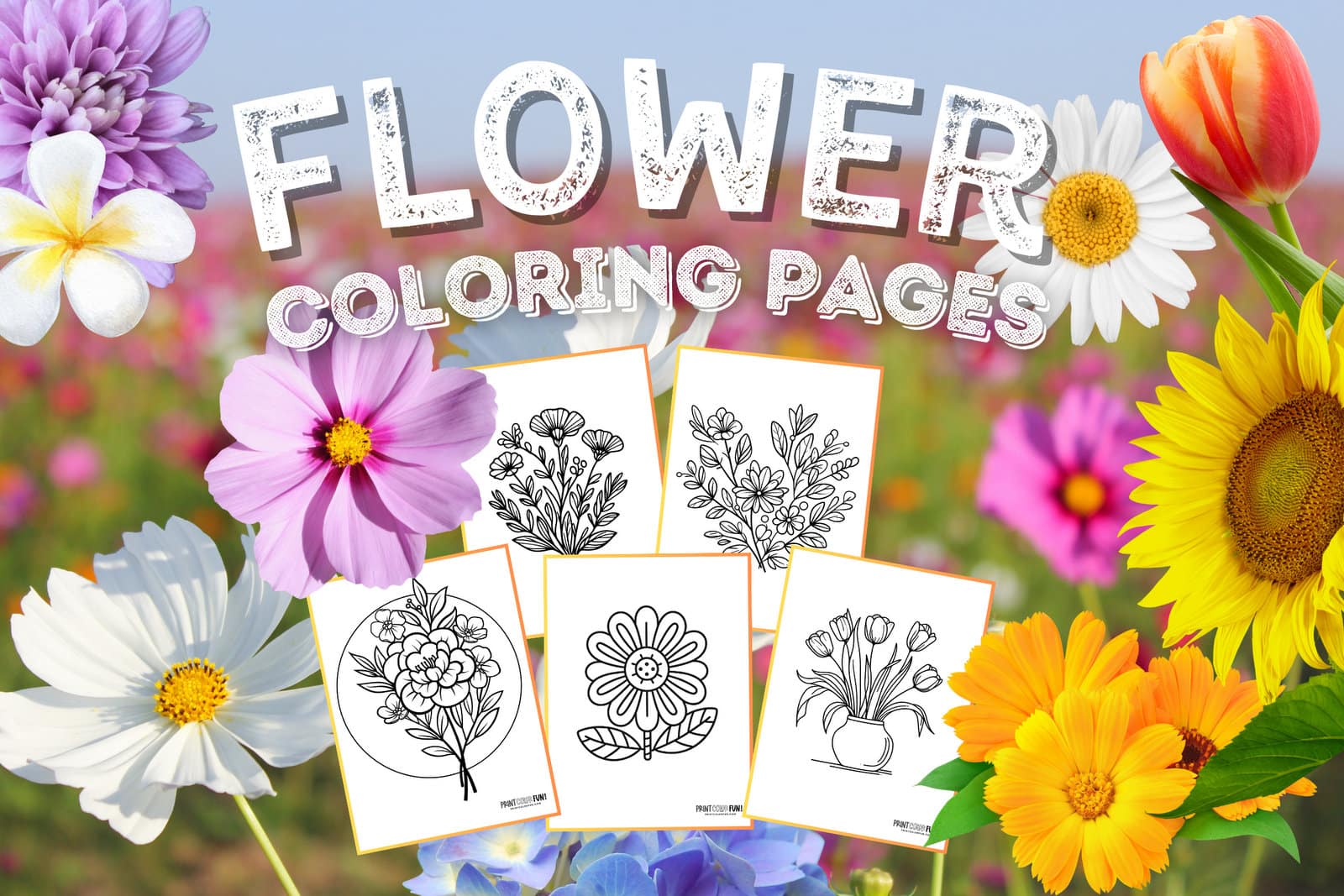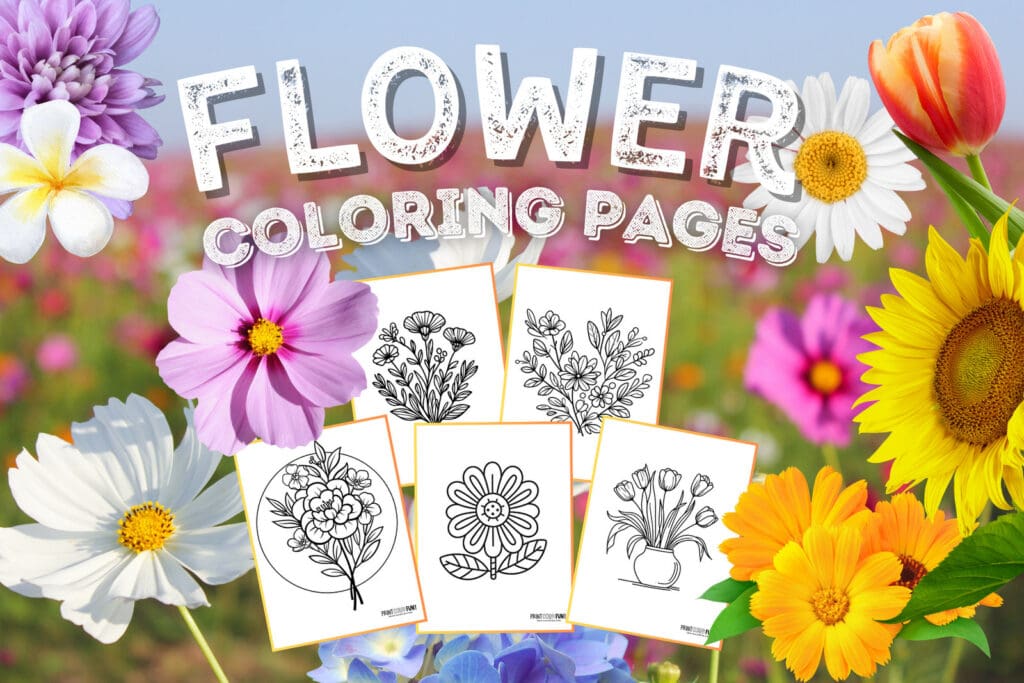 Flower coloring pages: A blooming world of creativity 🌷
The wide variety of flowers we see every day brings a delightful splash of color into our world — which also means they're a wonderful and accessible inspiration for children's creative and educational activities! 💐🌼
Flower coloring pages like these provide a fantastic opportunity for your little blossom to explore the vibrant botanical world while expressing their artistic talents. Whether it's a simple flower template for little ones or an intricate flower clipart style for older kids (and adults!), these pages offer loads of possibilities for learning and fun.
What are some enriching ways to use flower coloring pages? 🌻
Flower coloring pages offer a unique blend of art, education and fun — offering a window into the fascinating world of botany and an opportunity for holistic learning. Some depict flowers in a realistic way, while others are more stylized.
As your kiddo colors these pages, they're bringing flowers to life on paper, while cultivating a love for nature, art and learning. Gather some crayons, print out some flower designs, and watch your child's creativity and knowledge bloom beautifully!
🌼 Boost creativity: Coloring is a gateway to creativity. With a diverse array of flower coloring pages, kids can experiment with a spectrum of colors, blending and contrasting them to bring their unique vision to life. This activity nurtures their artistic skills and encourages them to think outside the box.
🌼Learn about nature: Coloring pages featuring flowers provide a fun, interactive way to learn about the natural world. As children color, they can discover various flower species, their unique structures, and the roles they play in ecosystems. This activity can spark curiosity and lead to further exploration of plant science, biodiversity, and environmental conservation.
🌼 Use fine motor skills: The act of coloring is beneficial for developing fine motor skills. Holding crayons or pencils correctly and coloring within the lines help in strengthening hand-eye coordination and precision, which are essential for handwriting and other detailed activities.
🌼 Get ready for a fun detective mission with your coloring pages! As your kids color in their beautiful flower designs, turn it into a mini research project. Encourage them to discover the names and fascinating facts about each flower they're bringing to life with color.
Along with making a pretty picture, you'll leverage a chance to develop valuable research skills. They'll learn how to observe details, use resources to find information and satisfy their natural curiosity about the world around them. It's a perfect blend of fun and learning, where art meets science in the most colorful way!
Fun activities with flower coloring pages & printables 🌼
🌸 Create a flower garden
Creating a garden collage using colored flower pages is a mini-lesson in landscape design and biodiversity. Children can learn about different types of flowers and their natural habitats while arranging their colored pages to form a beautiful garden, helping teach them a bit about plant varieties and garden aesthetics.
🌸 Design your own flower
A blank flower template is a canvas for the imagination. Encourage children to add their own details — unique petals, vibrant colors, and imaginative elements. This creative freedom helps in developing a sense of originality and artistic expression. Discussing their creations can also lead to interesting conversations about plant biology and the diversity of nature.
🌸 Floral scavenger hunt
Take the learning outside with a floral scavenger hunt. Matching real flowers to their colored counterparts is a fantastic way to connect the indoor coloring activity with the outside world. This not only promotes physical activity but also deepens children's understanding and appreciation of nature.
🌸 Incorporate a flower printable into lessons
Integrating flower coloring pages into educational lessons can make learning about plants, seasons, art, and even history more engaging. Discussing the life cycle of a flower, the importance of different species in various ecosystems, and their representation in art and culture makes for an enriching educational experience.
🌸 Flower clipart for crafts
Flower clipart can be a versatile tool in a child's craft kit. Adding these elements to handmade cards, scrapbooks, or storyboards allows children to personalize their creations. It can also be a way to teach them about graphic design and how visual elements can be used to convey messages and stories.
🌸 Download and print more flowers!
With the convenience of printable coloring pages, you always have access to fresh and diverse flower designs. This means your mini-human can get going on a new creative journey anytime, exploring different flowers and artistic styles at their own pace.
Decorate for a baby shower with flower coloring pages 💐👶
Flower coloring pages and clipart can add a personal and creative touch to your baby shower party decor. Here are a couple of cute ways you can incorporate these elements into your party planning.
Decorate with a DIY touch: Use the colored pages as part of a wall collage or string them together for a unique garland.
Interactive guest book: Print a batch of blank pages so there's at least one for every guest. Set up a coloring station with markers and colored pencils, so everyone attending the party can color in a flower page, and then write a message alongside. All of these floral wishes can be added to a scrapbook as a keepsake for the baby, or framed (individually or as a collage) and used to decorate a wall in the nursery.
ALSO SEE: Top 50 flower baby names for girls
MORE BUTTERFLIES: Beautiful butterfly coloring pages & clipart collection, with both easy & complex designs
---
Share the floral fun!
Like these pages? Please share this post on Pinterest! You can use the image below if you like. Thank you! 🌹