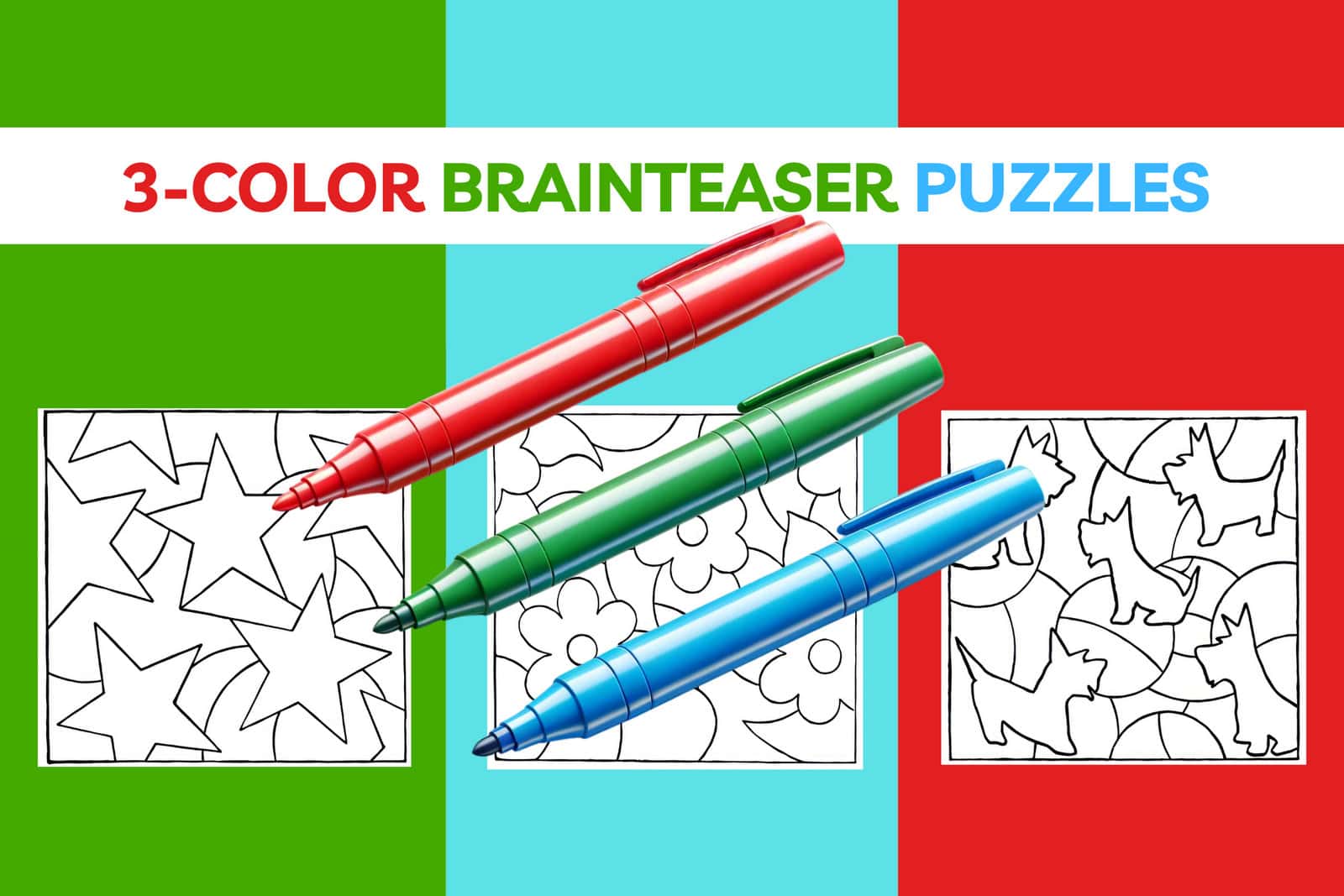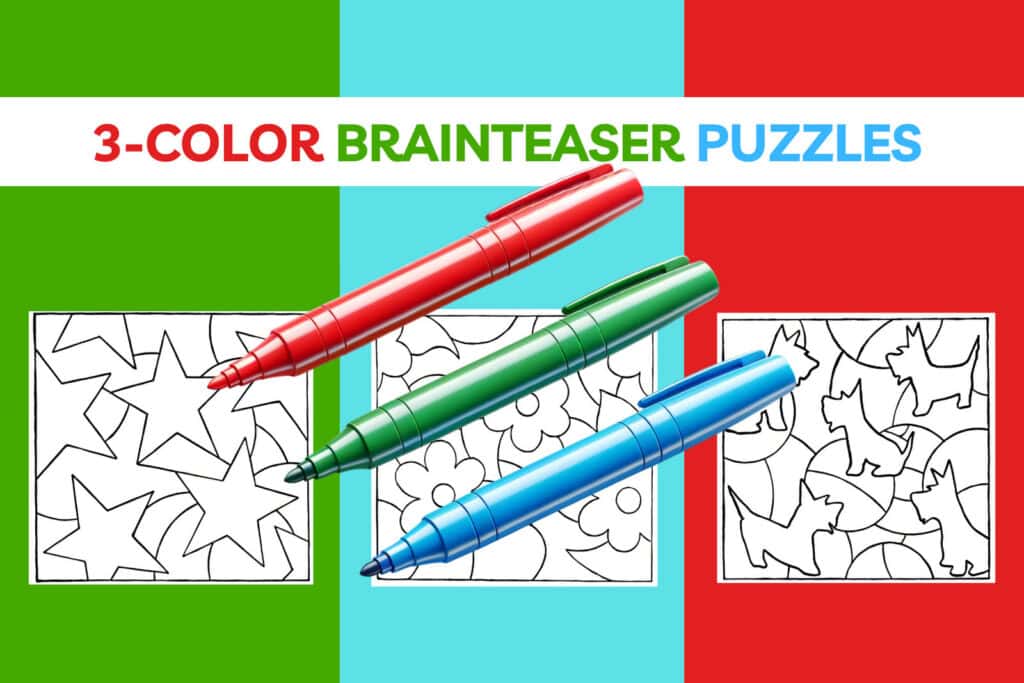 Can you solve these 3-color brainteaser coloring puzzles?
Are you looking for a fresh and fun activity to engage your child's mind — or your own noggin? Then you have to check out these three different 3-color challenge puzzles!
Perfect for a rainy day or a quiet afternoon, these printable coloring puzzles based on vintage artwork combine the fun of coloring with the excitement of a logic game.
With themes featuring adorable dogs, cute stylized flowers, and twinkling stars, these puzzles are entertaining while they also offer a great way to enhance your child's problem-solving skills and creativity.
How to play the 3-Color Challenge
Print your puzzle: Choose one or more of the three puzzles just below, and print it out. (Click on any one of them to get a printable or downloadable version.)
Your goal: The challenge is to ensure no two connecting spaces have the same color.
Choose your colors: Pick three distinct colors. These will be the only shades you use for the puzzle, so choose wisely! (The white of the paper can count as a color for this, so you really only need 2 if you're cool with leaving some areas blank.)
Start to plan your strategy: Take a bit of time to study the puzzle's pattern. Decide in advance which color will fill each space, ensuring you don't use the same color in adjacent areas. This planning step is key to success! Need an assist? With a pencil, lightly write in the first letter of a color's name or symbols to help map it out.
Watch out! The images can be a little tricky. For example, don't assume a circle in the background that's divided by a line or another shape should be colored with just one shade.
Start coloring: Now for the fun part! Fill in each space with your chosen colors — the perfect blend of logical thinking and artistic expression.
Puzzle too tough? These can be hard! Consider starting by using four different colors, but otherwise using the same rule to make sure making the colors don't touch.
Finished — or give up? The answer key to all three puzzles is linked below.
Why you & your child will love these fun logic puzzles
Boosts problem-solving skills: This puzzle is a brain teaser that encourages all of us to think strategically and plan ahead.
Enhances focus and patience: As they work through the puzzle, children learn the importance of concentration and taking their time to achieve a goal.
Encourages creative thinking: Despite the limit of three colors, there's a wealth of creative possibilities in deciding the placement of each hue.
These 3-color challenge puzzles give your kiddo — and you — a brain-boosting exercise that blends fun with educational value. So why not print a few out and watch your child's problem-solving skills and creativity flourish? 🎨✨
---
3-Color Challenge logic puzzle: Stars
Click on any of the brainteaser puzzle images to get a larger version that you can print or download
---
Brainteaser coloring puzzle with dogs
---
Coloring challenge puzzles: Flowers