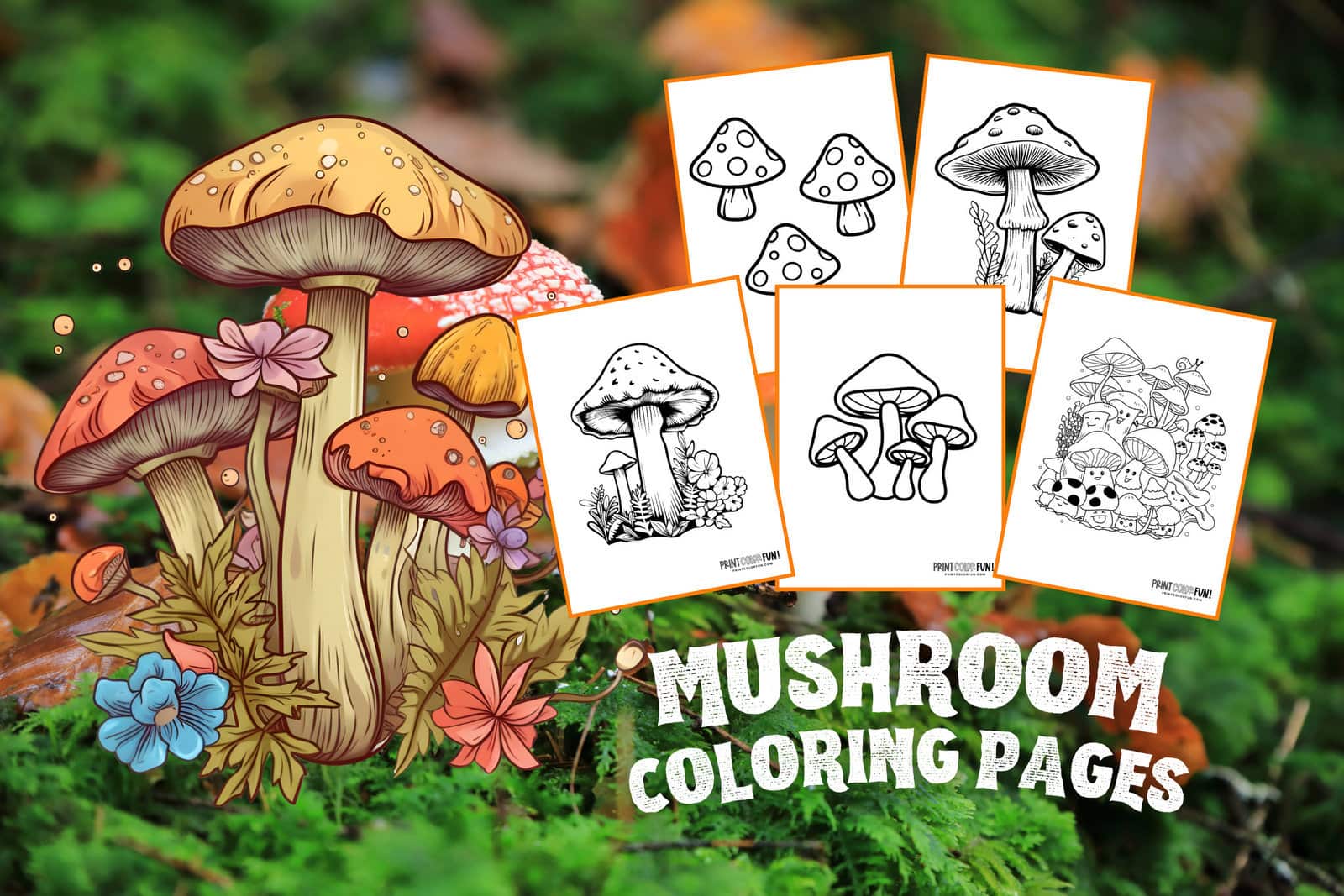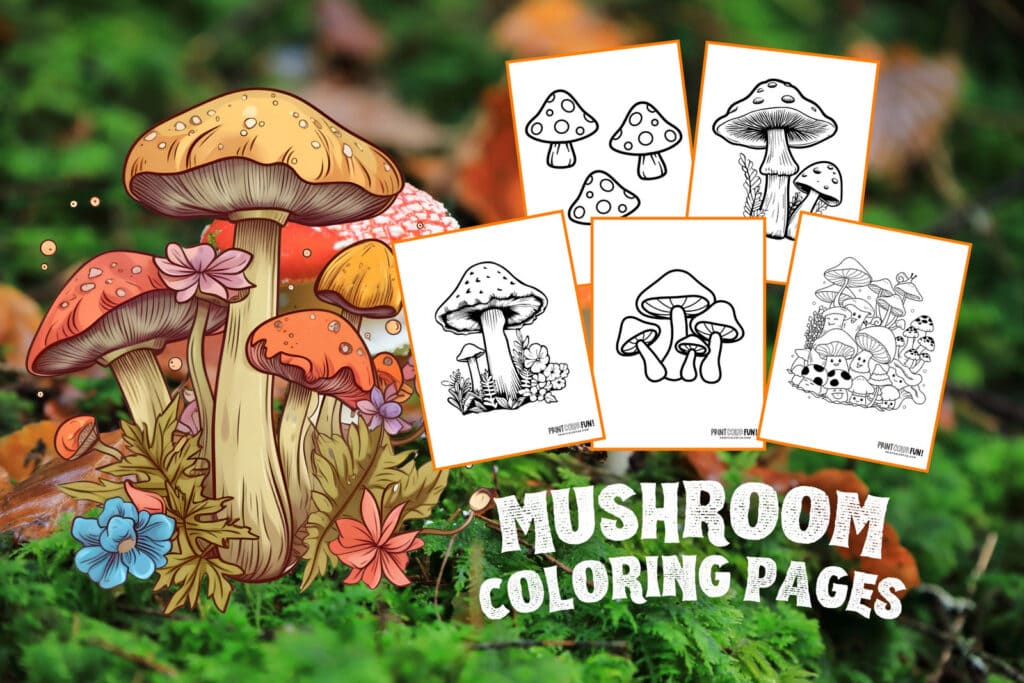 Here's how to get the most out of these fun mushroom coloring pages
Welcome to a colorful world of fungi! Below, we have collected more than 20 mushroom coloring pages for creative fun.
But, beyond the crayons and colored pencils, these pages offer a chance for added exploration and learning. Keep reading for tips on turning this coloring experience into something even more enriching!
Turn mushroom coloring pages into learning
It's tempting to just hand over the crayons and let your kiddo go to town. And there is absolutely nothing wrong with that. But if you're looking to add a bit more substance to the fun, you can incorporate some of these learning opportunities.
Talk about facts: As your child colors a mushroom coloring page, you might share some fun mushroom trivia. Did you know some mushrooms glow in the dark? Or that mushrooms are more closely related to animals than plants? We have 10 fun facts below! It's like a mini science lesson while they color.
Play the "Guess the mushroom" game: Turn the coloring activity into a game. For instance, can they guess which mushroom they're coloring based on its shape or features?
Explore colors: Use this as an opportunity to introduce different colors. Mushrooms aren't just brown; they can be red, blue, and even purple!
Mushrooms are truly marvelous!
From glowing in the dark to offering shelter to tiny creatures, these fungi are packed with surprises. Encourage your little ones to learn more and maybe even try mushroom crafts, or grow safe edible mushrooms at home. Always remember, curiosity and knowledge grow together… just like mushrooms in a forest.
Note: As always, safety first! If you or your children encounter mushrooms in the wild, it's essential never to touch or eat them without expert guidance, as some can be harmful or poisonous.
---
---
Get crafty with those mushrooms coloring pages
Mushroom magnets: Cut out the colored mushrooms and attach them to small magnets. Now you've got some unique fridge decor!
Story time: Encourage your child to come up with a short story or fairytale involving the mushrooms they've colored.
Spore print art: If you're up for some hands-on science, consider making a spore print with an actual store-bought mushroom. Just remember, this one requires adult supervision.
ALSO SEE: Fall harvest coloring pages: Autumn pumpkin patches & corn stalks
---
10 fun facts about mushrooms
Mushrooms are not just a tasty pizza topping or an ingredient in your favorite soup. They're fascinating organisms that have been around for millions of years, and come with a load of cool facts. Let's take a peek into the magical world of mushrooms and discover some fun tidbits perfect for kids!
Mushrooms are not a plant or animal: Guess what? Mushrooms aren't plants! They belong to a special kingdom of life called fungi. (In America, that's pronounced FUN-guy, but in the United Kingdom, they usually say FUN-giee.) The fact that they're fungi — the singular is fungus — means they don't grow like plants, nor do they move around like animals.
No sunshine needed: Plants need sunlight to grow because of photosynthesis, but mushrooms don't. Instead, they decompose (break down) material — like old logs or leaves — to get their nutrients.
Mushrooms have superpowers: Some mushrooms can glow in the dark! This cool phenomenon is called bioluminescence. Imagine a little light glowing on the forest floor at night — that could be a mushroom!
More than just brown and white: Mushrooms come in all sorts of colors: red, yellow, blue, and even purple! The world of mushrooms is vibrant and diverse.
Safe or not? While many mushrooms are safe to eat and are used in our foods, some can be poisonous. Always remember the golden rule: never eat a mushroom from the wild unless an expert says it's safe.
The world's largest living organism: A honey fungus mushroom in Oregon covers an area of 3.4 square miles (that's more than 2,200 football fields) and is thousands of years old. It's the world's largest living organism by area!
Mushroom raincoats: Some mushrooms have a slimy cap that helps them repel water, just like a raincoat.
Spore print art: The tiny particles mushrooms use to reproduce are called spores. If you place the cap of a mushroom on paper, it can leave behind a "spore print," which can be a beautiful pattern. (Remember, always ask an adult before handling wild mushrooms.)
Mushrooms in fairytales: Throughout history, mushrooms have appeared in fairytales and stories. They're often pictured as magical homes for fairies and gnomes.
Home to tiny creatures: Some insects and small animals use mushrooms as shelters. Next time you see a mushroom, think of it as a mini-hotel for critters!
MORE: Pumpkin outline printables: 5 large blank pumpkin templates for autumn fun
---
Beyond the mushroom coloring page: Enrichment ideas for you and your little one
You've colored and crafted, but the fun doesn't have to stop there. Here are a couple of activities to take the mushroom theme even further.
Mushroom scavenger hunt: Head out to a safe woodland area and look for mushrooms. Just remember, picking is a no-go unless you're an expert.
Mushroom cooking: If you and your child enjoy cooking, try incorporating mushrooms into a simple dish. It's a fun way to introduce them to new flavors — just be sure the mushrooms are from the grocery store and not your scavenger hunt!
Books and movies: There are plenty of children's books and movies that feature mushrooms or fungi. (You might remember that the Smurfs live in mushroom houses!) Consider rounding off your mushroom-themed day with one of these. "The Mushroom in the Rain" is a children's book by Mirra Ginsburg that focuses on a small mushroom that provides shelter for various animals during a rainstorm.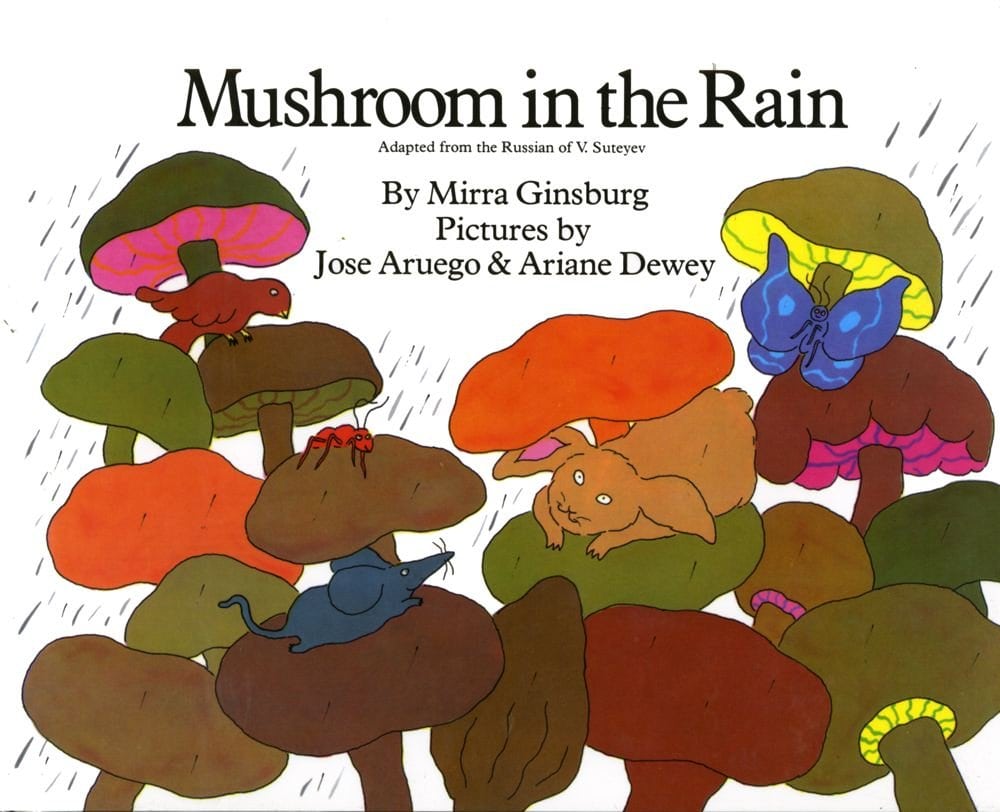 ---
Spotted mushrooms to color

---
Detailed mushroom coloring pages

DON'T MISS: Small pumpkin printables to cut, color & craft for autumn fun in several tiny sizes
---
Cute cartoon mushrooms coloring book page
---
A fairy sitting on a mushroom