From And to Think That I Saw It on Mulberry Street! to Oh, the Places You'll Go! — and all the classics in between — Dr Seuss has used humor to encourage generations of kids to read.
In fact, this author's impact has been so great that the National Education Association even adopted March 2 — his birthday — as Read Across America Day. So how did his genius get started?
By Alex Lenkei, NEA
Dr Seuss: An American Arts Icon
Seuss, whose real name was Theodor Seuss Geisel, needs no formal introduction: his books are a common sight in homes and schools, and nearly everyone over the age of five is familiar with his classics, which include The Cat in the Hat, Green Eggs and Ham, The Lorax and Horton Hears a Who. His works have been adapted into a Broadway musical, four feature films, and several television specials.
But how did Seuss become the icon he is today? Some of his earliest published writing appeared in college, where Geisel was editor-in-chief of Dartmouth's humor magazine, The Jack-O-Lantern.
When he was caught drinking and forced to remove himself from the staff, he continued to write under the name Seuss. After graduating in 1925, Geisel went on to study English at Oxford, but never completed his degree.
During this time he added "Dr." to his pen name to reflect his father's wish for him to complete his education.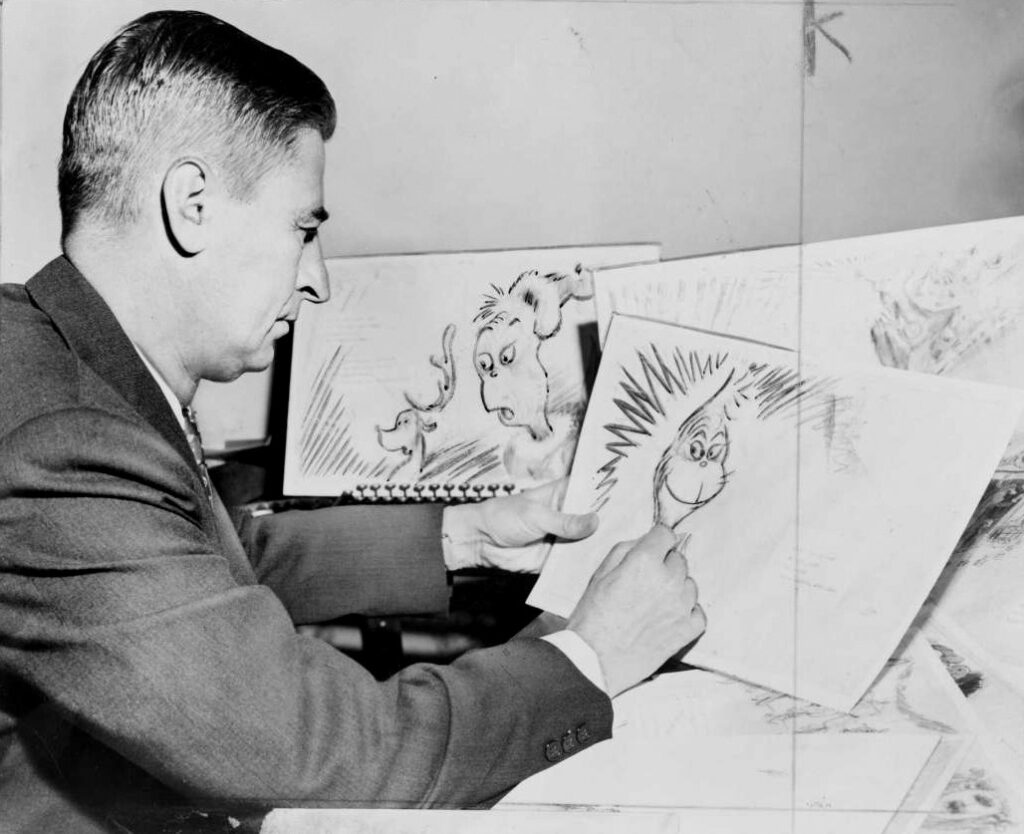 After returning from England, Giesel first made his living through drawing, and created illustrations for advertising campaigns and publications such as The Saturday Evening Post. He didn't publish his first children's book, And to Think That I Saw It On Mulberry Street, until 1937 — and that was only after some two dozen rejections.
Luckily, he persevered, and eventually wrote 45 more books for children. As a writer, Geisel was a perfectionist, often spending months, or even a year, on a book.
He also had a curious solution for writer's block: Whenever he needed inspiration, he would go to a secret closet with hundreds of hats, and wear one until an idea came to him. He also painted to overcome writer's block.
MORE: Meet Dr Seuss: Take a look inside the weird, wonderful world of Theodor Geisel
Some of his book ideas came from friendly bets with publishers. For example, Geisel wrote Green Eggs and Ham on a bet that he couldn't write a book using only 50 different words.
The Cat in the Hat was the result of a collaboration between Geisel and William Spaulding, the director of the education division at Houghton Mifflin, after Spaulding challenged Geisel to write "a book children can't put down," using only words familiar to budding readers.
Exploring more complex topics — and some new ones
The author is also well-known for including a range of political and social issues in his books, exploring environmentalism in The Lorax, anti-Semitism in The Sneetches, and holiday consumerism in How the Grinch Stole Christmas.
In furtherance of such goals, in 1998, NATO partnered with Random House to translate The Sneetches and Other Stories into Serbo-Croatian and distributed it to 500,000 children in Bosnia and Herzegovina as part of a campaign to encourage racial tolerance.
And today, Seuss continues to live on — and not just in his classic works.
The Theodor Seuss Geisel Award was established by the American Library Association in 2004, and is given annually to the author and illustrator of the most distinguished American book for beginning readers published in English. Of the award's namesake, ALA writes, "Brilliant, playful, and always respectful of children, Dr Seuss charmed his way into the consciousness of four generations of youngsters and parents. In the process, he helped them to read."
And then, more than 20 years after his death, Random House Children's Books announced it will publish a manuscript of Geisel's called What Pet Should I Get. The publisher plans at least two more books, based on materials found in 2013 in the author's home in La Jolla, California, by his widow and his secretary.
According to the publisher, the story was likely written between 1958 and 1962, and features the same brother and sister from One Fish, Two Fish, Red Fish, Blue Fish.