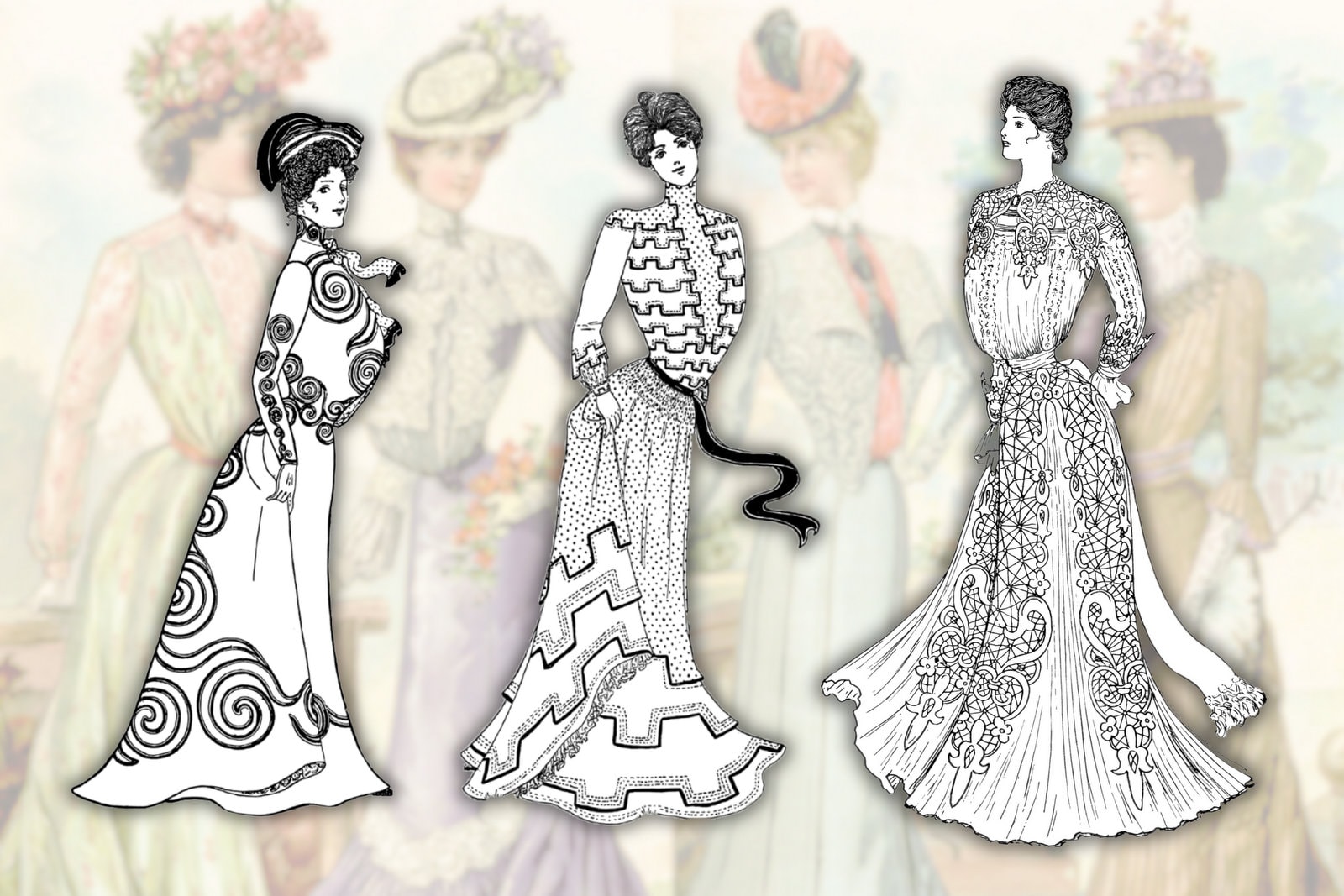 Dive into the world of Victorian dresses from the turn of the century
At the turn of the 20th century, the late Victorian era showcased a unique and opulent style in women's fashion. Since they're characterized by intricate details, rich fabrics, and lavish accessories, looking closely at dresses from this period is like opening a fascinating time capsule.
Now, you can immerse yourself in this world through our curated set of 14 detailed fashion coloring pages! These drawings are authentic images from over 120 years ago that were originally created to show women the latest fashions of the day. Our friends at vintage and retro site ClickAmericana.com digitally restored the scans for us so we could bring you a vivid glimpse into the past.
In this post, you will also see two sets of four dresses — illustrations that were originally published in a fashion magazine back in the early 1900s. This will give you a sense of the colors women loved to wear back then.
The materials and styles used in 1900s fashions for women
The fashion of 1900 was at the tail end of the Victorian era, a period known for its elaborate and intricate designs. The styles of this time were influenced by various factors, including social norms, technological advancements, and cultural values. Here's a little overview of some of the materials and styles that were popular for women's dresses at the turn of the 20th century.
Commonly used materials in Victorian dresses
Fabrics
Silk: Often used for more formal garments, silk was a luxurious material that offered a sheen and softness ideal for evening wear.
Cotton: A more everyday fabric, cotton was commonly used for day dresses and undergarments.
Wool: Used for heavier garments, wool was ideal for winter clothing and outerwear.
Linen: Mostly used for summer dresses, linen was breathable and lighter in weight.
Velvet: This plush fabric was often used in evening wear, adding a sense of depth and richness to the garment.
Trimmings and add-ons
Lace: A popular material for collars, cuffs, and trimmings.
Beads and sequins: Often used to decorate evening wear for added opulence.
Ribbon: Used for adornments, belts, and bows.
Popular styles and design features at the turn of the century
Silhouettes
Large sleeves: The "leg of mutton" sleeves from the late 1890s continued into the new century, but began to be smaller.
S-curve corset: Unlike earlier corsets that aimed for a wasp waist, the S-curve corset pushed the bust forward and the hips back, creating a curved silhouette — also known as the pigeon breast bodice, or mono-bosom.
High collars: Day dresses often featured high, stiff collars, which were considered modest and appropriate for daytime.
Skirt styles
Gored skirts: These skirts were made with panels to provide a more fitted look at the waist and hips, flaring out at the bottom.
Trains: Longer trains on skirts were often reserved for formal evening wear.
Color and patterns
Pastels: Light colors were popular for daywear, while richer, darker hues like deep reds, blues, and blacks were more common for evening wear.
Floral and stripes: These patterns were often used, with floral designs being particularly popular for spring and summer dresses.
Accessories
Hats: Large-brimmed hats adorned with feathers, ribbons, or flowers were fashionable.
Gloves: Almost always worn when going out, gloves could be short or long, depending on the occasion and outfit.
Understanding these materials and styles gives us a more nuanced appreciation of the complexity and artistry involved in women's fashion as the 1800s turned into the 1900s, and the world entered a whole new era.
Why these old-fashioned clothes capture our imagination
The late Victorian era marks a significant time in fashion history. Dresses from 1900 were often elaborately designed, replete with lace, frills, and exquisite embroidery. Corsets cinched the waist, while skirts and trains added a dramatic flair.
The fashions of the day went beyond just covering up, but were very much an expression of status, artistry, and cultural values. The attention to detail makes these styles an especially rewarding subject for coloring — each line and shade you add brings these historical pieces back to life.
In this set: Pieces of history
In this adult coloring page set, you'll find a diverse range of women's fashion from the turn of the century. From everyday wear to grand ball gowns, each illustration offers a different facet of late Victorian style to explore. The images have been carefully restored to ensure clarity, making it easier for you to appreciate the intricacies and add your own artistic touch, but also maintaining the charm and hand-drawn feel of the originals.
While these printables are primarily intended for grown-ups, there's no age limit! Their historical and artistic richness can also be fun for kids and teens who appreciate the attention to detail.
How to get started
Choose your page (s): Browse through the collection and select the vintage dresses that catch your eye.
Print: Use a high-quality printer to capture the details. Black ink is all you need.
Select your tools: Whether you prefer colored pencils, markers, or watercolors, gather your coloring supplies.
Color: Begin adding your personal touch, taking your time to fill in the intricate details that make these dresses so unique.
Imagine: Whether you keep it for personal enjoyment or share it with others, with a touch of imagination, each colored page offers a little personal journey back to 1900.
Step back in time to the elegance of the olden days
Coloring these pages is a fun way to connect with history. As you fill in the lines and shades, you're also filling in a piece of the rich tapestry of women's fashion that was so stylish around the turn of the century.
---
Late Victorian-era dress with flowers
---
Embroidered vintage dress coloring page
---
Side view of an early 1900s dress
---
A beautiful dress with floral designs
---
Fashion for ladies from the year 1900
---
Striped turn-of-the-century dress
---
Stylish gown from the late Victorian age
---
An antique dress with flounced skirt