Back in 1837, "The Little Mermaid" fairy tale was written by Hans Christian Andersen. Here is the mermaid girl, now more commonly known to Disney Princess fans as Ariel. (Just click on the picture to see a larger, printable version.)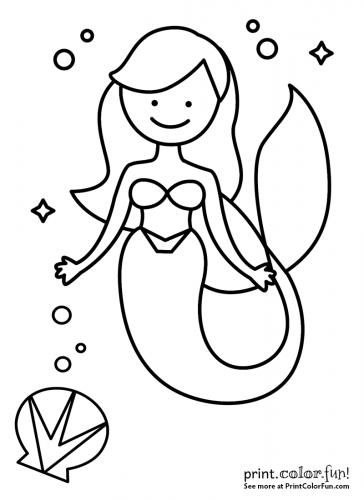 Here's part of the original story (translated into English):
They were six beautiful children; but the youngest was the prettiest of them all; her skin was as clear and delicate as a rose-leaf, and her eyes as blue as the deepest sea; but, like all the others, she had no feet, and her body ended in a fish's tail.
All day long they played in the great halls of the castle, or among the living flowers that grew out of the walls. The large amber windows were open, and the fish swam in, just as the swallows fly into our houses when we open the windows, excepting that the fishes swam up to the princesses, ate out of their hands, and allowed themselves to be stroked.
Outside the castle there was a beautiful garden, in which grew bright red and dark blue flowers, and blossoms like flames of fire; the fruit glittered like gold, and the leaves and stems waved to and fro continually. The earth itself was the finest sand, but blue as the flame of burning sulphur. Over everything lay a peculiar blue radiance, as if it were surrounded by the air from above, through which the blue sky shone, instead of the dark depths of the sea.