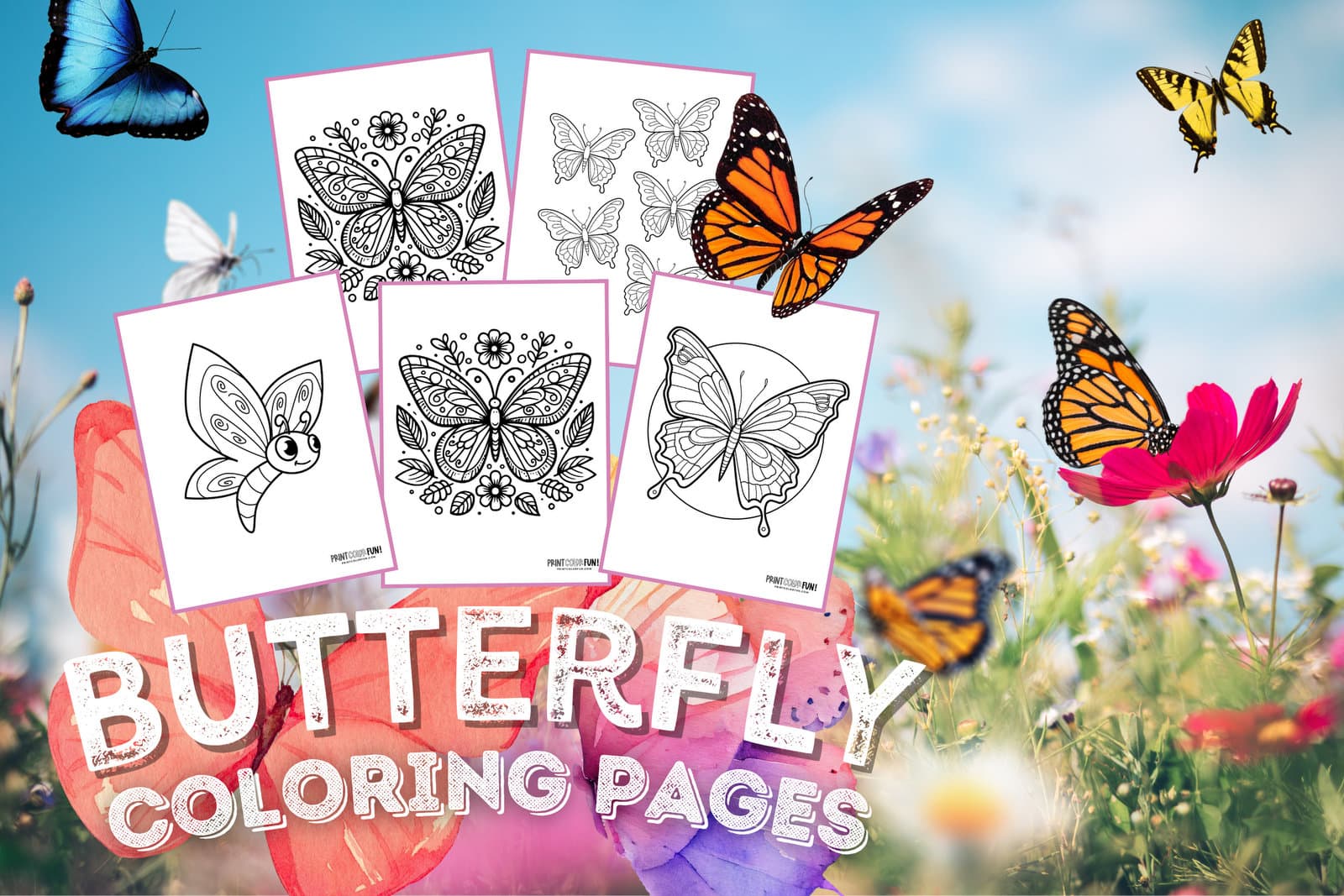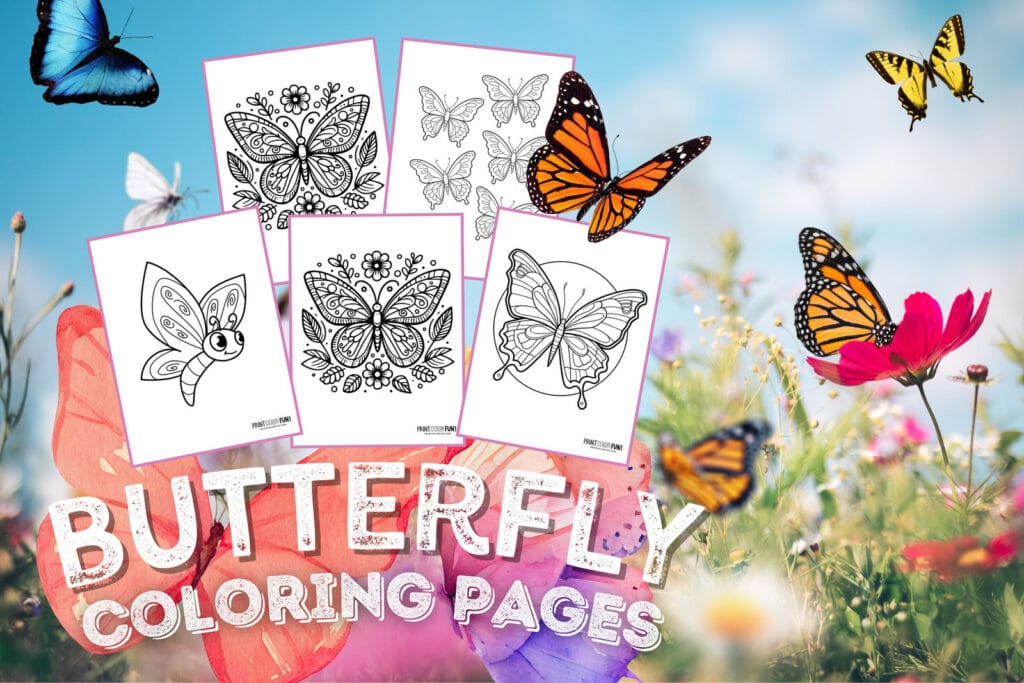 Explore a world of butterflies with butterfly coloring pages & clipart
Welcome to our extensive collection of over 60 butterfly coloring pages and clipart, a celebration of the sheer variety of one of nature's most fascinating insects.
This curated assortment caters to all ages and artistic abilities, featuring everything from simple outlines perfect for young children to complex designs that will engage seasoned colorists. In addition to the coloring pages, our collection includes blank butterfly templates for freeform expression and creativity, as well as a mix of full-color and black and white clipart to suit any project or preference.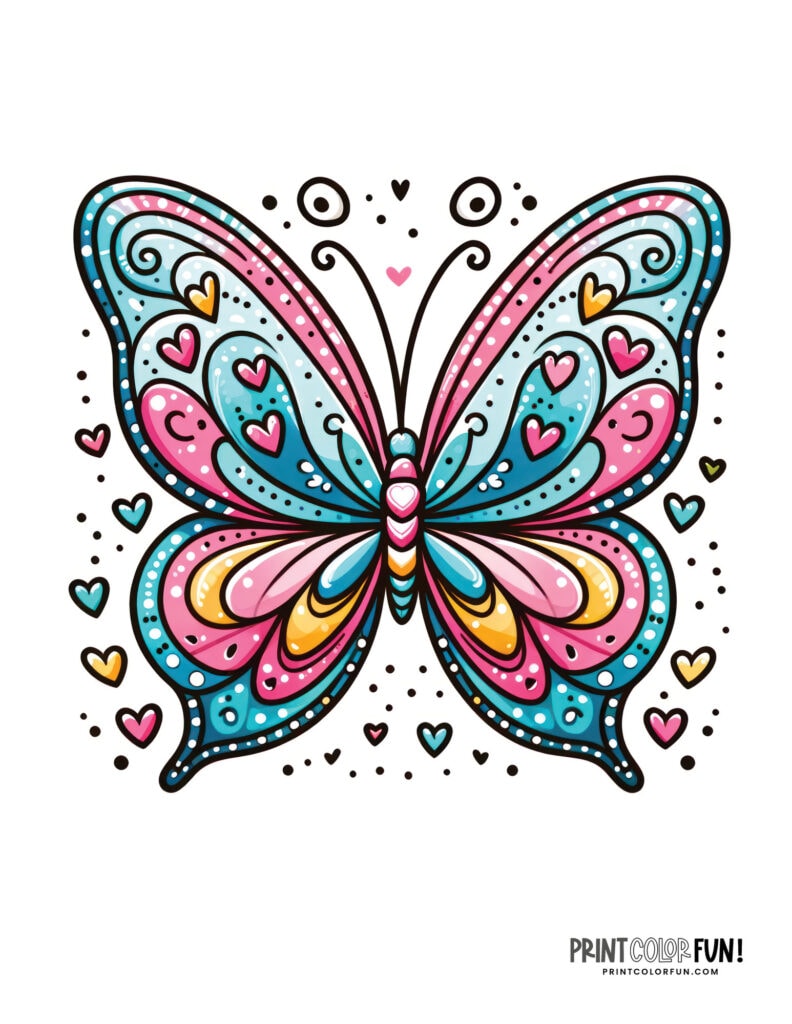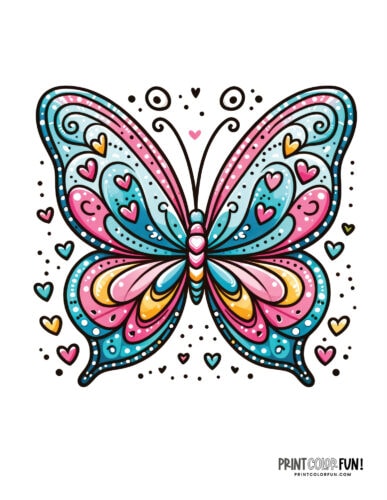 Whether you're a parent seeking a playful activity for your child, a teacher on the lookout for compelling classroom resources, or an adult searching for a tranquil coloring escape — our butterfly collection is designed to meet a wide range of interests and needs. Each page invites you to add a personal touch to the intricate beauty of these fluttering wonders. (Click on any image to see the larger size printable.)
Creative ways to engage with your child using these butterfly coloring pages
Pick a palette: With butterfly coloring pages, invite your kids to learn about how these insects use their colors for survival. Camouflage or warning predators? It's a science lesson in disguise!
Storytelling through art: Have your child craft a story using the images they color. Perhaps a cute butterfly clipart character goes on an adventure?
Teach symmetry: Fold a paper in half and paint one side of a butterfly. Press together for a symmetrical masterpiece!
Butterfly clipart craft ideas to spread wings
Customize clipart: Print out a blank butterfly template and let your child add their own patterns and designs to it.
Butterfly masks: Transform butterfly coloring pages into masks by cutting out eye holes and attaching string or a stick to hold them up to your child's face.
Flutter frames: Use the outlines of butterflies as unique picture frames. Cut out the center of a colored butterfly clipart and place a photo behind it for a whimsical touch.
Butterfly plant sticks: Attach cutouts of the colored butterflies to sticks or straws and place them into plant pots, giving your houseplants a touch of whimsical decor.
Butterfly garland: Color and cut out several butterflies, then punch holes in them and string them together to create a decorative garland for your child's room or a classroom.
Magnetic flutter-by: After coloring, turn your butterfly clipart into fridge magnets. Cut out your colored butterflies and laminate for sturdiness. Glue a magnet strip to the back and use them to hold up notes or just to decorate.
Butterfly mobiles: After coloring your butterfly clipart, cut them out and attach them to a hanger using string or yarn. This mobile can dance in the breeze, adding a flutter of color to any room.
Learning activities with butterfly coloring pages
Coloring can be more than just a fun activity; it can be a doorway to learning new concepts and skills. Here are five enriching activities to pair with butterfly coloring pages:
Butterfly life cycle: As your child colors in various butterfly stages, discuss the life cycle from egg to caterpillar, to chrysalis, to butterfly.
Color science: Talk about primary and secondary colors while mixing watercolor or acrylic paints for a butterfly printable. Explain how different colors can be made by combining others.
Nature's patterns: Identify and talk about the different patterns found on butterfly wings, then try to replicate them on one of the blank butterfly template pages below.
Geography and migration: Use a map to trace the migration path of monarch butterflies as your child colors in a monarch butterfly clipart.
Fun facts about butterflies for young children
Curiosity and wonder are at the heart of learning, and what better way to nurture that than with some fun facts? As your child colors in their butterfly pages, sprinkle in these tidbits of knowledge:
Butterflies taste with their feet.
Some butterflies can live for only a few weeks, while others can live for up to a year.
The largest butterfly in the world has a wingspan of up to 12 inches — that's about the length of a ruler!
Butterflies can see red, green and yellow.
There are about 20,000 different species of butterflies around the world.
Monarch butterflies migrate 3,000 miles to get to their winter home.
Butterflies need the sun to warm up because they cannot regulate their own body temperature.
The word "butterfly" comes from the Old English word "buttorfleoge," which means "butter" and "flying creature."
Some butterflies' wings are transparent, helping them hide from predators.
A group of butterflies is called a flutter.
---
Simple butterfly coloring pages for kids
---
Fun for everyone butterfly coloring pages
---
Butterfly outlines – stencils or templates
---
Many butterflies to color in
---
Beautiful butterfly gardens
---
Tattoo-style butterfly clip art & coloring
---
Detailed butterfly adult coloring pages
---
Clipart: Colorful butterflies all ready to print & use
---
Share the fun!
Like these pages? Please share this post on Pinterest! You can use the image below if you like. Thanks! 🦋