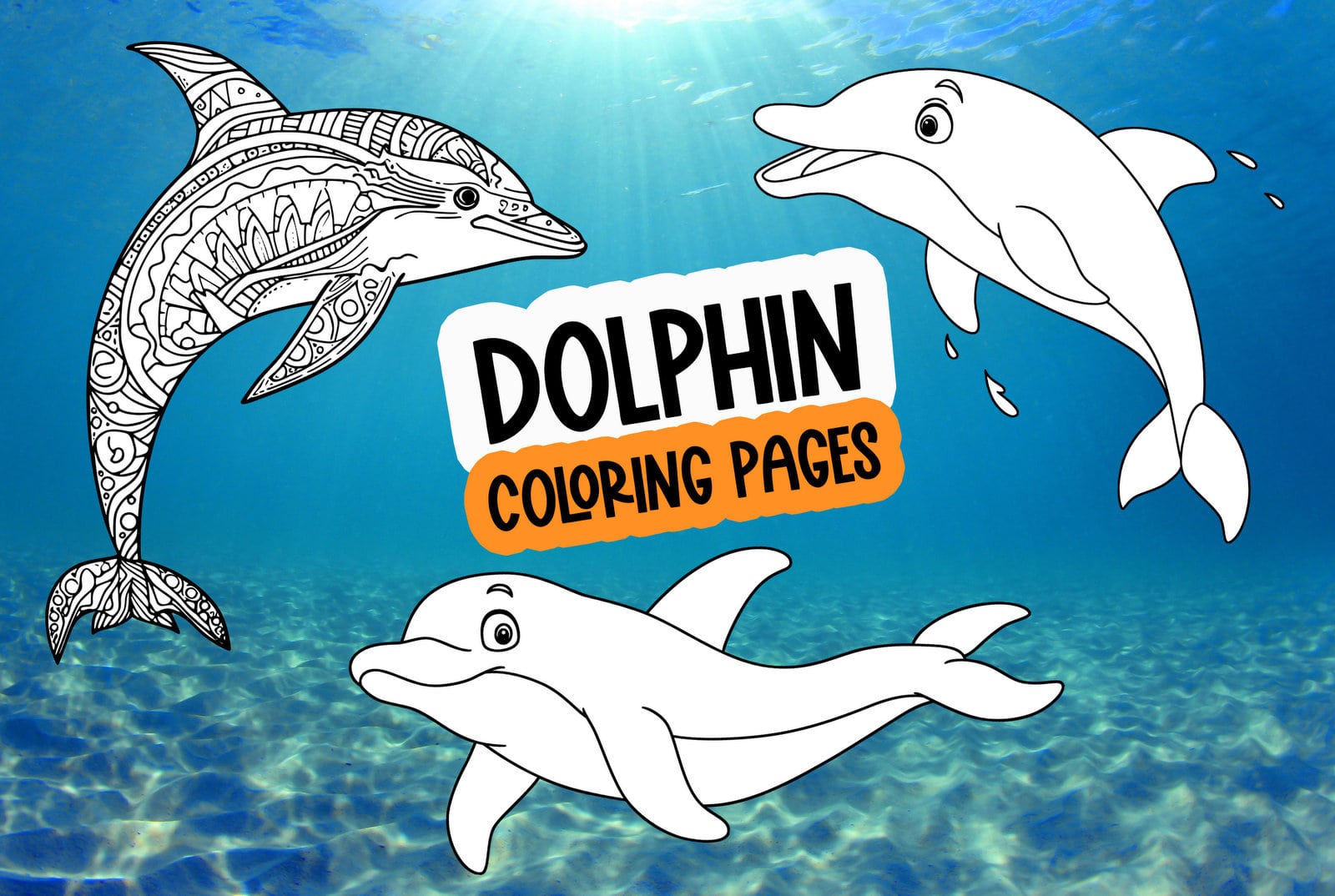 Unlock the ocean's wonders: Extend the fun of these free dolphin coloring pages with bonus learning activities!
These printable coloring pages of dolphins are more than just a way to pass the time — they are a ticket to a captivating undersea adventure.
Below, find out some ways to take this artistic endeavor to the next level, enriching the fun with some stealth learning. (PS: There are some free dolphin coloring pages for adults here, too, including some realistic illustrations and some zendoodle-style artwork.)
Click on any of the images to get a full-size printable page
Supplement with trivia
While coloring, sprinkle in some interesting dolphin facts. For instance, did you know that dolphins are known for their intelligence and complex social behaviors? They also use echolocation to navigate and find food. Fun facts like these can turn coloring time into a small educational lesson. (See below for 10 dolphin facts we've collected for you to share with your little one.)
---
Dolphin jumping out of the waves coloring page
---
Cute dolphin under the sea printable to color
---
Dolphin mother and baby
---
A dolphin swimming in the ocean
---
Cartoon dolphin leaping
---
Curious dolphin at the bottom of the ocean
---
Cute cartoon dolphin jumping out of the water
Turn it into a dolphin-themed day
For an immersive experience, you might consider dedicating the day to all things dolphin.
Art projects: Create dolphin-themed crafts using household materials like paper plates and paint.
Physical activity: Engage your child in mimicking dolphin movements or sounds, offering a fun way to burn off some energy.
Screen time: Close out the day with a dolphin-related movie or documentary that's age-appropriate, like Flipper or Dolphin Tale.
---
Underwater scene with a swimming dolphin
---
Fun in the ocean: Download this coloring page
Encourage reading
Adding books to the mix can offer a more well-rounded understanding of dolphins. Consider introducing a relevant book, whether a picture book for younger children, or something more advanced like Island of the Blue Dolphins for the older ones.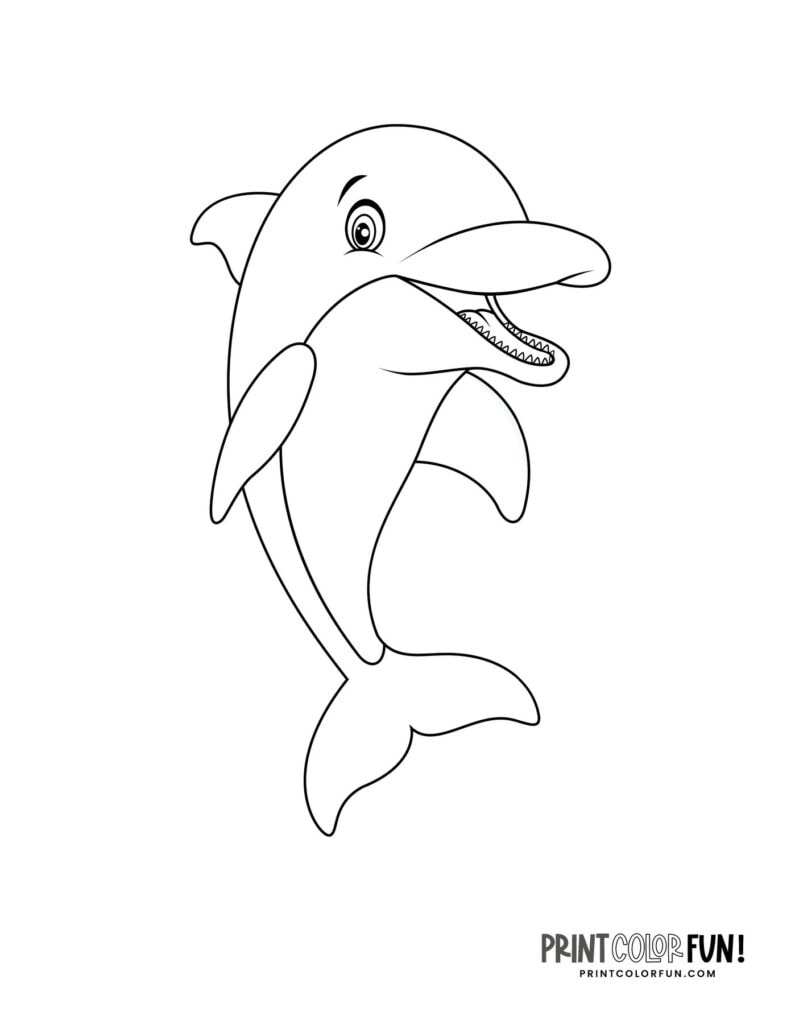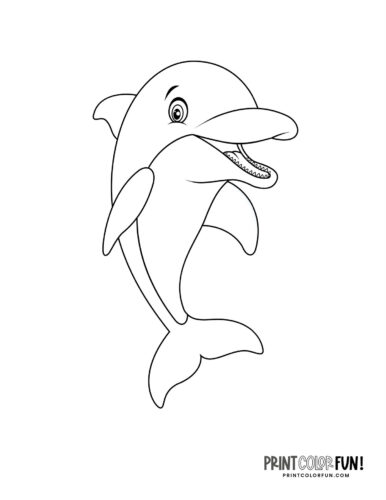 Caring for little ones is a dynamic role, filled with learning opportunities for both you and your child. Activities like these are not one-size-fits-all, so feel free to adapt them to fit your child's unique interests and developmental stage. After all, the goal is to create a meaningful and enjoyable experience. With these enriching activities, your child won't just be coloring — they'll be diving into a world of discovery.
---
Extend the fun with crafts that use these coloring pages of dolphins
Once you've colored those delightful dolphin pages, why stop there? Crafts are a terrific way to extend the life of those completed coloring pages, engage fine motor skills, and have a blast in the process. Here are some creative ways to incorporate crafts into your dolphin-themed day.
Create a wall collage from dolphin coloring pages
Frame the artwork: Place the colored pages in simple, inexpensive frames.
Assemble: Arrange the framed pictures on the wall in the shape of a wave or a sea creature.
Add extras: Include some other sea-themed items like shells or fish stickers to complete your underwater scene.
Make a mobile with dolphin coloring pages
Cut out dolphins: Once the coloring is done, carefully cut out the dolphin figures.
String them up: Punch holes in the top of each dolphin and thread yarn or string through.
Hang and enjoy: Attach the strings to a coat hanger or wooden dowel, and you've got a floating pod of dolphins to decorate the room.
Create a flipbook using dolphin coloring pages
Choose sequence: Select a series of colored dolphin pages that might create a good sequence—perhaps depicting different types of jumps or behaviors.
Stack and staple: Place the sheets in order and staple them together along one edge.
Flip away: Now you've got a mini flipbook that brings your dolphins to life with a quick thumb flick.
Crafting with your colored pages can be a rewarding experience for you as a parent, grandparent, or caregiver and your young artist. Feel free to adapt these ideas to better suit the materials you have on hand or the specific interests of your child. Happy crafting!
---
5 realistic adult coloring pages of dolphins
---
10 fascinating facts to share while coloring pages of dolphins
Mammals, not fish: Despite their aquatic habitat, dolphins are actually mammals. They have lungs, are warm-blooded, and even nurse their young.
Social beings: Dolphins are highly social creatures that live in groups called pods. These pods can range from a few individuals to over a thousand in some species.
Echolocation experts: Dolphins use echolocation to navigate and find food. They emit sound waves, which bounce back after hitting an object, helping them understand their surroundings.
Diverse diet: Dolphins primarily eat fish and squid, but the specific diet can vary greatly depending on their habitat and the availability of food.
Wide range: There are around 40 different species of dolphins, and they are found in oceans and seas all over the world. Some even live in rivers!
Intelligent creatures: Dolphins have large brains relative to their body size, which contributes to their high levels of intelligence. They're known for problem-solving and even playing games.
Communication skills: Dolphins communicate with each other through a variety of sounds, including clicks, whistles, and body movements like jumping or slapping the water with their tails.
Speed swimmers: Dolphins are incredibly fast in the water, with some species capable of swimming up to 20 miles per hour.
Deep divers: Some dolphin species can dive up to 1,000 feet and can hold their breath for up to 15 minutes.
Conservation status: While many dolphin species are not endangered, some are at risk due to factors like pollution, fishing practices, and loss of habitat.
Dolphins are undeniably fascinating, and these facts offer just a glimpse into their complex and intriguing lives. The next time your child is coloring a dolphin, sharing one of these facts could add an extra layer of interest to the activity.
---
4 free dolphin coloring pages for adults: Zen doodle style