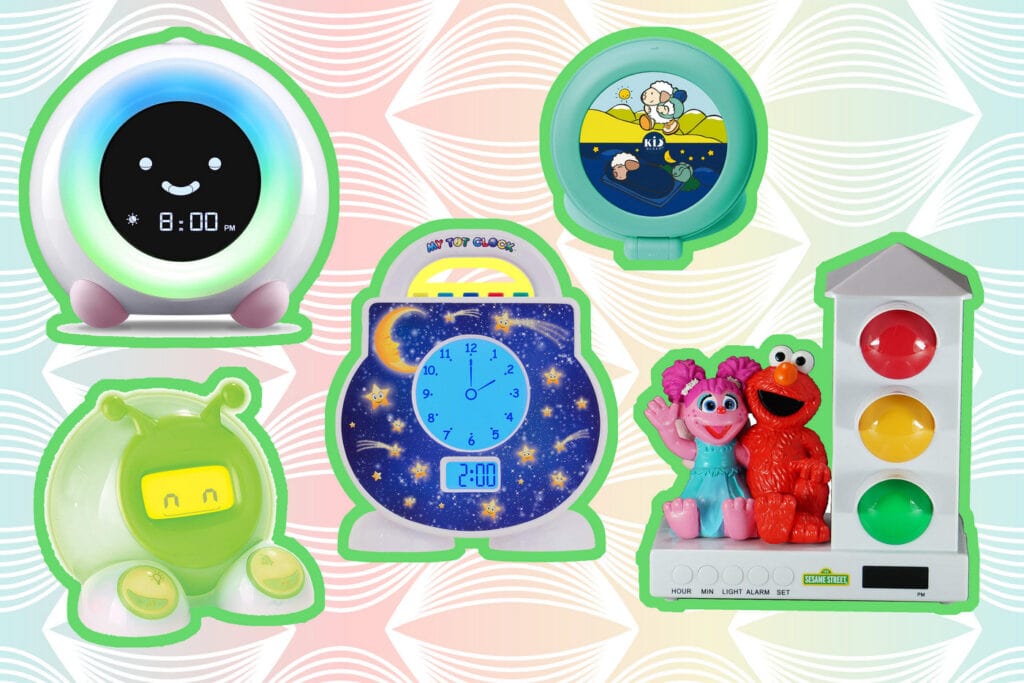 An alarm clock can do a lot more than just wake your toddler or preschooler up in the morning! It can help tell your little one that it's still time to sleep or play quietly.
Other benefits include teaching him or her about the passage of time, acting as a soothing reminder of bedtime, and helping your toddler know when and how long to nap.
Here are 5 alarm clocks to consider — each with different options and benefits so you can choose the best one for your child.
LittleHippo Mella Ready to Rise is a sleep trainer, alarm clock, sleep sounds machine, night light and nap timer rolled into one adorable package. When it comes to the morning alarm, you can set the desired wake time, and Mella will greet your kiddo with a smile and glow green, meaning that it's time to start the day.
This multi-functional alarm clock has lots of different options so that teaching sleep times is easy. There are five colors to indicate different times of day, it also can play bedtime stories and other sounds, plus you can get a variety of faceplates, including a princess, Dora the Explorer, Teenage Mutant Ninja Turtles and Dinosaur Train.
Actress Bridget Moynahan was a fan, telling USA Today, "I do love My Tot Clock… It's a clock that turns yellow when it's time to wake up, and it turns blue when it's time to go to bed." Also includes a nap timer, time-out timer, plus allows for a secret code so parents only can change the settings. (Uses AC power)
This cute clock lights up green when it's okay to get out of bed. Parents seem to especially like to use this toddler clock as a nap timer, since even little kids can understand they need to rest until the light changes.
It comes with two different faceplates to give it a little personality, and there's also a regular alarm clock feature. (Uses 4 AA batteries)
Parents will love that even young kids will be able to answer their own question, "Is it time to get up?" because red means no and green means yes. Each clock has a stoplight, a figurine (train, owls, girl or boy in a car), a digital clock, and an optional beeping alarm and nightlight.
It can be difficult to keep sleep schedules consistent while traveling, but this small alarm clock can help reinforce bedtimes when you're not home. When the sheep's awake, it's okay to get up — but if the sheep's asleep, shhh! The size and portability make it convenient to take anywhere. (Uses 4 AA batteries.)
"Just like good nutrition, adequate sleep is a basic need that gives children the best chance of getting what is most important from the people and things they experience each day," says Monique LeBourgeois of the integrative physiology department at the University of Colorado Boulder.
With one of these clocks at your child's bedside, it will finally be time to put an end to bedtime battles and early wake up calls, so the whole family can enjoy better rest.