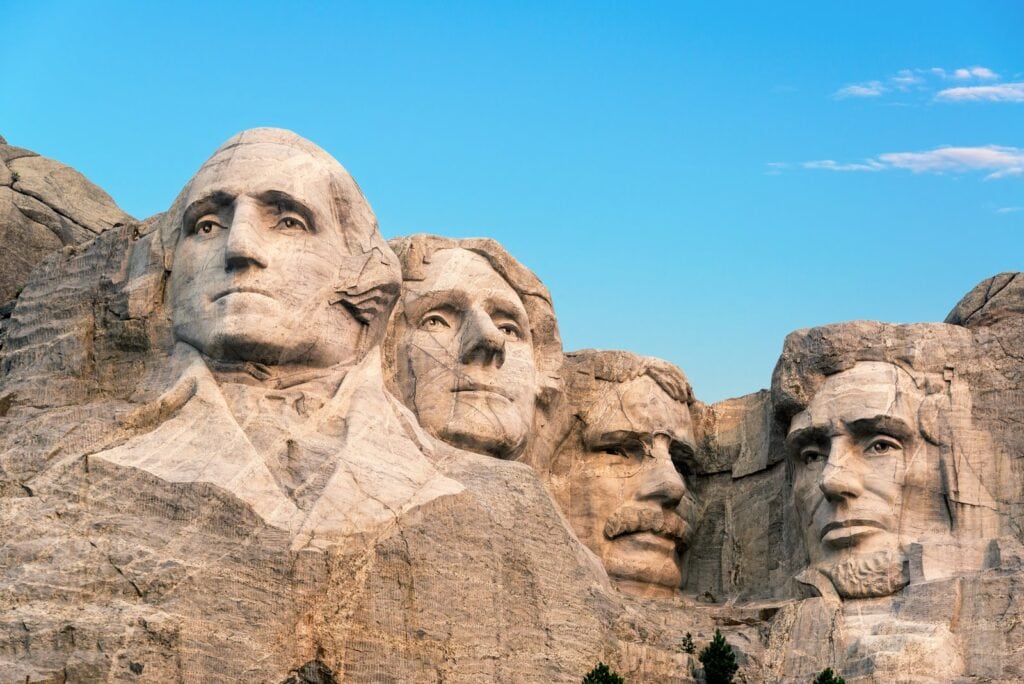 Some of the world's largest sculptures are on the northern side of Mt. Rushmore in the Black Hills of South Dakota.
Known as the "Shrine of Democracy," the granite monument portray the busts of Presidents Washington, Jefferson, Lincoln and Theodore Roosevelt.
The sculptures were originally going to be even taller, featuring each of the men down to their waists — but there wasn't enough money to finish carving them at that size.
They were carved between 1927 and 1941 by Gutzon Borglum and his son, Lincoln. According to a newspaper article in the Wilmington News-Journal (Wilmington, Ohio) from 1975, the elder sculptor said that one day, Lincoln Borglum might be asked why his father chose the four men for the carving.
"I want you to be able to answer why. Washington represents our independence, Jefferson personifies government by the people, Lincoln preserved the union, Theodore Roosevelt saw in the building of the Panama Canal the completion of the dream of Columbus of a water route to India — and he knew the value of the development of the west of our nation."
How big is Mt Rushmore? The distance from the top of Washington's head to his chin is 60 feet. That means that if the presidents carved there were able to stand up, they would end up being 465 feet tall.
Find out more about Mount Rushmore National Memorial here.
---
Two Mt Rushmore coloring pages