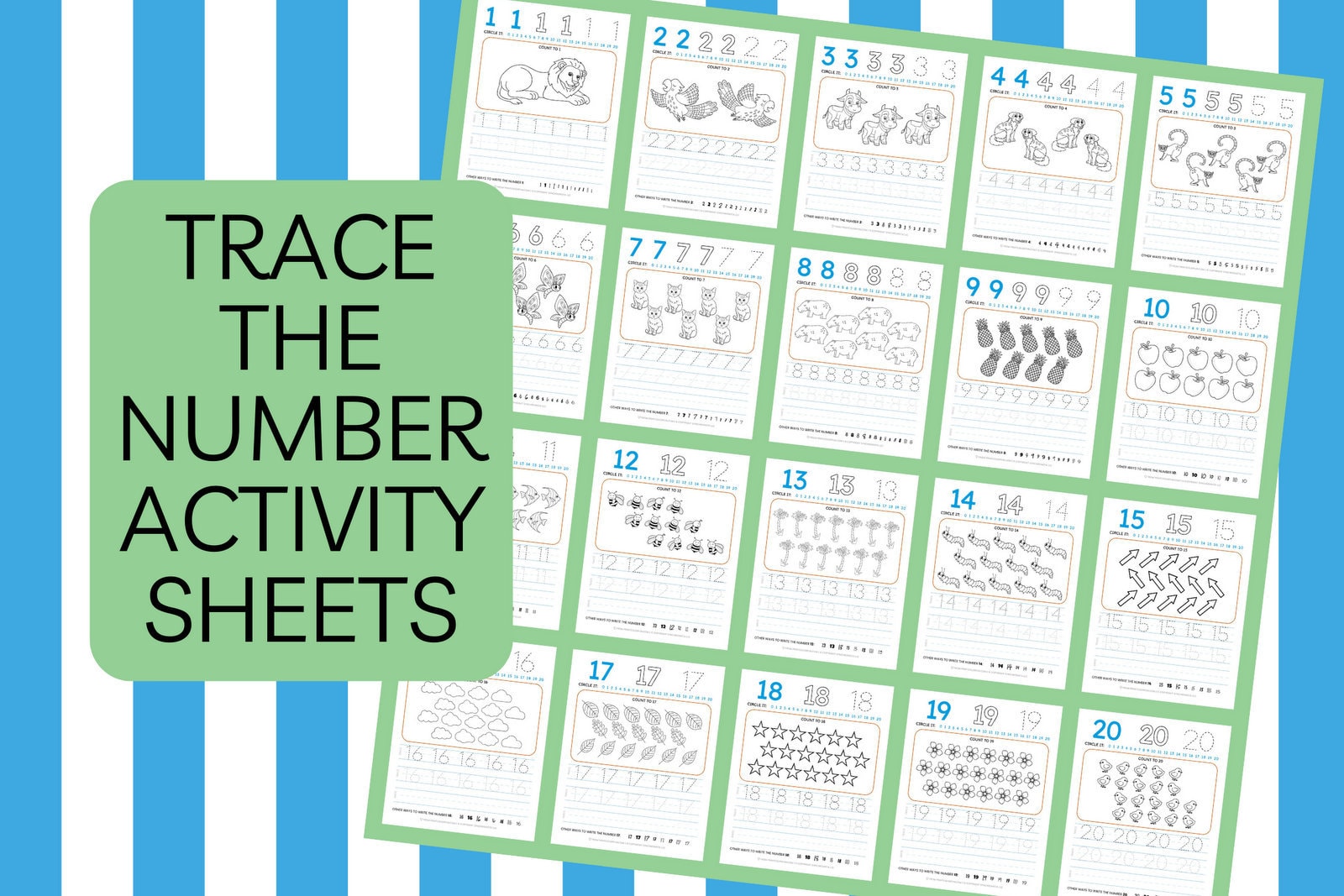 Unlock math learning fun with numbers 1-20
As a parent, grandparent or caregiver, early education can seem overwhelming and complex. Some simple but effective tools to toss into your mix are printable worksheets — like the free tracing-the-number activity pages below.
More than just a simple tracing activity where a child can move their own pencil, pen or crayon over the dashed lines, the sheets also include space to write freehand, have fun things to color, and offer some other visual guides to help kids identify numbers.
This enriching activity can add a dash of fun to number learning, and even help develop fine motor skills.
But how exactly do they help — and how can you maximize their benefits? Find out after these links to the first five printables!
---
Tracing the number 1 with a lion to color
Click to download a larger printable version of any page
---
Printable numeral 2 tracing page with parrots
---
Trace the number 3 printable coloring page
---
Learning the number 4 with four cute dogs
---
Fun tracing number 5 activity page with lemurs

---
The what and why of tracing the number worksheets
Tracing number worksheets are sheets with numbers typically ranging from 0-9 or 1-20 that your child can trace over. They usually come in large, easy-to-follow fonts. These worksheets serve a dual purpose:
Skill reinforcement: They reinforce number recognition and counting, forming the basics of early math.
Motor skill development: The act of tracing aids in honing your child's fine motor skills, a win-win!
---
Learn to draw numbers & count 6 butterflies
Click to download a larger printable version of any page
---
7 little kittens traceable number page
---
Learn to trace the number 8 printable
---
Tracing the number 9 worksheet
---
Educational tracing numbers printable: 10 apples
---
A blend of fun and learning
Engagement is key when teaching young learners. Luckily, tracing number worksheets come with a built-in fun factor. Your child can color them, add stickers, or turn them into a motivational game.
For example, after tracing the number 3 on the worksheet, you can turn it over and let your kiddo write the number three, then put three apple stickers on the page. We also made a printable worksheet to help track their progress.
How to make the most of tracing the number activities
Start simple: Begin with numbers 1-9. As your child grows more comfortable, introduce higher numbers and even basic equations.
Daily practice: A worksheet a day can make a huge difference. Slot it into a routine — perhaps after breakfast or before bedtime.
Interactive sessions: Sit with your child during tracing time. Cheer them on for each number they complete, and count out loud together.
---
Learning with 11 tropical fish printable
Click to download a larger printable version of any page
---
Children's coloring page counting to 12
---
Learn to trace the number 13 worksheet
---
Hungry caterpillars and tracing number 14
---
Practicing numbers worksheet – the number 15
---
Tips for parents
The right tool: Soft pencils or crayons are often easier for little hands to hold than hard-tipped pens.
Space for creativity: While the objective is to trace numbers, it's okay if your child wants to adorn their worksheet with doodles or extra colors. This adds a personal touch and makes the activity more engaging for them. We've even included illustrations with each tracing page that your child can count and color if they like.
Celebrate, don't compare: Each child's learning curve is unique. Celebrate every milestone, whether it's tracing the number 1 or completing a sheet from start to finish.
---
Draw #16 tracing worksheet for kids
Click to download a larger printable version of any page
---
Children's learning exercise: Trace number 17
---
Counting 18 stars – tracing numbers printable
---
Tracing number 19 educational printable
---
20 little chicks to count & trace the number
It's important to remember that printable tracing number worksheets are just one of many tools at your disposal.
Keep experimenting with different activities and settings to see what resonates most with your child. After all, learning is a journey, full of challenges and triumphs, for both of you.