These whimsical little animal cracker ornaments are easy to make as a project with the kids — or on your own for holiday decorating.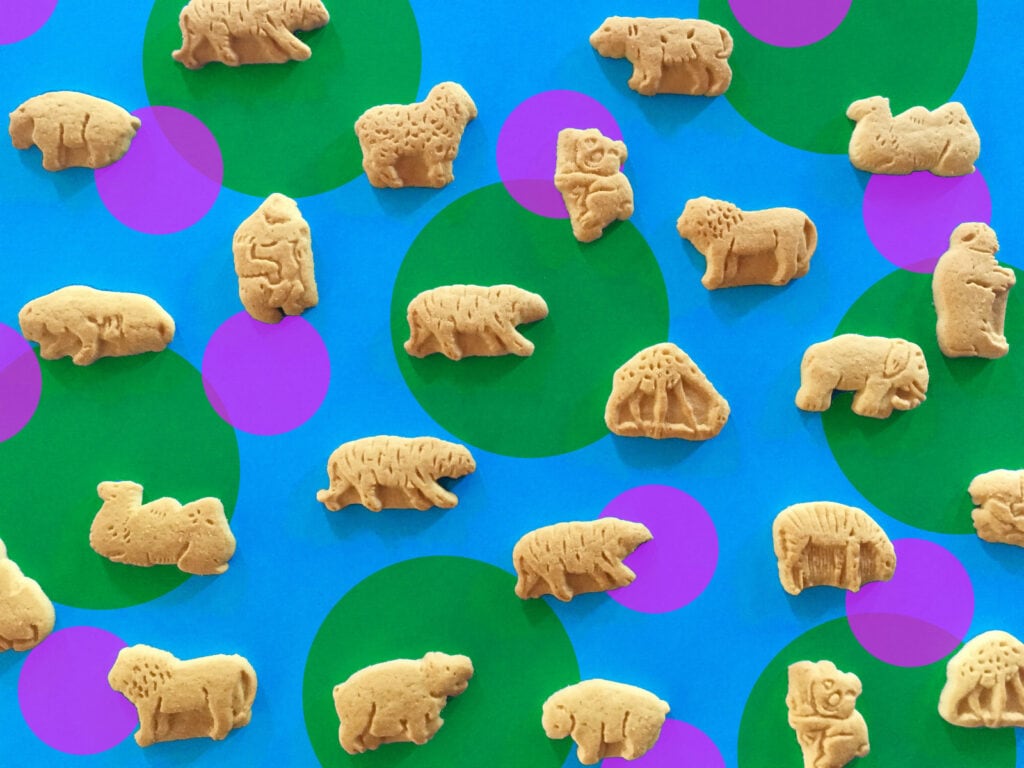 By Brenda Hyde
Easy and fun
Because they are so inexpensive, you can create animal cracker ornaments on rustic trees for your entryways and porches, use them as package toppers for your gifts, give them to teachers, or package up a small artificial tree and a couple of dozen ornaments as a special pre-holiday gift for someone that is homebound.
Use inexpensive animal crackers and paint that you have on hand for an extra frugal project.
Materials you'll need
Animal crackers (actually cookies – get them here)
Acrylic paint in shades of gray, tan and brown
Acrylic paint in red or blue
Small flat paintbrush
Small stencil brush
Small round paintbrush
Toothbrush
Small piece of metal screen
Hot glue gun
Glossy clear acrylic spray/sealer
Jute string
Directions for the animal cracker ornaments
FOR PAINTED ORNAMENTS
Using the gray color and the flat paintbrush, paint each animal cracker and allow it to dry.
Take your lighter tan/beige color, and using the stencil brush, make an up and down stamping motion on the cracker to make it look mottled or sponge painted. Cover most of the gray.
Dip the tip of the toothbrush lightly in the darker brown paint and brush downward ON the screen held over the crackers. (You will be able to do more than one at a time if you position them correctly.)
Wait for all the crackers to dry, and then, using the small round paintbrush, paint hearts or other folk art type symbols on each cracker and allow them to dry again.
Spray each ornament (front and back) with 2 coats of acrylic sealer.
When dry, cut a 4-inch piece of jute for each ornament, looping it and gluing it to the back of the cracker.
Notes: You can vary the colors, but try to keep it in shades that complement each other — the darkest one to splatter, and a lighter color to paint the hearts.
You can use raffia or thin ribbon as hangers if you wish. A neat idea is to use the same technique on plastic ball or heart ornaments.
The steps are the same, and you can decorate an entire tree with them! Use torn country-themed cotton as garland and for bows as accents on the tree. With the same technique, you can completely change the look by using bold primary colors!
FOR CLEAR ORNAMENTS
And if you would like to simply preserve the cookies in their original state to hang year after year, spray them on the front and back several times with a glossy, eggshell or matte acrylic sealer.
When they're completely dry, add jute, string, raffia, ribbon or fabric (torn or cut) to create hangers, as described above.
FOR ALL ANIMAL CRACKER ORNAMENTS
To store, wrap your animal cracker ornaments in bubble wrap or tissue, and keep them in a dry place.