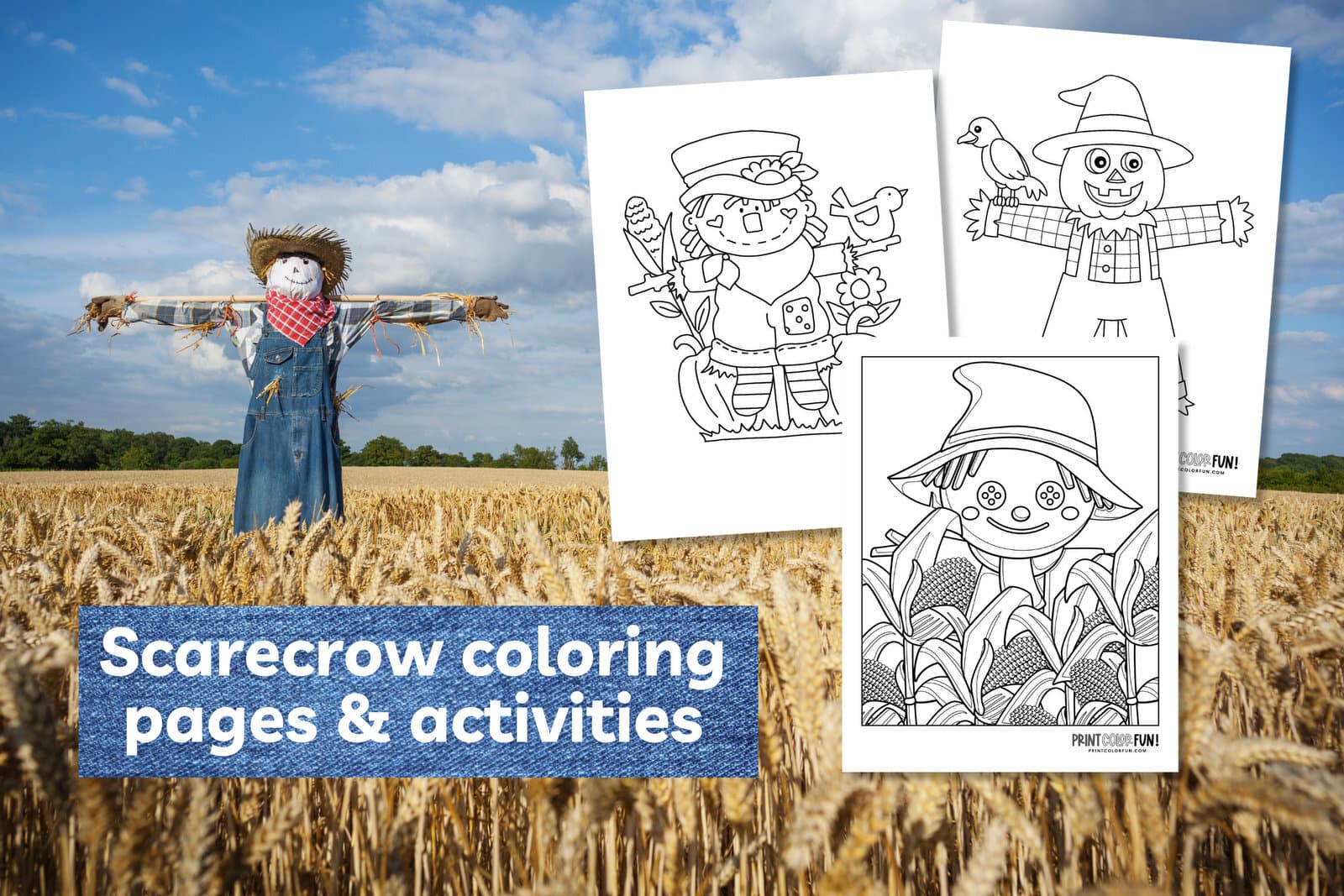 Welcome to the whimsical world of scarecrows, where imagination meets hands-on fun! Fall offers the perfect backdrop for a all kinds of scarecrow-themed activities that go well beyond the cornfield.
If you're a parent, grandparent or teacher, this guide is designed for you, packed with ideas that offer both entertainment and educational value for your little ones. (PS: Click on any of the images below to get a larger version to download or print.)
From storytelling and crafts to scarecrow coloring pages and history lessons, these activities are as versatile as they are enjoyable. So, let's get started on making this autumn an enriching adventure for the whole family!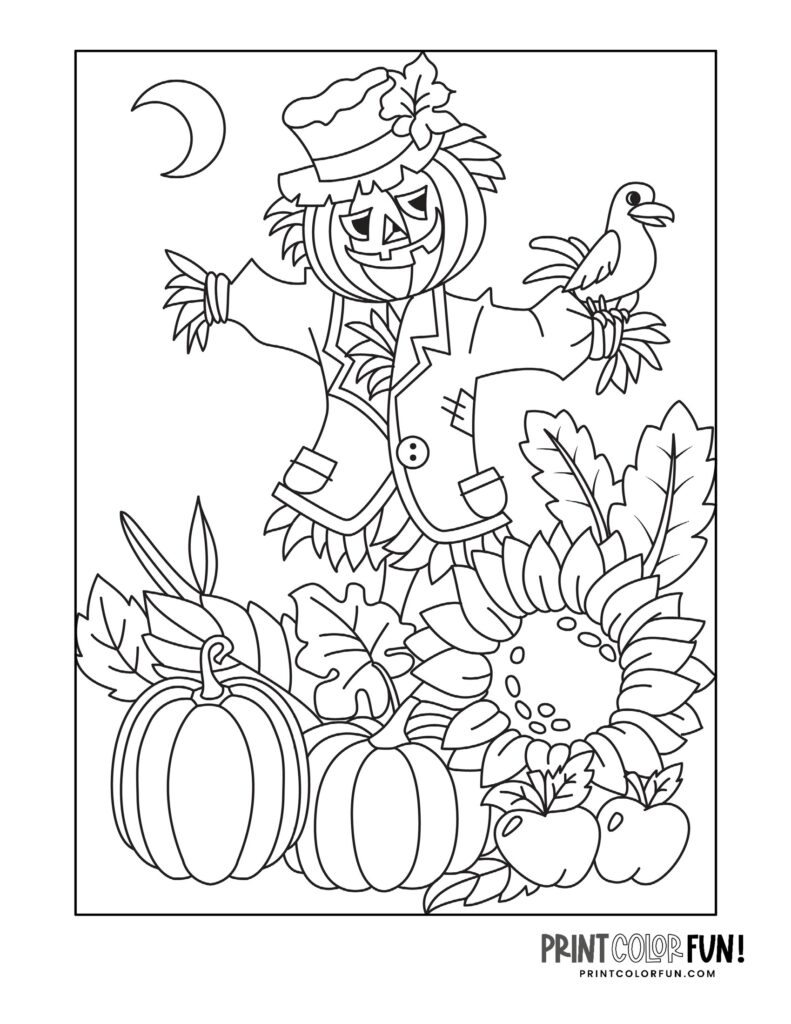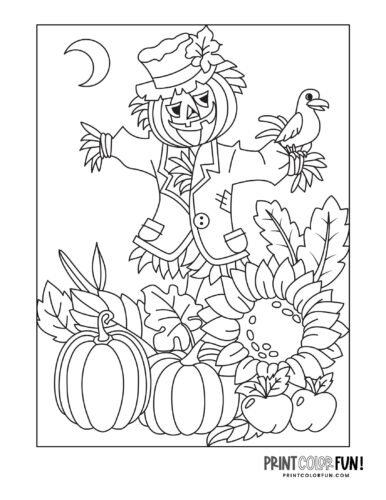 The charm of scarecrows isn't just for cornfields anymore! Incorporating scarecrow-themed activities into your family's fall agenda can add a layer of fun and learning that's worth more than a hill of pumpkins. If you're a parent or grandparent looking for fresh and engaging ways to entertain your little ones, these activities hit just the right note.
Scarecrow storytelling
Spark creativity with a storytelling session based on a scarecrow's life. Imagine the kinds of animals a scarecrow meets or the thoughts running through its straw-filled head. This is a perfect way to build narrative skills in an informal, relaxed setting.
DIY mini scarecrows
Enhance fine motor skills and let creativity run wild by creating mini scarecrows. Use popsicle sticks, buttons, cloth, and a dab of glue to bring these little characters to life. It's a tactile way to understand how different elements come together to make a whole.
Scarecrow-themed scavenger hunt
Kids love exploring, and a scarecrow-themed scavenger hunt makes it even more exciting. Create clues that guide them around your backyard or house to find scarecrow-related items like straw, a hat, or a flannel shirt. This enhances problem-solving abilities and stokes curiosity.
Build your own life-size scarecrow
For a grand adventure, gather up old clothes, straw, and a few basic tools to build your very own life-size scarecrow. This hands-on project not only teaches basic construction skills but also provides an excellent opportunity for family collaboration.
Scarecrow coloring pages
While coloring may sound basic, scarecrow coloring pages offer a relaxing activity that still invites a dash of creativity and some fine motor skill practice. Consider including these pages in a quiet-time corner during a scarecrow-themed day.
Crafts & things you can make with scarecrow coloring pages
Those beautiful scarecrow coloring pages don't have to be retired after their initial run with crayons or markers. As a parent or caregiver, you have a treasure trove of opportunities to extend the joy and learning.
Transform them into greeting cards
Use the colored scarecrow pages to create personalized greeting cards. This can also be a good time to introduce younger children to the concept of giving and mailing physical cards to friends or relatives.
Create a scarecrow storybook
Take the opportunity to compile several colored scarecrow pages into a storybook. You can even incorporate the iconic Scarecrow from The Wizard of Oz as a character in the story, offering a fun literary twist.
Make a puzzle out of scarecrow coloring pages
Cutting the scarecrow coloring page into multiple pieces to assemble as a puzzle serves dual purposes. It's a different form of fun, and aids in honing problem-solving and spacial skills.
Scarecrow paper dolls
Here's where you cut out the colored scarecrows and attach them to popsicle sticks. Now, these aren't just coloring pages; they've evolved into characters for imaginative storytelling.
Scarecrow mobile
Hang those scarecrow coloring page masterpieces from a string or stick to make a floating scarecrow mobile. This engaging craft can be both a lesson in balance and a unique decoration for your home.
Make the most of your scarecrow activities
Gather supplies: Before embarking on your creative journey, ensure all necessary materials are within reach.
Safety checks: Oversee activities involving sharp objects or hot materials to ensure everyone remains safe.
Capture the moments: Snap some pictures or even make a quick video to document your scarecrow adventures.
The history of scarecrows
The history of scarecrows dates back thousands of years, spanning different cultures and continents. Originally designed to protect crops from birds and other pests, these field guardians have evolved in form and function over time.
In ancient Egypt, scarecrows resembling deities were erected near the Nile River to deter quail from feasting on grains. The Greeks and Romans had their own versions, often carved to look like deities that would protect their vineyards and fields.
In medieval Europe, the scarecrow took on a more human-like form, stuffed with straw and dressed in old clothes. Often these were placed in gardens and fields as a rudimentary yet effective way to protect food supplies.
Today, scarecrows are more than just functional, but also play a part in cultural festivals and artistic displays, especially during the autumn season in many parts of the world. Their historical roots and evolving designs make them an interesting topic of discussion, especially during a scarecrow-themed day of activities.