These blank Easter egg shapes are all ready to print, color and cut out! Color them in just for fun, make them into Easter decorations, or use one or more of these Easter eggs to create a cute card.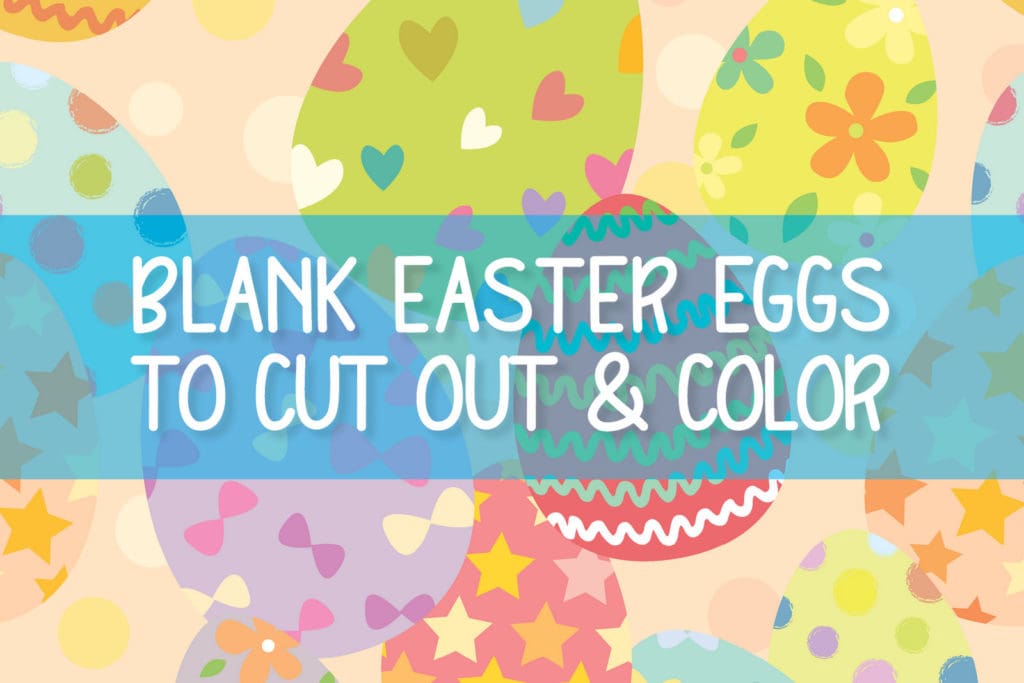 ---
About Easter eggs
From the pagan rites celebrating the return of spring to our modern-day Easter festivities, the egg has long been the symbol of the season the world over. The egg has been hard-boiled, colored, and decorated, too.
It is said that the original purpose in coloring eggs was to imitate the brilliantly-hued foliage that came with the first flush of spring. In northern Europe, the eggs were dyed red for Thor, yellow for Eostre, the goddess who lent her name to Easter.
In the early days of the Christian church, eggs were colored red denoting the blood of Christ. Medieval English folk used red, blue and violet dyes. The Persians and the Russians created elaborate works of art out of the hollowed but whole eggshells.
Games and frolicking have long been associated with springtime and egg time. An early English custom of rolling down Greenwich Hill at Easter was abandoned, and eggs were rolled down the hill instead. Interesting, isn't it, that the rolling of eggs on the green has since become an American White House tradition?
Then, there was a game of tapping eggs — when children tried to break one another's eggs without cracking their own. And, egg hunts have gone on and on from antiquity.
---
One huge blank Easter egg shape to cut out and color
This huge blank Easter egg is all ready for you to color and cut out! You can use it to decorate for Easter — maybe make something for your front door — or turn it into a card for someone. (Just click the image to get a larger print-ready version.)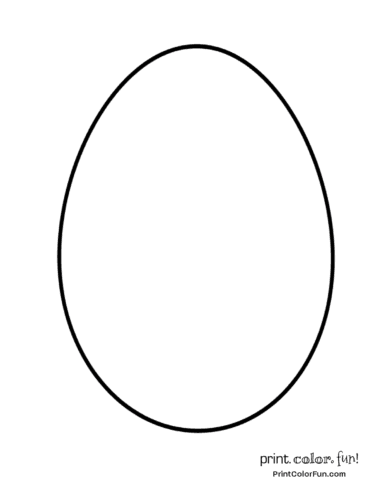 ---
Two half-page blank Easter eggs
You can cut out and color these two big eggs as decorations for Easter, or to add to greeting cards. (Click the image to get a larger print-ready version.)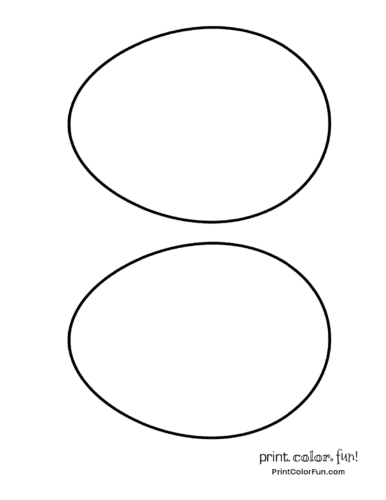 https://myria.com/easter-egg-dye-recipes
---
Four medium blank Easter egg shapes to print and color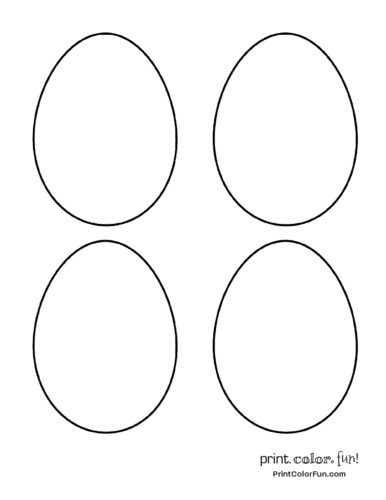 ---
9 small blank Easter egg shapes
These nine blank little Easter eggs are all ready to color and/or cut out! They're almost life-size, so they could maybe be used to decorate for Easter, or to add to a pretty Easter card. (Just click or tap the image below to get a larger version you can print out.)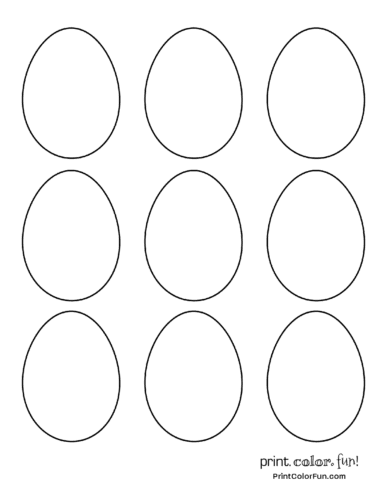 ---
Top text about Easter egg history adapted from an article by Helen Tunison, published in The Gettysburg Times (Gettysburg, Pennsylvania) on March 28, 1964; Courtesy of our partner site, ClickAmericana.com.