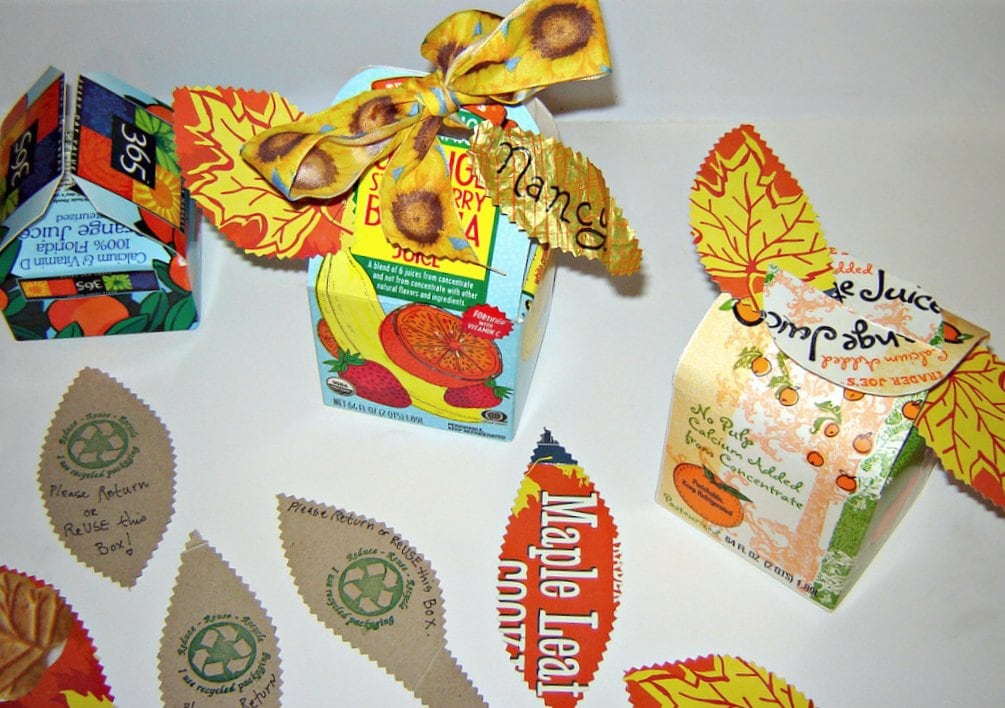 Don't toss your old juice cartons and boxes — make something cute and useful out of them! Here's how you can custom-create gift boxes from old juice cartons.
Wrap presents with festive recycled juice carton gift boxes
I save all my family's 64 fl oz ( 1.89 L) juice containers to make interesting gift boxes.
The colorful graphics of packaging fascinates me, and I creatively recycle everything that comes my way. Not only can I create a box of many sizes, but they often have a wonderful lingering orange or pineapple smell.
I wash the boxes well with hot water and dish soap, then air dry. Save them all year and keep them handy for any gift-giving occasion.
Cut down as shown, the boxes are perfect for jewelry and smaller gifts — but cut them larger and gifts of gloves, figurines, edible treats, etc. can be encased inside.
The boxes are extremely sturdy, and also suitable for shipping through the mail. Best of all, no tape is needed for these containers, so they can be reused over and over… just change the gift tags.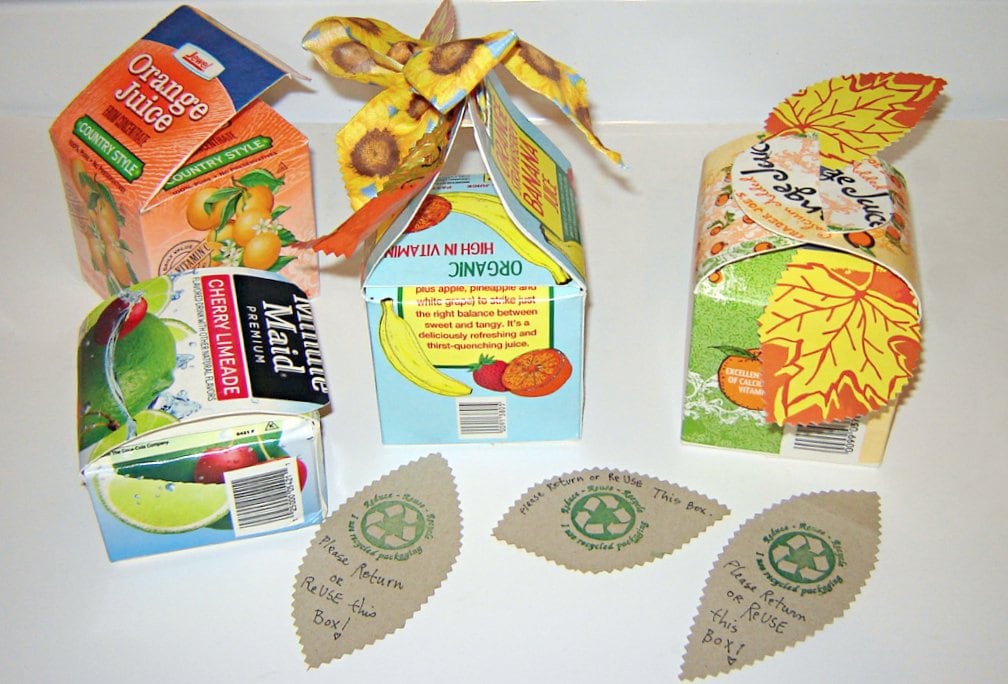 How to make recycled juice carton gift boxes
I cut the boxes down, but I have no specific way — I allow the carton graphics to suggest the gift box closure.
Some have a tabbed slot closure (the one on the right above) while others need a tiny square of "industrial" adhesive sided Velcro (the two on the left), and others I make a nice cutout and tie with a pretty ribbon instead (the box in the middle).
We have many gardeners and a landscape architect in my family, so I decided to cut out leaves with pinking sheers out of two recycled cookie boxes.
Using a "I use Recycled Packaging " rubber stamp, and a handwritten note in Sharpie marker, I can staple or tape these leaves onto to each box in a pleasing manner.
The box on the right has one stamped leaf, and another leaf with the name of the gift recipient on it and a "Happy Birthday " written on it (underneath). If you have not figured it out…the cookie box graphics are the orange and yellow leaves…and the blank side of those are where I stamp and right (the leaves below are turned upside down).
If you train your extended family to be eco-minded, they will be very impressed at your clever boxes, and never miss more traditional wrapping papers and ribbons for any holiday or birthday.
ALSO SEE: Easy & creative craft projects to make with basic lined index cards