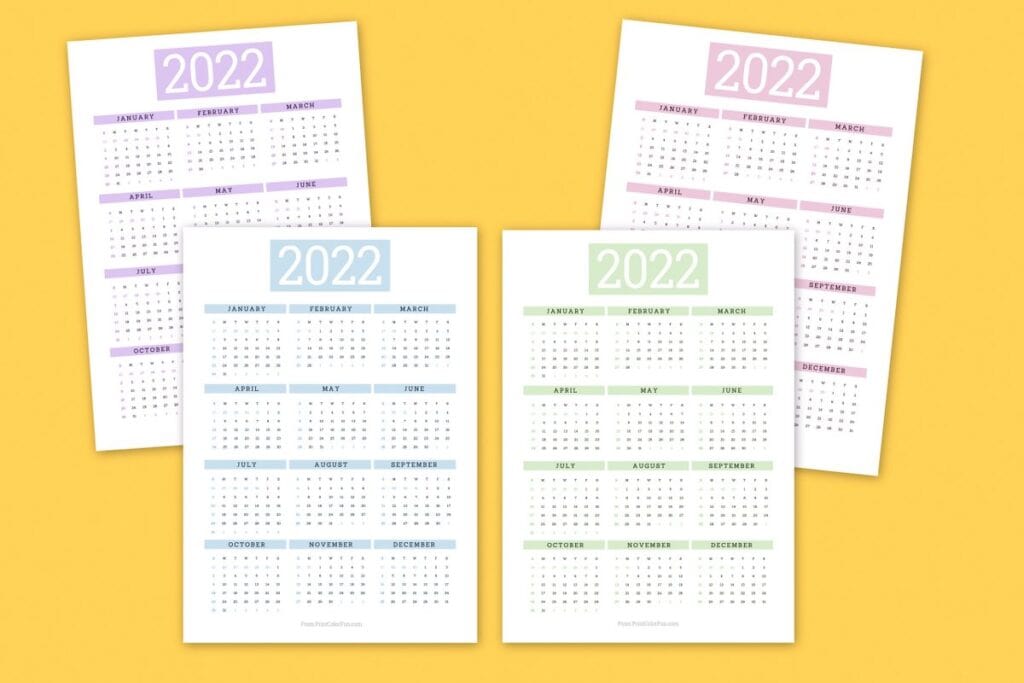 Below, check out these four free printable calendars for 2022 in blue, purple, pink and green! Just click on any of the images below to see a larger printable version of this one year on a page download.
Holidays in the US for the year 2022
Here are holidays for the United States during 2022. Click on the holiday names to find free printables for each special day!
January 1, 2022 (Saturday) New Year's Day
January 17, 2022 (Monday) Martin Luther King Day
February 14, 2022 (Monday) Valentine's Day
February 21, 2022 (Monday) Presidents' Day
March 17, 2022 (Thursday) St Patrick's Day
April 17, 2022 (Sunday) Easter
May 30, 2022 (Monday) Memorial Day
June 19, 2022 (Sunday) Juneteenth
July 4, 2022 (Monday) Independence Day/Fourth of July
September 5, 2022 (Monday) Labor Day
October 10, 2022 (Monday) Columbus Day/Indigenous Peoples' Day
October 31, 2022 (Sunday) Halloween
November 11, 2022 (Friday) Veterans Day
November 24, 2022 (Thursday) Thanksgiving Day
December 18 (Sunday) First day of Hanukkah
December 25, 2022 (Sunday) Christmas Day
---
Free download: Blue 2022 year calendar
---
Free purple printable calendar for 2022
---
Free download: Blue 2022 year calendar
---
Free green printable calendar for 2022